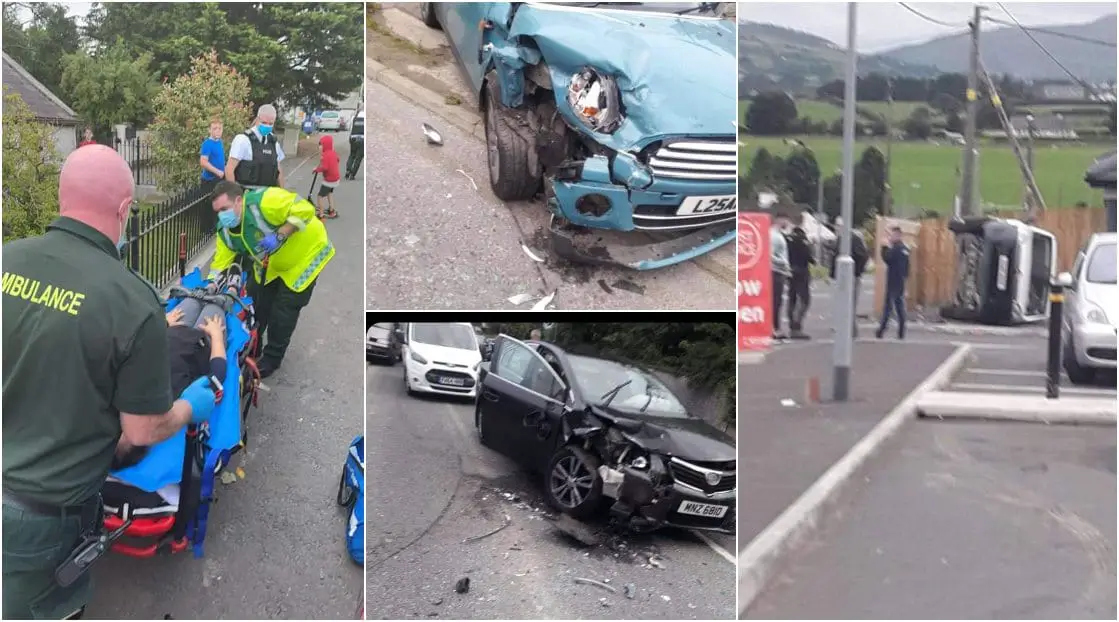 Concerns over criminality and the police response to recent hit-and-runs in which two people were injured were raised at a meeting in south Armagh last night (Tuesday).
The meeting in the Pastoral Centre in Jonesborough was organised by Sinn Féin and attended by members of the community and PSNI representatives including District Commander Norman Haslett.
It followed the incident last Tuesday in which a car was driven recklessly through the village, colliding with a van and later a car.
A woman was trapped in her car for 40 minutes and had to be cut free from the wreckage.
She and another person were treated in hospital – they are now recovering at home – and a man was arrested and later released on bail.
Sinn Féin councillor Mickey Larkin said there was "very clear anger in the community" at the police response to the incident, which was made clear at the meeting.
He described the police call-out response time as "ridiculous", adding that it took officers 45 minutes to arrive on the scene.
He also claimed there were questions in relation to "failings" in the follow-up operation, in terms of gathering evidence, which "police had acknowledged".
"The views were forthright, and the police have taken them on board," he said. "The meeting was respectful; there were a lot of hard questions asked but it's only the start of a process in attempting to solve these issues around criminal gangs and drug dealing."
He said there had been other incidents over the past two years including vandalism, hit-and-runs, criminal damage and threats, which had caused "fear and anxiety" in the community.
"The residents believe that the individuals involved are part of a serious drug culture that is attempting to creep into our area," he said.
"South Armagh is a proud area and it is imperative that we stand together against these thugs to stop them from gaining a foothold in our communities.
"The police have assured the community there will be a greater presence on the ground."
He said the Policing and Community Safety Partnership (PCSP) and Community Restorative Justice (CRJ) were also at the meeting to offer support and had been in contact with community representatives to organise programmes around education on drugs.
The party's MP for the area, Mickey Brady, said the engagement with police was a "welcome one" and he urged people to pass on any information to the PSNI, adding that Sinn Féin reps are available to help in this process.
Meanwhile, SDLP MLA Justin McNulty has urged the local communities in South Armagh "to unite in constructive opposition to the scourge of drugs".
'The feeling on the ground is that this criminal behaviour is flowing from drugs-related activity, with sinister elements steering the movement and distribution of drugs across our area," he said.
"There is a strong feeling at a local level that authorities have been slow to act, so people have rallied at a grass-roots level through community organisations to stand in opposition to these criminals, and I want to commend that collective community action."
Armagh I has approached the PSNI for comment following last night's meeting.
Sign Up To Our Newsletter