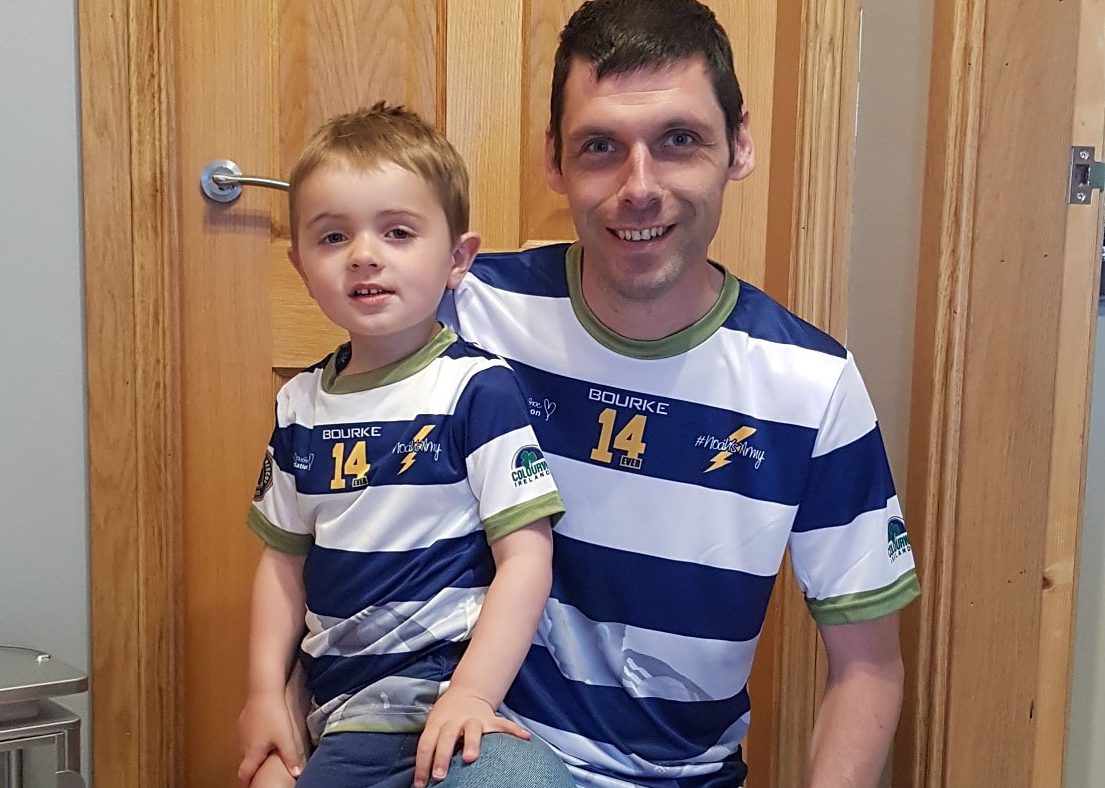 A fundraiser set up to help a south Armagh man with multiple sclerosis has raised enough money to pay for a four-year supply of a life-changing drug.
The campaign, 'When an Inch is a Mile', was started by friends and family of Sean Cumiskey, a 40-year-old father-of-two from Silverbridge.
The aim was to raise just over £5,000 to fund two years' supply of the tablet, Fampridine (Fampyra), which greatly alleviates the young dad's tremors and allows him to walk more easily.
But the GoFundMe page has now reached almost £16,000 which the family has described as "amazing".
Speaking to Armagh I, Sean's wife Doreen said the whole family is just so grateful for everyone's generosity and support.
Sean, who is dad to Abbie (9) and Mike (3), was first diagnosed with the progressive illness when he was 24.
A former player with Silverbridge Harps and Dorsey Emmetts GAC, he began to notice he was constantly tired, suffering with pins and needles, stumbling and falling a lot.
An MRI tested confirmed multiple sclerosis but steroids helped and he was still able to work. In 2010, he and Doreen were married, and their daughter was born in 2012.
"Life was really good. I didn't realise it at the time but I used Abbie's pram as an aid to help me walk. I noticed my walking had become bad around this time and I stopped working," he said in the fundraising appeal.
As the years progressed, Sean developed a tremor in his right hand and in his eye. He also noticed he was falling a lot more and that his legs were getting weaker and heavier when walking.
But in 2019, Sean was put on the free, one-month drug trial, with remarkable results.
"After the first week of taking the tablet I could feel the strength in my back. My ankles weren't aching. I reduced some of my medication as I felt I didn't need it. I actually ran across my kitchen floor without even thinking about it," he said.
Although Sean's family rallied to pay for the drug after the trial ended, the young dad didn't want to burden them with the ongoing cost.
When he stopped using the drug for around 15 months, Doreen noticed a definite deterioration in her husband's condition.
"A neighbour's wife also noticed that Sean's walking and balance had got really bad, so her husband Aidan Crummy went to Sean's brother and asked if they could do anything to help. Padraig told them about the tablet and it all just grew from there," she said.
As well as the GoFundMe page, a match has been organised for Sean at Silverbridge GAC on October 2, with 120 players, including many of Sean's former team mates, signing up.
Garvey's Bar in the area is also planning a fundraising night, and the children's schools, St Brigid's PS and Happy Faces, are also playing their part as well.
"The response and the well wishes are unbelievable," said Doreen. "Sean was an electrician but now he can't even put in a screw or use the screwdriver.
"His aim is to be able to walk a few hundred yards down the road to collect Abbie from school and walk home again.
"Sean is thrilled. He is so glad he lives in such a good community. I am from Westmeath and a load of people have donated from there as well."
Sean started taking the drugs again on Saturday and his family – including sister Siobhan and brothers Brendan and Padraig – are hoping the tablets will start to take effect within the next week or so.
Doreen has thanked everyone who has helped and donated including Joanne Murphy, Colm Trainor, Dee McCreesh, Fiona Campbell and Aidan Crummy who are helping to organise the fundraising match.
You can donate to the GoFundMe appeal here. 
Sign Up To Our Newsletter