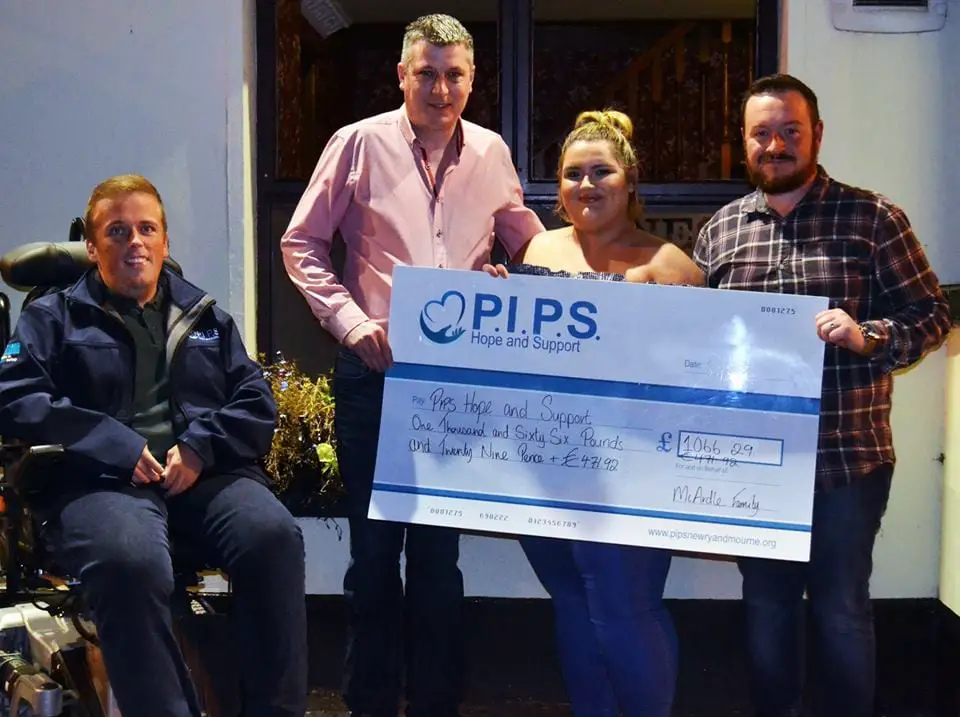 A south Armagh family have handed over the proceeds of a weekend of events in memory of their husband and father.
The family of Raymond McArdle, from Forkhill, wanted to raise money to support the work of PIPS Hope and Support.
During the last weekend in August, family and friends held a number of events including darts competition, lorry-pull, BBQ and live entertainment, to name but a few.
The hugely supported fundraising initiative raised a terrific total of £1066.29 and €471.92.
It will help PIPS Hope and Support to continue assisting and supporting people with issues relating to suicide, self-harm and improve their mental and emotional wellbeing.
The family handed over the proceeds at a special cheque presentation at the Welcome Inn.
Raymond's son, Paul, said: "On behalf of the McArdle family we wish to thank our many friends, family, neighbours, colleagues, clubs and the local community for their support in honouring and remembering our father Raymond.
"As a family we also wanted to support our local PIPS Hope and Support charity to ensure we are able to contribute towards the sustainability of such a valuable organisation.
"We would also like to especially acknowledge Paul Shevlin, who worked tirelessly throughout the fundraiser, and we express our thanks to Paul Mulholland, Jim and Martin, Lenagh Transport, Colum McAnneny, Mark Shevlin, all local businesses who supported the events, including all players and attendees throughout the weekend – every person's support is cherished by us all."
Padraig Harte, PIPS Hope and Supports Fundraising Officer, thanked the McArdle family and everyone involved who supported them.
He said: "We thank the McArdle family for selecting PIPS Hope and Support to be the beneficiary of the event which raised an amazing £1066.29 and €471.92.  We are grateful to everyone who attended, sponsored or donated to the events showing their support to the family and PIPS Hope and Support.
"The funds raised will help to ensure the continued provision of vital services and resources for anyone in emotional distress in need of support and we thank the McArdle family and the Forkhill community for supporting our charity."
Sign Up To Our Newsletter