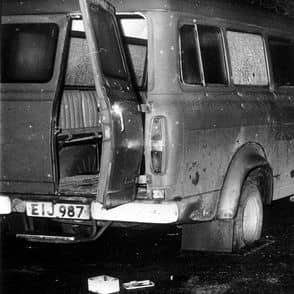 The son of the late Dr Ian Paisley pulled out of a meeting with a man accused of one of the worst atrocities of the Northern Ireland Troubles hours after it became public.
Kyle Paisley was due to meet Eugene Reavey who was accused of being the man behind the bloody massacre of 10 Protestant workmen in Kingsmills, Co Armagh in 1976.
In 1999, the late Dr Paisley used parliamentary privilege in the House of Commons to claim Eugene Reavey helped plan the murders.
An Historical Enquiries Team investigation found no evidence to link any member of the Reavey family to Kingsmills.
News of the meeting with Kyle Paisley was broadcast on the BBC on Friday morning and just a number of hours later, it was called off.
"I want to express unequivocally my disappointment in the way this matter has been handled," he said.
"I feel that confidence has been broken on what had been a matter of private correspondence.
"My only purpose in saying that I would meet Mr Reavey was to offer Christian sympathy on a personal level."
Read more news:
Farmer suffers devastating loss after almost 60 sheep taken in latest raid
Construction begins on £20m Quays Shopping Centre extension
Keady mine potentially 'worth billions' after FIVE new gold zones discovered
Passengers face 'noticeable jump' in fares but drivers out of pocket too
Homes evacuated in security alert as four men are arrested
Man threatens staff with knife in Armagh shop robbery
SS Connemara & Retriever disaster to be marked despite funding setback
GP out of hours service facing 'significant challenges' in Southern area
Newsletter
Sign up for our weekly newsletter here.