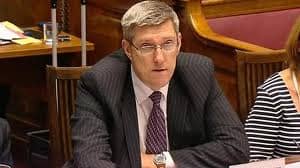 Schools across the Southern Education and Library Board are to benefit from £4 million of investment as part of a £14 million Provincewide package announced by the Department of Education for minor works.
Among them is Our Lady's Grammar School in Newry, which will benefit from expenditure in excess of £160,000 for the provision of wheelchair access toilets.
Speaking about the investment, which was announced today (Wednesday), Education Minister John O'Dowd said: "In the first quarter of this financial year a total of 99 minor works projects amounting to over £14million were agreed across all board areas. This investment will enable improvements to be carried out across the schools estate, positively impacting on pupils, teachers and school staff."
Minor works are projects ranging from minor repair to more significant work projects and extensions. Investment includes over £250,000 for the refurbishment of the toilets and provision of an extension at Ballyclare Primary School; £145,000 to rewire New Lodge Nursery School and almost £75,000 for accommodation work to be carried out at Rosemount Primary School, Derry.
Earlier this year, the Minister also announced potential investment of £134million under the School Enhancement Programme.
He said: "The programme will ensure the schools benefit from refurbishment or extension projects, each valued between £500,000 and £4million. The investment will help improve existing facilities and enable structural changes in the successful schools."
In conclusion the Minister said: "I am confident that the substantial investment in minor works projects will help in the drive to improve educational standards. The completion of all of these works will ultimately provide better facilities for our children and young people to learn in and an improved working environment for teachers and other school staff.
"This ongoing significant investment also provides a boost to our local construction industry, helping to sustain jobs."
The allocations per each education and library board area were as follows: BELB £721,000; SEELB £483,595; WELB £4.2million; NEELB £4.4million and SELB £4million.
Read more news:
Forensic scientists called in to examine "certain items" at murder victim's address
Cross-party panel expected to respond to Gillis Unit relocation plan
'Shared education' bid for Armagh expected to be resubmitted shortly
Sign Up To Our Newsletter