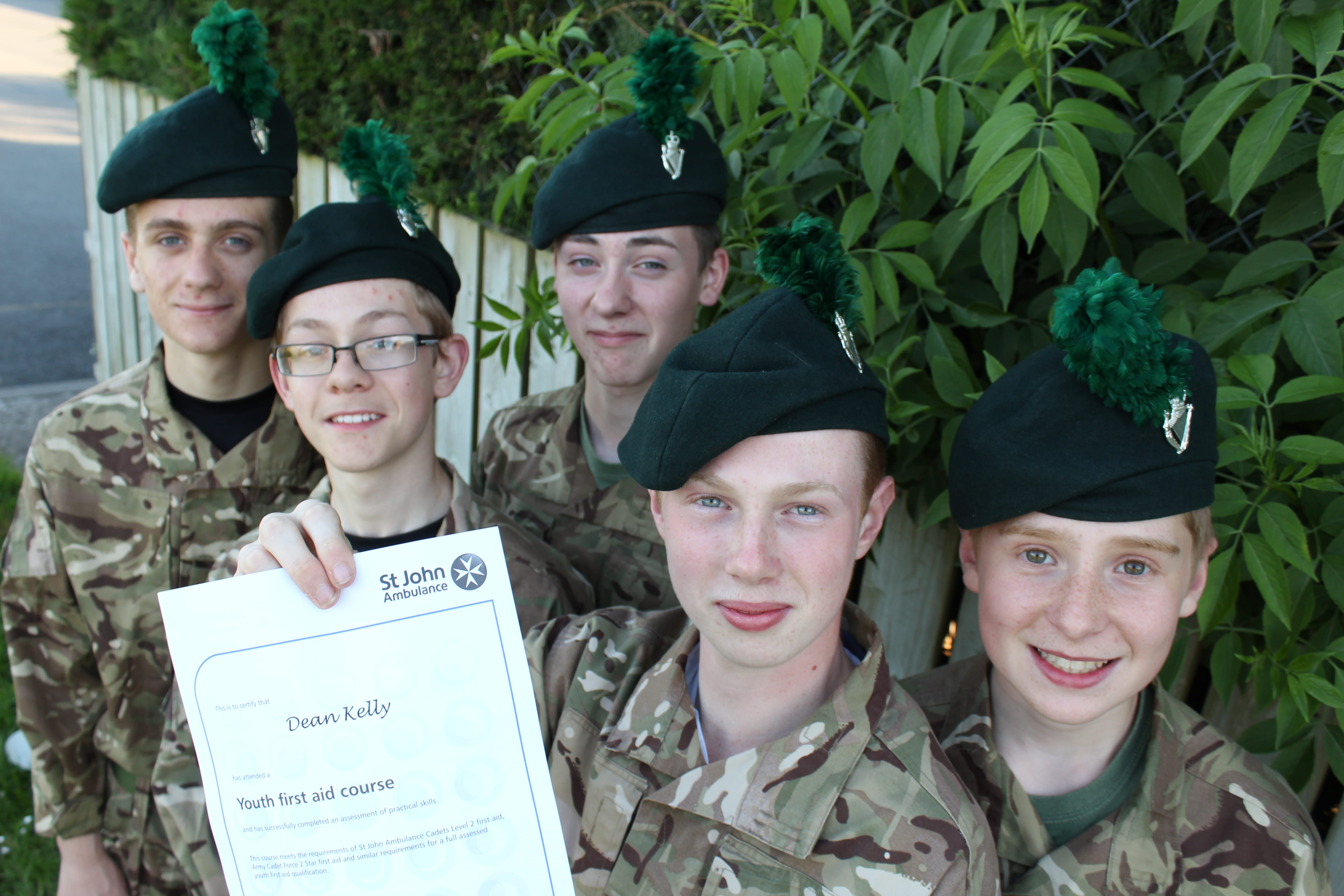 The thought of having to cope with a medical emergency would unnerve most adults.
But, in County Armagh, teenage Cadets are getting to grips with the subject via a tough preparation programme.
Richhill cadets Daniel Hutchinson, Adam Salt, Nathaniel Richmond, Dean Kelly and Ethan Boyd completed a programme of First Aid training in their local Army Cadet Force Detachment based at their school.
This was followed up with an intensive training and testing weekend at Armagh Cadet Centre.
Each of the teenagers passed with flying colours, to emerge as fully fledged St John Ambulance Cadets Level 2 First Aiders.
"You may hope you never have to cope with a medical emergency in real life, but it's reassuring to know that if such a situation arises you would at least have some first aid knowledge to call on," says Ethan.
"We were all keen to learn first aid, but none of us realised how interesting it would be or that such an important skills set could actually be fun to learn.
"It's a serious subject, but we all enjoyed studying it and I think we all hope to take it further in future."
Pictured celebrating success are, from left, fourteen-year-old Cadet Lance Corporals Daniel Hutchinson, Adam Salt, LCpl Nathaniel Richmond, Dean Kelly and Ethan Boyd. The Army Cadet Force is a youth organisation open to boys and girls from 12 to 18; to find out more or check out opportunities in County Armagh visit armycadets.com
Read more news:
Police renew appeal for witnesses to fatal hit and run near Markethill
Charity single released by Armagh group with chronic illnesses and conditions
Council plans second bid to add to £2m Armagh City regeneration pot
Milford to host 'big breakfast' fundraiser in memory of Lesley-ann McCarragher
Fantastic £1m redevelopment plans for Cathedral Road Recreation Centre
Borough's Colour Dash to become annual event after fantastic public response
Man discovered dead at the side of Markethill road named locally
Over 400 drug 'incidents' in 10-months in Upper Bann and 'numerous' lives lost
Sign Up To Our Newsletter