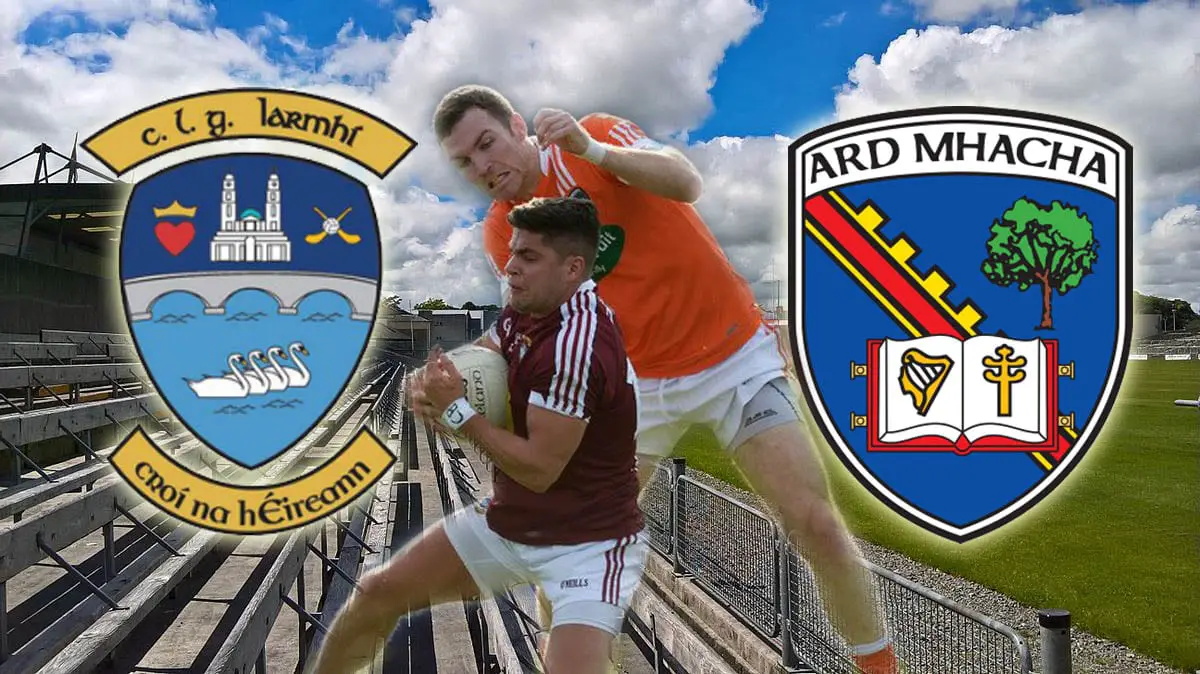 Westmeath 1-07 Armagh 1-12
Armagh kept their All-Ireland hopes alive after a five-point victory against Westmeath in this crucial All-Ireland Round 2B qualifier at TEG Cusack Park tonight.
A large and vocal travelling support made the journey to Mullingar and outnumbered the home side's fans, showing just how much this meant to them.
They went into the game the bookies' favourites off the back of a nine-point victory against Fermanagh and most expected it to be a clear-cut affair.
But it wasn't so – far from it!
They lost two of their dangermen during a lack-lustre and disappointing first half, and were reduced to 14 men in the second half.
Overall a scrappy affair but their drive in added time secured this win and a goal worth waiting for from Ethan Rafferty.
Armagh were dealt a huge blow within the first minute when dangerman Jamie Clarke was black-carded after a challenge on corner-back Jamie Gonoud. It seemed too harsh considering that a similar discretion from Westmeath  centre-back Frank Boyle only warranted a yellow card a short time later.
But right or wrong the decision was made and Westmeath were a point up and soon added another, but Clarke's replacement, Stefan Campbell, pulled one back when he kicked a 'souper' point and then Gavin McParland levelled.
Armagh took the lead 12 minutes in when a free-kick was converted by Niall Grimley but Westmeath equalised again.
And then another huge blow for the Orchardmen when Clarke's Crossmaglen clubmate James Morgan was also black-carded. Morgan, returning to the fold, had been involved in a number of incidents and the referee again reached for the black, with Gregory McCabe coming on to replace him.
Armagh stamped their authority on the game and scored four without reply.
Gavin McParland added another point to restore the advantage and two well-taken frees from captain Rory Grugan were followed by a fine score from Stephen Sheridan.
Westmeath suffered further misery when captain Ger Egan limped off with an ankle injury.
But half an hour in and the goal gods smiled as Westmeath reduced the deficit to a point; right half-back Mark McCallion opened up the Armagh defence and created the chance and, when Armagh goalkeeper Blaine Hughes pulled off a fine save to block the initial attempt, the rebound fell to Paul Sharry and he fired into an empty net.
A point for the home side just before the whistle and it was all square at half-time with all to play for in the second half.
Half-time: Westmeath 1-4 Armagh 0-7
Westmeath came out and their desire and dominance was greater, adding a point to take the lead five minutes in.
It looked like a goal could be on the cards for Armagh but Anto Duffy was dispossessed by his opposite number,  just before full-forward John Heslin's left-footed shot sailed over the bar to increase the lead.
A double substitution by Kieran McGeeney saw Anto Duffy, who had picked up a yellow card, and Aaron McKay replaced by Oisin O'Neill and Mark Shields.
And Armagh rallied back with two great efforts, another left-footed kick by captain Grugan, showing great leadership, and then an absolute peach of a point from Aidan Forker.
Armagh's protests again fell on deaf ears when Jamie Gonoud only received a yellow card when more was expected after Clarke and Morgan had been shown black.
But then with 15 minutes to go it went from bad to worse for Armagh who were reduced to 14 men when Gregory McCabe was red carded after initially being shown black in a somewhat confusing decision after an off-the-ball challenge.
Both sides had chances to take the lead but efforts went wide.
And then Armagh did, Aidan Forker pulling the ball back for Grugan and he found Oisin O'Neill who left-footed it over to take the most slender of leads with six minutes left on the clock. But it was short-lived again with Westmeath substitute Alan Gaughan firing over the equaliser.
Six minutes added on and first goalscorer Paul Sharry and then prolific point-scorer John Heslin most incredibly shot wide.
But Oisin O'Neill didn't, and his right-footed kick would have been enough.
Yet why stop there? From the middle of Cusack Park they began a move which ended in delirium, when Niall Grimley took the lead and he singled out Ethan Rafferty who made no mistake when he hammered into the Westmeath net, before a final point from O'Neill to round it all off.
Armagh will scarcely have time to catch their breath and will now face Carlow, Tipperary or Monaghan in the Round 3B Qualifier games after today's other matches.
Carlow beat Leitrim 2-14 to 0-13, Monaghan threw up a huge surprise when they thrashed Wexford 3-23 to 1-10, and Tipperary's name went into the hat care of a 2-15 to 0-18 win against Cavan.
The draw is due to take place on Monday morning and both fixtures played next Saturday, July 15.
Armagh: 1. Blaine Hughes; 2. Aaron McKay; 3. Charlie Vernon; 4. Paul Hughes; 5. Aidan Forker; 6. Brendan Donaghy; 7. James Morgan; 8. Stephen Sheridan; 9. Niall Grimley; 10. Ciaran O'Hanlon; 11. Anthony Duffy; 12. Rory Grugan (Capt); 13. Jamie Clarke; 14. Andrew Murnin; 15. Gavin McParland.
Westmeath: 1. Darren Quinn; 2. Mark McCallon; 3. Kevin Maguire; 4. Jamie Gonoud; 5. David Lynch; 6. Frank Boyle; 7. James Dolan; 8. Paul Sharry; 9. Ger Egan (Captain); 10. John Egan; 11. Kieran Martin; 12. Sam Duncan; 13. Kelvin Reilly; 14. John Heslin; 15. Killian Daly.
Sign Up To Our Newsletter