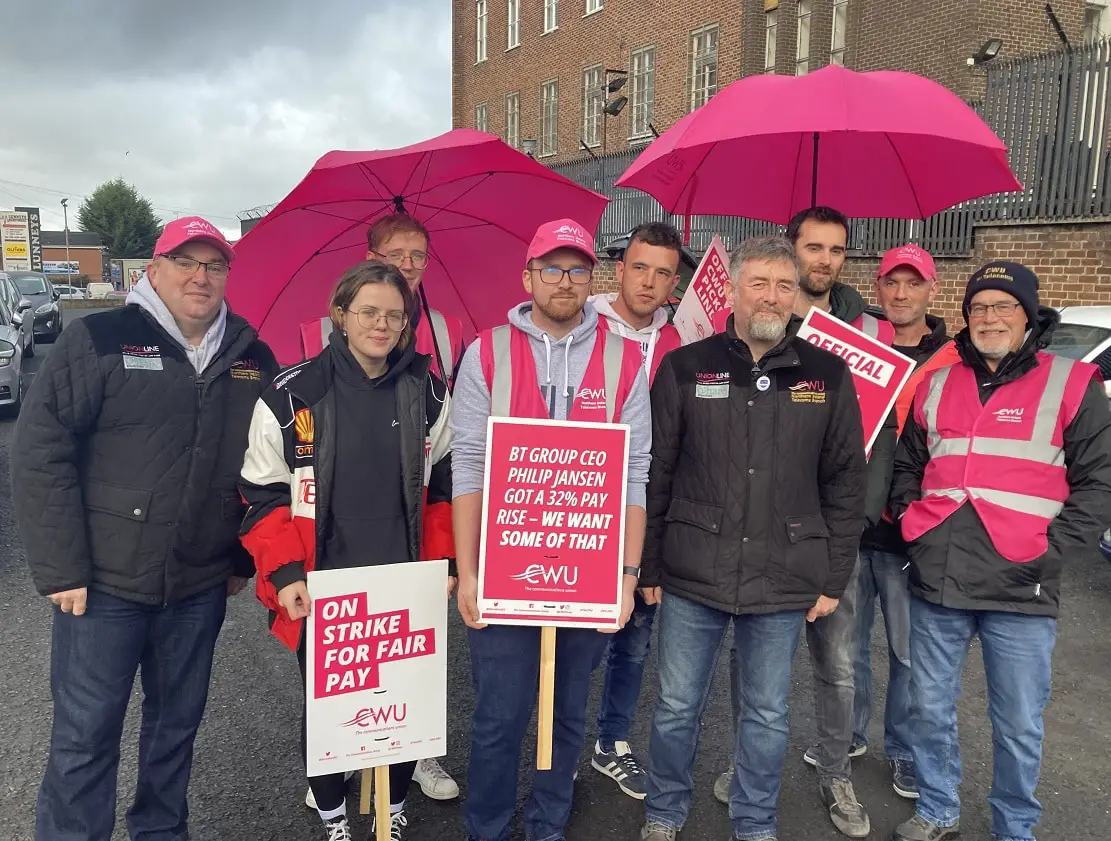 Workers at a Portadown 999 call centre, who have have to deal with tragedies such as the Grenfell Tower fire and the Manchester Arena bombing, went out on strike today (Thursday).
The centre on the Carrickblacker Road is the only BT emergency call hub in Northern Ireland, along with six others across the UK .
The centres shares 999 calls as well as taking Directory Enquiry calls and operating Relay UK, for people with hearing and speech difficulties.
The industrial action is the first of four days of a UK-wide strike by the Communication Workers Union (CWU) over pay, with Openreach workers also involved.
The union said its workers are opposing the imposition by management of an "incredibly low flat-rate pay rise" of £1,500 per year.
Chris Brown, the union's regional coordinator for Northern Ireland, who was on the picket line, said the strike was an "unprecedented move" with 999 centre workers never called out before.
"The seriousness and the gravity of the situation is evident for everybody to see," said Chris, who has worked at the BT centre for around 12 years.
"It is very important work that people here do and it is vitally important they are paid well and they are kept happy at their work.
"The recent pay deal was imposed on us – there was no negotiation with the union – and every union member feels entirely aggrieved by this."
Ashlee Chadwick, who has worked for the company for six years and is a former union rep, said 999 operators are the lowest paid staff in BT.
"A lot of the staff have to go to food banks and people are having to use annual leave at the end of the month because they can't afford to drive to work," he said.
"The 999 workers are feeling so disappointed and cross because our goodwill has been taken advantage of."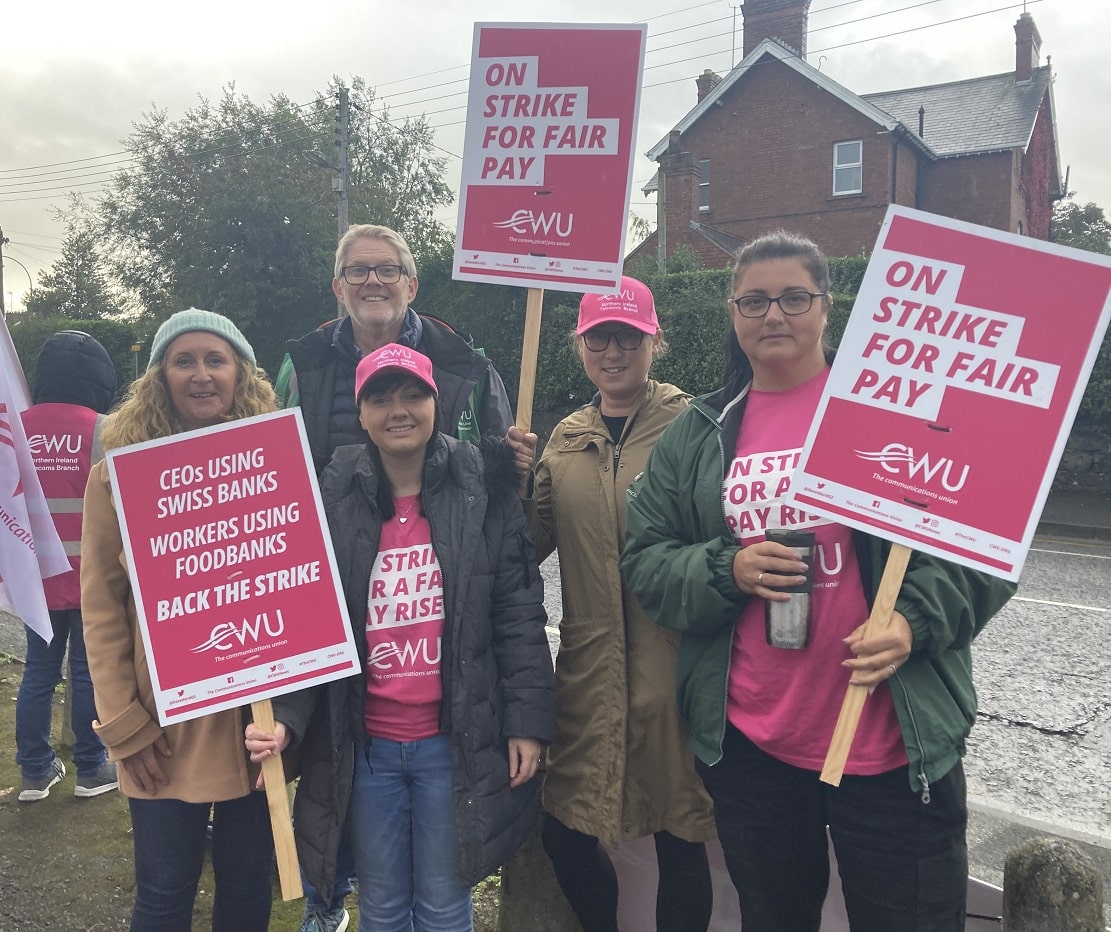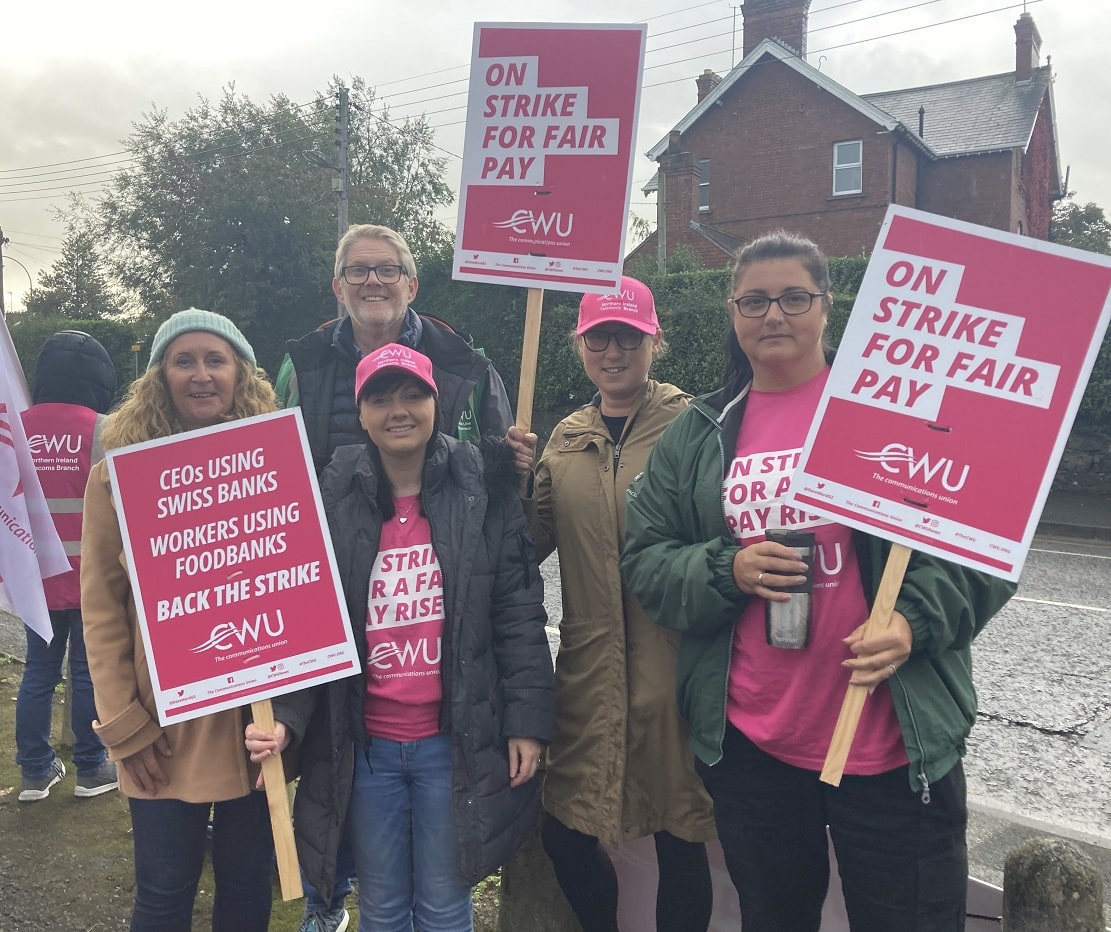 One woman, who did not wish to be named, has worked for BT for 24 years and in the Portadown centre for 18 years.
"I love my work, love my colleagues, and love what we do. I feel our work is important but that it's not recognised enough," she said.
"It can be very stressful. At the moment, there are a lot of delays, especially to the Ambulance Service, so you could be sitting listening to someone who can hardly breathe, and trying to keep them calm.
"One minute, management are telling us we are crucial workers and they can't do without us and the next we're told we're unskilled."
She added: "We are on shift patterns and have to be fully flexible. It is 10 years since I have had a Christmas holiday. New Year's Eve is our busiest night and my son's birthday is New Year's Eve. I have had just one of his birthdays off in all that time and I booked that for his 18th.
"A lot is expected of us and it's not reflected in our pay or terms and conditions."
The remaining strikes are planned for Monday, October 10, Thursday, October 20 and Monday, October 24.
The union pointed out that BT made £1.3 billion in annual profit, with CEO Philip Jansen gaining a £3.5 million pay package – a 32 per cent wage increase.
A spokesperson for BT said: "We know that our colleagues are dealing with the impacts of high inflation and, whilst we respect the right of colleagues to take industrial action, we are profoundly disappointed that the CWU is prepared to take this reckless course of action by including 999 services in strikes.
"We will do whatever it takes to protect 999 services – redeploying our people to the most important priority is a normal part of BT Group operations.
"We made the best pay award we could in April and we have held discussions with the CWU to find a way forward from here. In the meantime, we will continue to work to minimise any disruption and keep our customers and the country connected."
Sign Up To Our Newsletter