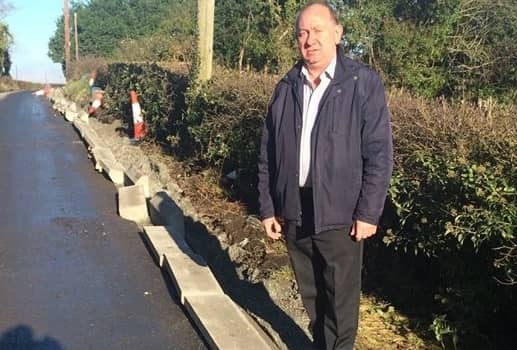 Up to 100 freshly-bedded kerbstones were ripped up in a mindless act of vandalism on the outskirts of Richhill last night (Friday).
Contractors had laid the stonework ahead of resurfacing the Sandymount Road.
William Irwin MLA hit out at the "idiots" involved.
"Such mindless vandalism," he exclaimed. "It is so good to see the new resurfacing on the Sandymount Road close to Richhill and the contractors had laid dozens of kerbstones ahead of finalising the road edges for surfacing.
"Some time last night some idiots thought it would be fun to topple over 100 of the freshly bedded kerb stones.How ridiculous!"
He added: "This will be a set back for the contractors as the kerbs all have to be re bedded and the concrete has set hard.
"If anyone witnessed any suspicious activity in the vicinity of junction of the Sandymount Road and the main Armagh/Portadown Road they should contact the PSNI immediately."
Read more news:
'Jobsworth ******s' PSNI bust some myths around speeding
Co Armagh care home 'not fit for purpose' shuts suddenly
Woman sentenced after subjecting 15 horses to unnecessary suffering
Libraries continue to decline as only one in four adults visited last year
'Thieves and thugs will be dealt with' warns vigilante graffiti
Business owner offering £1,000 for info after thieves steal catering van
Brave John's family direct donations in lieu of flowers to help other cancer sufferers
Emergency services at scene of two car collision near Craigavon Area Hospital
Become a member
Support local, independent businesses by becoming an independent member.
Become a member