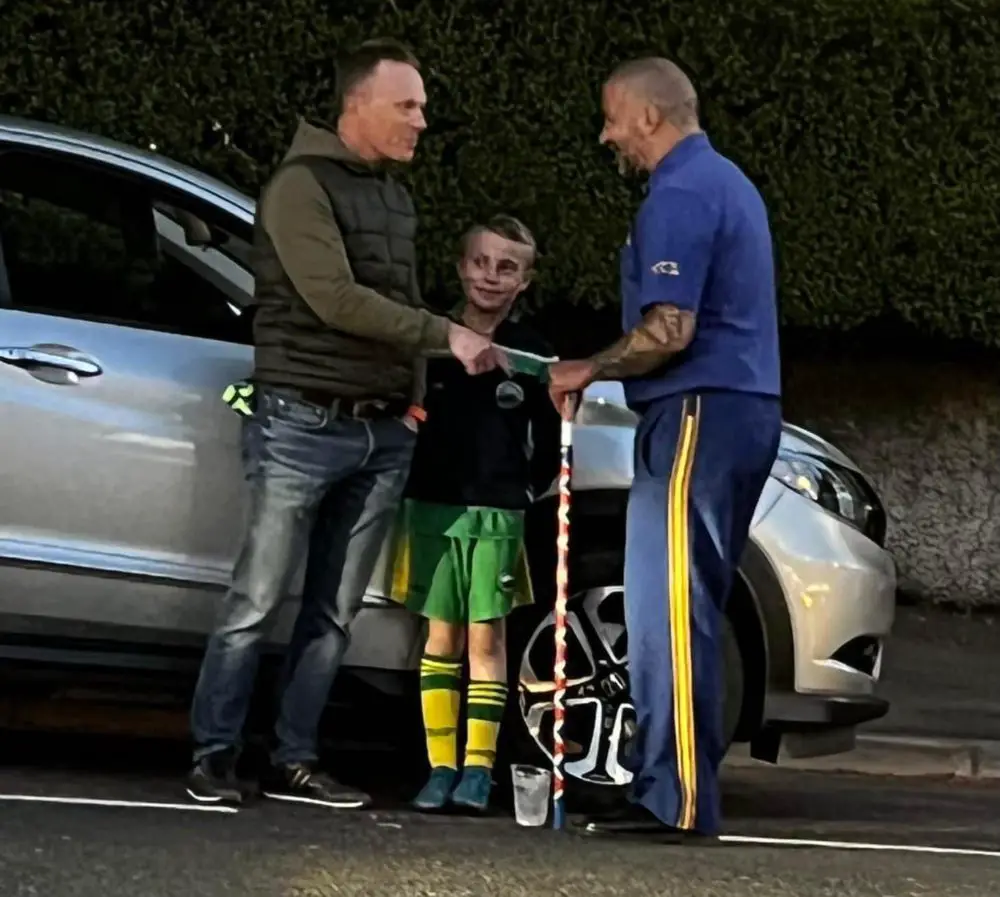 They say a picture paints a thousand words – this could re-write books alone!
This photo of a 10-year-old boy has caught the imagination and affection of the wider public for the important message it sends out – pertinent given an election looms on the horizon.
Emily McDonald, from Portadown, posted the photo on social media on Friday night.
It's a moment in time from a loyalist band parade in Newry.
Stevie Williamson is the gentleman in the uniform – Emily's partner.
"Proof that bitterness and sectarianism is a learned behaviour, one that this father isn't passing down on to his son," said Emily, of the young boy and his father joyfully standing beside her partner, Stevie.
She added: "He had been at his GAA practice and asked his dad if he could go watch the band parade as he'd never seen one; without hesitation his father brought him, still proudly in his skip, and they both enjoyed the parade and the little 10-year-old boy was in awe of it all.
"He even had to ask his Dad 'What is a Catholic and a Protestant?'
"So why don't you all tell me? What's the difference between your innocent 10-year-old boy and this one?"
The photo has been shared more than 3,000 times, liked more than 4,000 with hundreds of comments congratulating Stevie and the dad who took his 10-year-old son.
Speaking to Armagh I, Emily said she wasn't expecting such a response to her photo but added: "I think it's an important message.
"This kind of positivity is an example to all. It's not difficult to be kind or be respectful."
Posting under the photo, Stevie commented: "Such a happy wee boy and his dad a real gentleman. I told the wee lad spin my stick but don't drop it."
Hundreds of comments poured in under the image with the overwhelming sentiment: "This is the way it should be."
"Wish there was more of this….I've always taught my kids, there's good and bad in both sides," wrote one person.
Someone else posted: "That's the way it should be. My kids have been brought up like that. Their daddy is a Protestant and I'm a Catholic… absolutely love this, at the end of the day we all bleed the same colour."
And another wrote: "This is the country I want to live in. We have bled enough blood. Teach our children we all are the same."
Sign Up To Our Newsletter