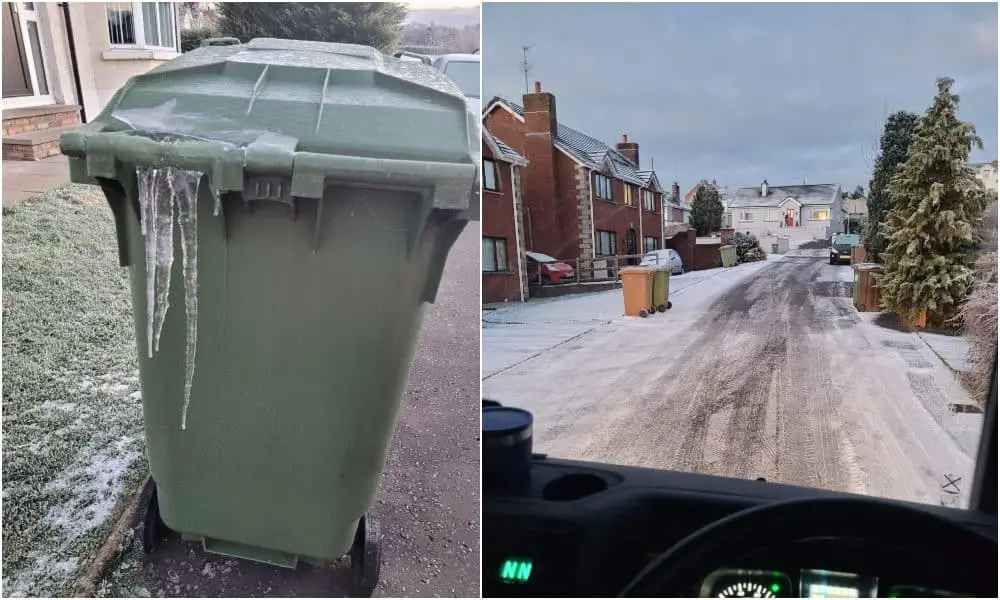 Council have advised residents that some bins have not been emptied due to the sub-zero temperatures being witnessed across the borough today (Monday).
Workers for Armagh, Banbridge and Craigavon Borough Council have been unable to empty some bins as their contents have frozen.
Temperatures have dipped as low as -6 degrees making life very difficult for refuse workers – and indeed the lorry drivers, with many having to navigate untreated surfaces.
A Council spokesperson said: "Due to the icy conditions, contents of some bins have become frozen. Collection teams will endeavour to empty your bin, however if a bin cannot be safely emptied crews will be unable to return until the next scheduled collection day. We apologise for any inconvenience caused."
One of my #HiVisMen sent me these earlier 🥶🚛
Safe to say at -6 here in #Portadown this morning our staff are having a few issues ❄️
Be patient with them- not at all easy controlling a #HGV in these conditions- never mind frozen contents (especially the Brown bin) @UUP_ABC https://t.co/OgrnZXjIb9 pic.twitter.com/BqLKDo3hxu

— Julie Flaherty (@flahertycom) December 12, 2022
It was officially the coldest night of the year with a reading of -9 degrees recorded in the notoriously chilly Katesbridge area.
The outlook for the remainder of the day doesn't look good if you're hoping to see any thawing with temperatures rising to zero, before dropping again into the evening.
We're not likely to see any thawing until Sunday afternoon, with only a few sporadic hours throughout the week peaking at 1 degree.
Sign Up To Our Newsletter