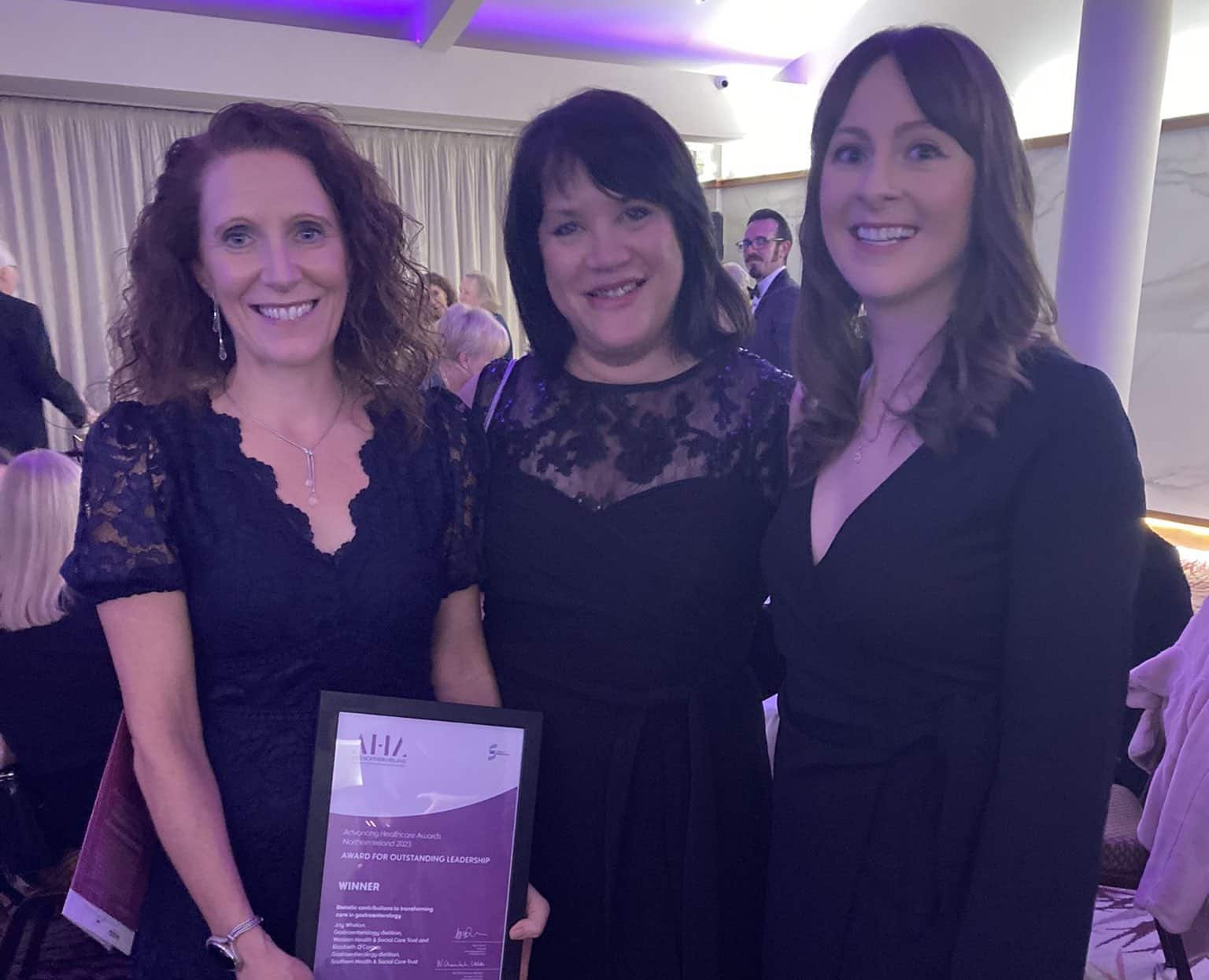 Southern Health and Social Care Trust dieticians have scooped an award for their leadership after introducing a new service regionally which has helped to reduce pressure on outpatient waiting lists.
At the Advancing Healthcare Awards on Thursday, October 12, the Outstanding Leadership award was won by a joint dietitian led project for dietetic contributions to transforming care in Gastroenterology, including Trust Advanced Practitioner Gastroenterology Dietitian Liz O'Connor.
The awards are an important opportunity to recognise and celebrate the important and innovative work of healthcare scientists and allied health professionals across Northern Ireland.
Liz has been leading the way regionally with Advanced Practitioner Led Coeliac Disease Clinics and the Dietetic Led Irritable Bowel Syndrome (IBS) Service since its introduction in 2019.
As part of these services Liz and colleague Rachel Bamford, work through evidence based diet and lifestyle advice with patients and have reduced pressure on the Gastroenterologists' outpatient waiting list, with only patients with outstanding clinical concerns at the end of the specialist dietetic intervention having to be followed up by a Gastroenterologist.
Liz has also recently completed the Non-Medical Prescribing course and is now qualified as a Supplementary Prescriber which will also enhance her role in providing holistic patient care.
Charlotte Anne Wells (Trust Assistant Director for Allied Health Professionals) said that this highlights the outstanding achievements of Liz and Rachel and the important work allied health professionals play within the Trust.
She addeD: "We are very proud of the contribution Liz and the team have made to transforming this service and improving patient outcomes and experiences. Each of them has really shown the importance of nutrition for patient care and the role of the dietitian."
Sign Up To Our Newsletter