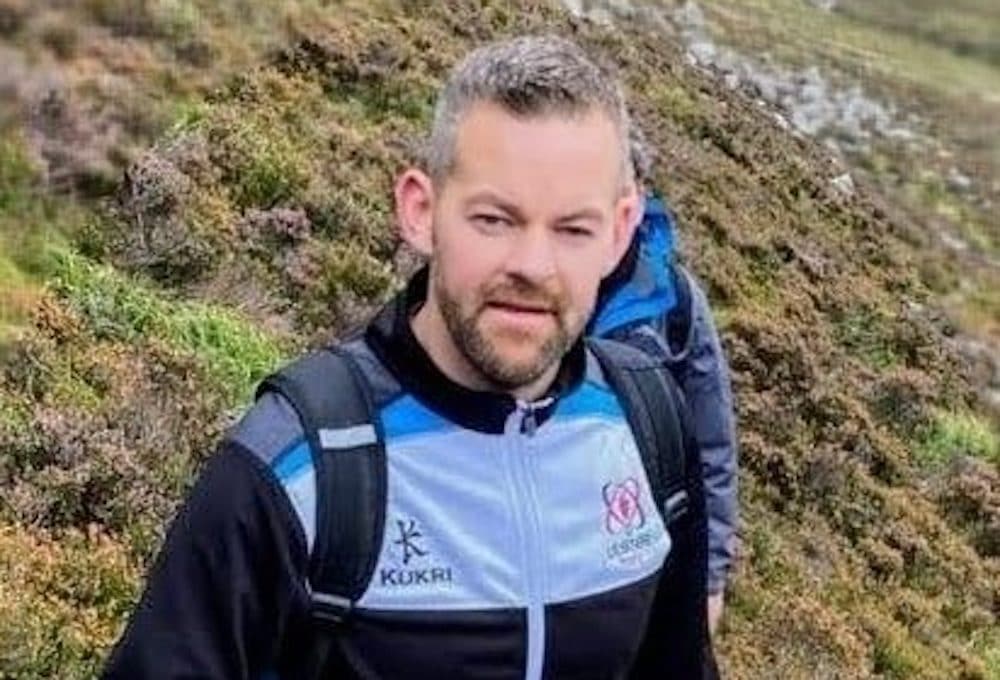 A walker who died after collapsing while walking in the Mourne Mountains has been named locally as Portadown man Mark Elliott.
Mark – who was affectionately known as ET – passed away while descending the Donard Commedagh Saddle around 1.50pm.
Despite the best efforts of those who assisted, which included fellow walkers, the father-of-one sadly passed away at the scene.
And his death sent shockwaves through the community.
Mark and his wife Tracey had, only the day before, celebrated their first wedding anniversary.
Independent Councillor Paul Berry, who counted Mark among his good friends, told Armagh I: "It was with deep sadness and shock when I learned of the tragic death of Mark (ET) as he was known.
"I first knew Mark when we both attended Portadown Tech and I looked upon him as a good friend ever since those days.
"He never would have passed you over the years and even when he would have been on Parade with the might Portadown True Blues he always would have put the thumb up or shouted hello mate.
"He was one fine, thoughtful and kind person and I know his sudden death has sent shock waves across Portadown and District.
"My prayers and thoughts go out to his son Alexander whom he was mighty proud of and his wife Tracy and indeed his whole family and friends. Mark is now in Heaven and what is our loss is certainly Heavens gain."
Others paid tribute to a "gentleman" on social media.
John Oliver commented: "I'm struggling to believe the tragic news about Mark (ET) Elliott. Such a great lad… Praying for his wife Tracey and son Alexander. Only consolation is that he's now safe with Jesus."
Andrew Millen described him as "such a nice guy and great father".
Keith Thompson wrote: "Shocked is an understatement and didn't think I would have to write another one of these for a while. Mark Elliott (ET) a mate, friend and a true gentleman taken home to our heavenly father yesterday. Heart broken for Alexander, Tracy, Mark's mum and dad and the family circle who are in Denise and my thoughts and prayers."
Andy Chestnutt said: "A lovely man who'll be truly missed by all who know and love him. People often talk about 'life's true gentlemen'. Mark really was one of those. Committed to everything he was involved in. A model father and friend for us all."
Mourne Mountain Rescue Team (MMRT) were among those involved in the large-scale response to the incident on Thursday afternoon.
A spokesperson for MMRT said: "At 1.53pm the team received a request for assistance regarding a medical emergency.
"A walker had collapsed shortly after beginning descent from the Donard Commedagh Saddle.
"Other walkers stopped to provide help, with nearby team members responding, followed by a response from the NIAS Air Ambulance and further team members.
"Despite the best efforts of all those involved, the walker was pronounced deceased at the scene. Other members of the walker's group were escorted off the mountain while the deceased was evacuated by the team on stretcher to road access.
"A note of thanks to all those involved today including those who stopped to assist, NIAS Air Ambulance, Police Call Handling, Belfast Coastguard, Rescue Helicopter 199, Newcastle Coastguard & Police Search & Rescue, including the 23 team MMRT members responding with stand down at 6.55pm.
"Our thoughts are very much with the family of the deceased at this time."
Sign Up To Our Newsletter