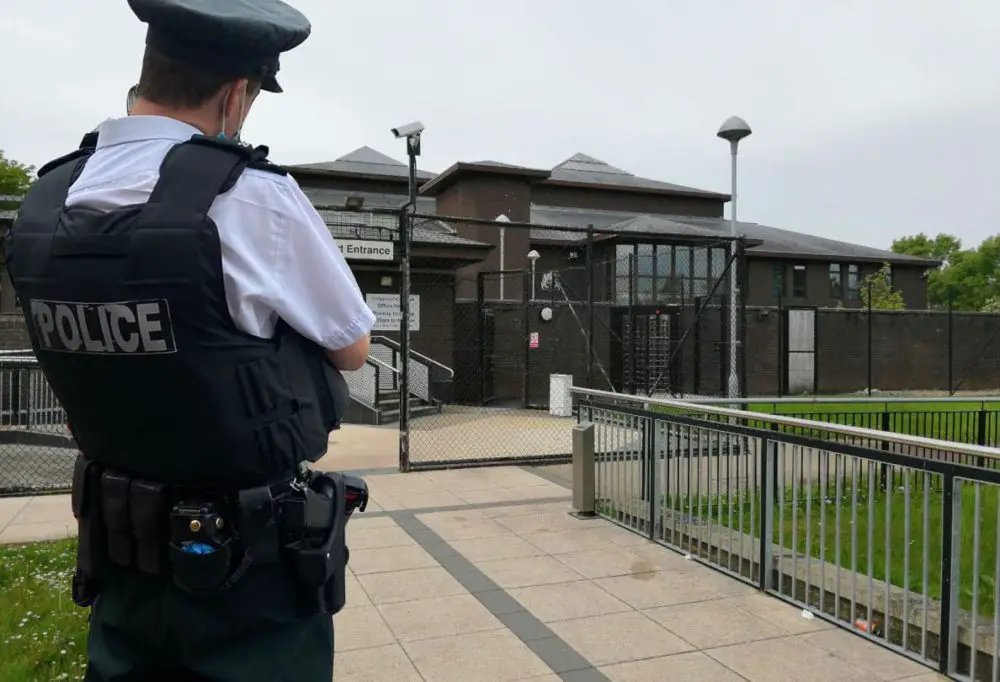 A Portadown man who stabbed an acquaintance in the back when confronted in a café over stealing £300 has been sentenced to 28 months in prison.
Emanuel Da Luz Oliveria appeared at Craigavon Crown Court earlier today (Thursday), via videolink from Maghaberry, for sentencing.
The 48-year-old had pleaded guilty at re-arraignment to two counts of possessing an offensive weapon in a public place, theft, common assault, wounding and possession of an offensive weapon with intent to commit an indictable offence.
On June 20 of last year, police spoke with the injured party, who accused the defendant of a series of offences before the court.
The prosecution outlined how Oliveria had been at the injured party's house on the evening of June 17, when he asked if he could stay the night. He went to use the toilet but "disappeared for a while".
He was then found in the injured party's bedroom and subsequently left a short time later. The next morning, the injured party discovered that £300 for his rent and a box of Subutex were missing.
Two further incidents then occurred on June 18, when the injured party saw the defendant at the rear of a butchers on William Street in Portadown. The court heard that he confronted Oliveria about taking the money and "pushed him on the chest".
The defendant then picked up a wooden bat, "approximately three foot in length with protruding nails" and "swung it towards the injured party, causing him to run away".
Later that afternoon, the injured party was walking home when the defendant jumped out behind him and "lunged at him" with a pair of "industrial scissors." The injured party is reported to have raised his arm in defence, but received a "superficial stab wound to his upper-left back".
The saga continued on June 19, when the injured party went into a café for breakfast, before Oliveria came in and sat at a nearby table.
The court heard that the injured party approached Oliveria and asked him if he "had no shame stealing from him" and said "I should punch you."
He lifted his hand, but did not punch the defendant and turned to leave. When he turned, the defendant lifted a knife, which was described by a witness as being "around six inches in length" and stabbed the injured party in the back. The victim then was taken to hospital, where he received two stitches.
The defendant presented himself at Lurgan police station on June 22, where he was arrested.
At interview, he denied all offences.
"He essentially stated that the injured party had made up the allegations to get a claim," the prosecution said.
The court heard that the defendant was arraigned on March 11 of this year, where he pleaded not guilty to all offences. He was re-arraigned on June 7 and pleaded guilty to all counts, except a plea to common assault, which was accepted in respect of one incident, rather than the initial charge of assault occasioning actual bodily harm.
Prosecution noted that Oliveria had a "large number of convictions for theft" and "some for violence". It was also said that he was in breach of suspended sentences imposed on May 21 and 26 for burglary and shoplifting.
Oliveria's defence counsel, Aaron Thompson, stated that the defendant had "effectively been in custody since the commission date of the offence".
He added that despite being a heroin addict, Oliveria had been in Northern Ireland since 2006.
"He's lived here, he has children here, he has a wife here, and he's worked here for a long period of time. He's really a quite engaging person. He's never been remotely unpleasant.
"He's always very apologetic for where he goes wrong and he knows his problem. He's just sadly always been a heroin addict.
"It saddens me a little bit because the only people that have profited from Mr. Oliveria's struggles have been probably lawyers," he said.
"He was doing brilliantly well and just fell off the wagon……heroin is just such a pernicious addiction."
His Honour Judge Patrick Lynch QC said: "The most serious aspect of this case is the stabbing. It is the experience of these courts that these types of stabbings cannot be constrained."
He said that Oliveria had an "unenviable record" which "reflects his activities in ingesting heroin".
In passing judgement, Judge Lynch imposed a period of 20 months for the wounding charge, to run consecutively with the breaches of the suspended sentences, which totalled eight months, leaving a total 28 month sentence, to be served 50% in custody and 50% on licence.
The sentences for the remaining charges were to run concurrently. Judge Lynch imposed nine months in respect of the theft charge, six months for each of the offensive weapon charges, four months for the common assault and eight months for the possession of the knife.
Sign Up To Our Newsletter