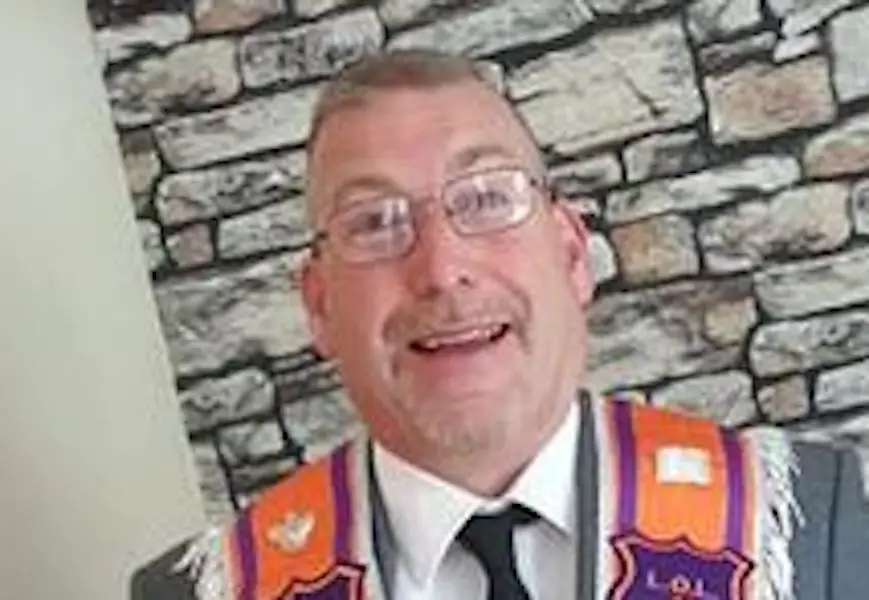 A Portadown man who livestreamed a sectarian song about Co Tyrone woman Michaela McAreavey – murdered on her honeymoon – has lost his case against unfair dismissal.
Andrew McDade was sacked from his job as a lorry driver for the Norman Emerson Group in the aftermath of video going live on May 28, 2022.
McDade livestreamed the video on his Facebook account from Dundonald Orange Hall.
This video included a clip of approximately 31 seconds which showed a group of individuals singing a sectarian song which mocked Mrs McAreavey – the daughter of GAA legend, Mickey Harte – who was murdered in Mauritius in 2011. That Facebook account clearly identified the claimant – McDade – as an employee of the Norman Emerson Group.
That 31 second clip from the four-minute video went viral and provoked strong condemnation, not just in Ireland, but across the world.
The company investigated McDade's conduct and following a disciplinary procedure, he was removed from his employment on June 10, 2022. McDade had been employed as a HGV driver with the company for approximately eight years up to his dismissal.
McDade did not appeal against that dismissal at the time but on August 11, 2022, lodged a claim alleging that he had been unfairly dismissed.
During his tribunal, the credibility of McDade's evidence was questioned.
It was noted that McDade "authorised and agreed the terms of a press statement issued by Mr [Jamie} Byson on his behalf on 3 June 2022. In that press statement, the claimant said, or permitted to be said on his behalf, that his actions on 28 May 2022 had been 'fuelled by alcohol'. In cross-examination, he asserted in sworn evidence that he had 'definitely not' been drunk and that he had consumed only two cans of beer in Dundonald Orange Hall. It does not really matter which version of events was correct. However, the claimant had again put forward two entirely different versions of events; one in a detailed press statement and one in sworn evidence."
The written ruling added: "In that press statement, the claimant said, or permitted to be said on his behalf, that he would write a formal letter of apology to the Harte and McAreavey families. He confirmed in response to cross-examination in sworn evidence that he had not done so, almost one year after his promise to do so. He tried to prevaricate in cross-examination by first stating that 'I trusted Mr Bryson to do so'.
"In that press statement, the claimant said or permitted to be said on his behalf, that he would make a confidential donation to a charity chosen by the Harte and McAreavey families. The claimant was asked, how much had been paid and to which charity. The claimant stated 'I have no idea'. In cross-examination, in sworn evidence, he stated that he had not made any such donation, again almost one year after his promise to do so. It was clear that the claimant had no intention of fulfilling the promise made in the press statement.
"The 'absolute' acceptance of wrongdoing, the acceptance that his actions could "neither be mitigated or excused in any shape or form", the promised apology and the promised charitable donation all evaporated before the ink was dry. The press statement, agreed and authorised by the claimant, had been no more than a cynical PR stunt."
It continued: "The claimant alleged in his evidence that, in making the livestream video, his focus 'was on the bannerettes'. He had decided to do so as an expression of his culture. Surprisingly, the claimant had never livestreamed or even photographed bannerettes in any Orange Hall on any previous occasion for any purpose, cultural or otherwise. He was asked directly if he had done so at any time and replied 'No not as far as I am aware'. It is not clear what particular quality of the bannerettes in Dundonald Orange Hall prompted the claimant to livestream a video of the bannerettes for cultural purposes. His one comment on the video clip did not refer to bannerettes or to culture. It said 'atmosphere fantastic'. It is clear that the claimant had not been referring to bannerettes or to culture. The argument put forward by the claimant that he had been recording bannerettes for cultural purposes and then accidently and innocently focused on a group singing a sectarian song for 31 seconds is completely implausible."
Furthermore, the ruling stated that "unless the claimant had been both deaf and blind, he had known what he had been recording"
In conclusion, the tribunal said the company "believed in the guilt of the claimant in relation to the disciplinary charges and that the [company] had had reasonable grounds for that belief".
"Given the contents of the 31 second video clip and the claimant's clear admissions to Mr Emerson in the course of the disciplinary hearing, that was beyond rational argument.
"Any reasonable employer, given the conduct of the claimant and given the clear and undisputed damage to both customer relationships and workforce relationships could, and in fact would, have summarily dismissed the claimant in all the circumstances of this case," the tribunal panel concluded.
"This is a claim which was always misconceived and without merit. Therefore the claim of unfair dismissal is dismissed."
Sign Up To Our Newsletter