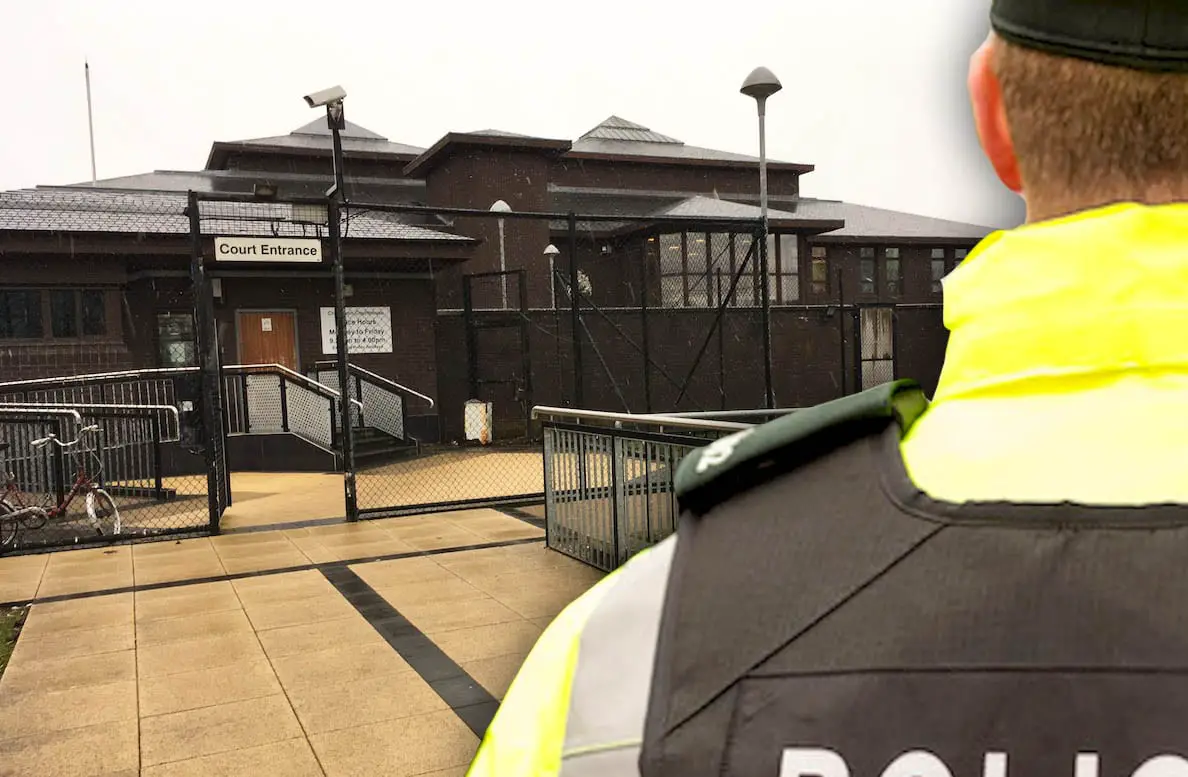 March 13, 2019 update: McNally pleaded guilty to assault occasioning actual bodily harm and was sentenced to 20 months in prison – half of which will be spent on licence.
He also pleaded guilty to theft and was handed the same sentence as count one, which is to run concurrently.
A charge of possession of an offensive weapon with intent to commit an indictable offence and a charge of exposure were left on the books. 
***
A Portadown man accused of exposing himself to a young girl and asking her to "suck his d***" has been refused bail.
Court also heard how the 28-year-old is also alleged to have assaulted another male with a bottle of wine.
Martin McNally, of Woodside Green, appeared in court, via video link from Maghaberry, charged with robbery, indecent exposure, resisting police, disorderly behaviour and possession of an offensive weapon with intent to commit an indictable offence.
Facts of the alleged incident were read out by the prosecution at Craigavon Magistrates' on Friday as the 28-year-old applied for a bail application.
It was heard that on December 21 of last year, at around 2pm police were contacted by a male who claimed he had been attacked by the defendant on the Garvaghy Road in Portadown.
Police noted that the man had a black eye and a cut above his eye.
The alleged victim told officers McNally had approached him and began to call him a "foreign b******".
Court heard the injured party claimed the defendant then struck him several times on the head, before headbutting him and hitting him with a bottle.
He complainant told police that McNally had made off with £16 and two bottles of wine which the injured party had on his person at the time.
It was heard that the alleged victim then went home but was followed by the defendant who shouted and swore outside his residence.
Court also heard that McNally was accused of approaching a 16-year-old girl on the same date.
He was alleged to have taken off his top and dropped his trousers, exposing his penis.
McNally, it is claimed, then told the young woman to "suck his d***", before leaving the area.
PSNI and prosecution objected to the defendant being released on bail as a constable outlined the reasons; starting with intimidation of witnesses, which was linked to McNally living in close proximity to both injured parties.
There were also fears that he would re-offend and was a risk to the community as this act was carried out in broad daylight.
It was also brought up that McNally had a history of drug and alcohol problems, which police feared he would re-engage with, if released.
It was also stated that the defendant had previously had two bench warrants out in his name and there was a fear, given the severity of the charges, he would flee.
Defence barrister Conor Lunny commented: "I am under no illusions of the severity of this case".
He said that "the main thrust" behind the bail application was that an address had been found for McNally in Lurgan.
This, Mr Lunny explained, was at the home of an addiction counsellor who was a friend of the defendant's family.
He added that she was willing to offer a cash surety and would work with him to "steer clear of drugs".
However, Mr Lunny conceded that McNally's record "did him no real favours" but commented it was not the worst the judge would see that day.
Deputy District Judge Philip Mateer said he valued that someone was prepared to put the defendant up but did not feel McNally was likely to adhere to conditions the court would impose.
He added to this that "the charges are liable to a significant sentence if he is found guilty".
Bail was refused to McNally and his case will continue on September 28.
Sign Up To Our Newsletter