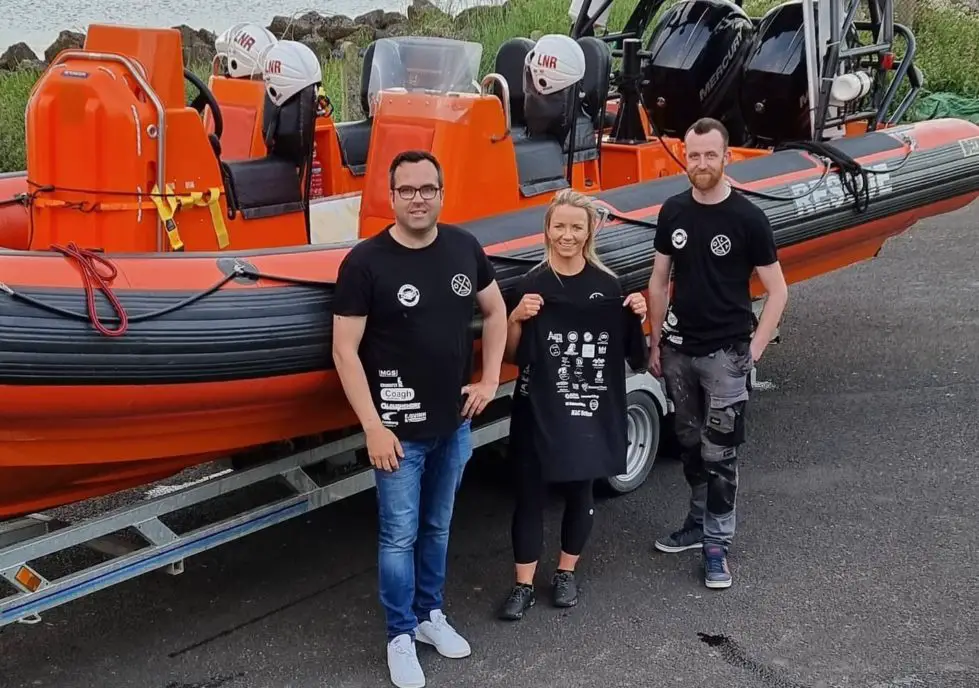 It has been a long time in the planning but a grateful woman who was saved from a capsized boat is finally able to hold her 30th birthday fundraiser.
Lauren Toner, from Cabragh in Co Tyrone, had planned to mark her birthday on February 25 by raising money for Lough Neagh Rescue (LNR) with a 24-hour fitness challenge.
However, because of the closure of gyms due to the Covid lockdown she has had to postpone the marathon event until now.
It will take place this weekend, from midnight on Friday to midnight on Saturday, when Lauren, who works in Portadown as an IT business analyst for Moy Park, will undertake one workout per hour for 24 hours.
"I am a wee bit apprehensive but I am keeping busy in work and trying not to think about it," she said.
The fitness fanatic does a 6am workout every morning followed by a walk or run before starting work at 8.45, so she has been keeping in training for the fundraiser.
Her aim is to repay Lough Neagh Rescue, whose swift response she credits with saving her life and that of her boyfriend (soon-to-be husband, Liam Teague, who also happens to be a crew member with the rescue service).
Lauren had been out  for her first trip on his boat  in May 2017 when the pair ran into difficulties on Lough Neagh after the craft capsized.
They were returning home after meeting friends at Gawley's Gate when Liam realised the boat was taking on water.
"He was so calm and began phoning 999 and the Coastguard while I was on the other side screaming for help," said Lauren.
"We were wearing buoyancy aids so that's basically what saved us. Within about five minutes of him phoning the Coastguard the boat went under.
"We were bobbing about in the water for minutes, which seemed like hours, and Liam was holding me up above the water. Then he noticed the boat had hit an air pocket and was floating."
The couple made their way over to it and held onto a rope to wait for assistance.
Said Lauren: "I kept kicking my legs to try and stay up but Liam told me to save my energy. He was keeping me positive and laughing but I kept telling him we were going to die."
The couple were rescued around 20 minutes later by the LNR boat arrived, and escaped with just mild hypothermia.
Said Lauren: "Until that day I wasn't really sure what being a crew member entailed.
"Over the past four years I have seen the work and dedication that these teams carry out day and night to ensure their skills are kept up to date to help anyone that gets into difficulty on the lough or surrounding areas."
Lauren will be completing her challenge at CrossFit BL in Coalisland and will have moral support from a number of people, including five men from Co Tyrone who are doing the challenge with her.
They are coach Stuart Lamb, Eamonn O'Neill, Stephen Beaddie, Cahir Clancy and Patrick O'Neill while several other people are doing parts of it.
"I have other gyms from the lough shore supporting me too, and more than 100 people have already said they will be popping in throughout the day," she added.
"I have had incredible support from many businesses and I am so grateful that each and everyone have supported this cause."
To date, Lauren has raised around £2,000 and hopes to exceed that figure.
Meanwhile, a much-deserved girls' night out with friends, who are also celebrating 30th birthdays, is on the cards for next week.
Sign Up To Our Newsletter