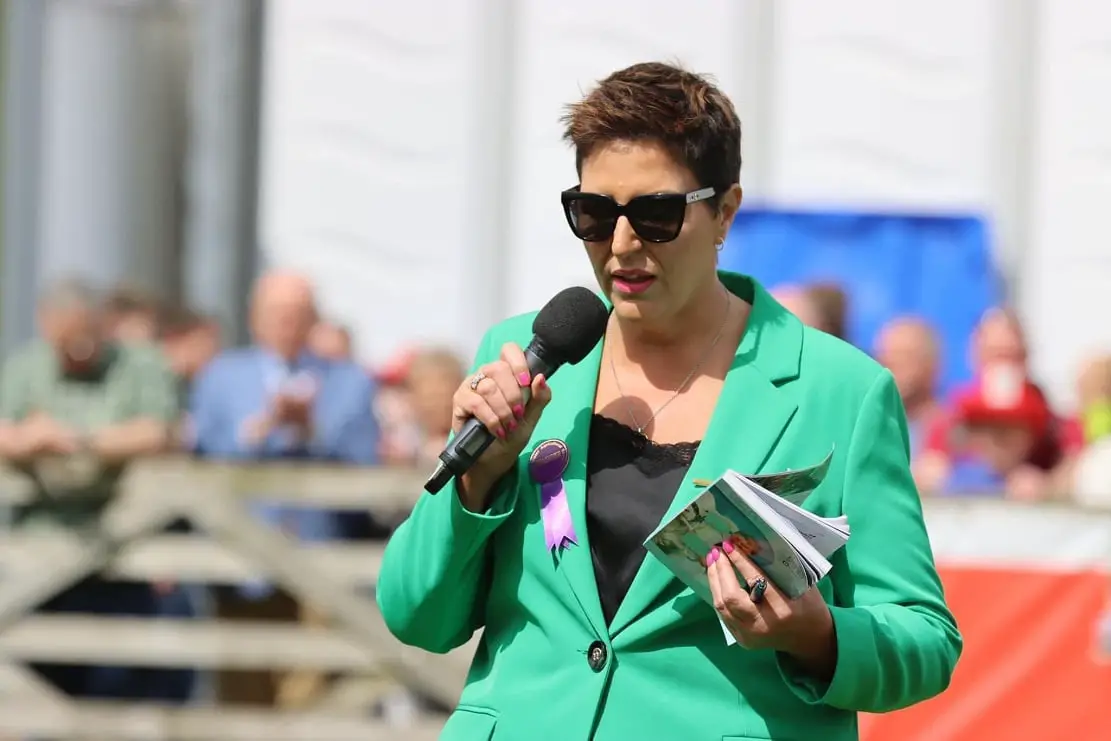 For most, the prospect of running a farm alongside a booming estate agents would be too much to handle. For Magheralin woman Libby Clarke, it's all in a day's work.
What's more, Libby doesn't do half measures and makes sure she puts her mind to the task no matter the challenge.
She has built her career to what it is today after years of hard work.
There have been some setbacks along the way, including a vicious attack by burglars on her farm nine years ago that left her with a number of serious injuries.
Despite this, Libby is determined not to be held back in life and didn't allow this incident to put her off carrying on with her first love: farming.
She grew up on her family farm, Springfield Farm, in Magheralin, and is the 5th generation farmer in her family. It's hoped that Libby's eldest daughter, who is currently in agricultural college, will be the 6th!
"I went to school in Belfast and I couldn't really wait to get out of it," Libby explained. "At 16 I went to Greenmount Agricultural College. I did three years there and just loved it."
This love of farming has been a constant in Libby's life.
"My dad was a livestock auctioneer and we had weekly sales of cattle, sheep pigs and property. That was kind of how I grew up. If you weren't on the farm, you were in the livestock market, and it was just the best environment to grow up in.
"Farming is something that if you grow up with it, you can't ever imagine stepping away from it. It's a total vocation. If that's the kind of road you're going to travel, you'll always stick with it.
"The majority of the stuff we do socially revolves around livestock shows and livestock sales, whether they're here or right throughout Ireland or the UK."
When asked if farming is her number one passion in life, Libby replied: "Yes, totally. But so is property…"
She explained: "I find when I'm walking in through somebody's front door to go and value a house, I have absolutely no idea what it's going to be like inside. Every single day I walk out of somebody's house and say 'oh, I wasn't expecting that'. That's kind of part and parcel of what I love as well.
"I am really lucky that I totally love what I do, whether it be on the farm or to do with property."
Reflecting on why she decided to take the plunge into the world of estate agency, Libby says property and land sales were part of her dad's auctioneering, proudly recalling that she sold her first house at the age of 15.
After the site of the auctioneering firm was sold in 2002, Libby went home to work on the farm full-time.
"I thought to myself  'this isn't pushing me enough'. Yes, it's very satisfying to be working on the farm all day and working with livestock, but I'm an organiser and a salesperson and I'd like to be doing something as well as farming.
"I saw a job ad in the local paper for a sales negotiator in an estate agency in Portadown. I applied, got the job and within three months I was in charge of their new developments. Within 18 months, I was actually managing the five offices."
In 2010, Libby bought over the company and changed its name to Joyce Clarke Estate Agents. Her farming background has proven vital and that has made farm and land sales a huge part of the business, with Joyce Clarke boasting sales in all six counties in Northern Ireland.
For Libby, time flies by when you're having fun, meaning the 13 years at the helm have gone "in a blink".
"I've got a small team here and we work really hard together, but to be honest with you, we have so much fun in the office. We have such great craic as a team and we're not just standing still. We're always looking to see what we can do to improve or push the boundaries in our marketing.
"We love our customers and the customers are very responsive to us. They actually have us spoilt.
"We put in long hours here because estate agency is far from a nine to five job. I start very early every day and I would still be taking phone calls from farmers at half ten at night. It's easier when you've got such a great team. The time flies in."
She added: "I am that type of person where if I'm going to do something, I'll do it 100% all in. When it's the farm I'm 100% invested and the same with property."
Libby certainly gives it her all, having recently completed the Belfast Marathon, where she, along with a few friends, pushed a bed around the entire course in aid of Air Ambulance NI.
And this was only a few weeks after she had a hip replacement!
"I was very lucky. My recovery has nearly been like a textbook recovery, which has been brilliant," she said.
The need for a hip replacement came off the back of one of the darker points in Libby's life when, nine years ago, she was beaten up by burglars on her farm. As a result of this, she needed a total of two hip replacements.
"My face was kicked in, all my teeth were broken up, my eye socket was smashed and I was a total mess," she recounted.
Despite this traumatic event, Libby vowed not to let it define her.
She said: "In every situation you have to remain in control of it and drive it forward, even if it's a negative situation.
"At the time when I was hurt on the farm, I actually spoke out quite publicly, because rural crime is one of those things that a lot of people kind of brush over.
"We worked with different people to try and see where networks like the police could support us more. We started an alert system between local neighbours, like a form of neighbourhood rural watch, because quite a lot of funding is pulled back from those kind of things."
Speaking about the attack, Libby added: "It never stopped me going back down my yard again. At that stage my kids were quite wee so I was running the farm totally on my own and it never stopped me setting foot down there.
"I won't be afraid in my own place because of what somebody else has done."
Libby continued: "I think no matter what you do in life, you make a choice to be as positive as you can, or you make a choice to try and help other people, or you make a choice to do something as well as you can.
"For me, 'it's all in or all out'. I'm no Mary Poppins, but if something interests me or there's something of mine that I need to look after, I'll try and do it to the very best of my ability.
"As much as my life isn't perfect, it's pretty good. I've got two kids who are healthy and happy, and that's kind of all that I want, is for my kids to be happy – and maybe a bit tidier around the house!"
---
This addition to our site is meant to elevate your experience by adding new real-time commenting features, personalised user profile and on-site news feeds.
Click the Log In button at the top of the website to start commenting.
Sign Up To Our Newsletter