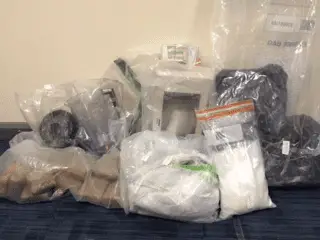 Police tonight confirmed the drugs seized during an operation in the Portadown area yesterday (Wednesday) had an estimated street value of almost £750,000.
Detectives from Reactive and Organised Crime Branch seized 4.5 kilos of cocaine along with 10 kilos of benzocaine, which can be used as a mixing agent to increase the amount of cocaine available for sale.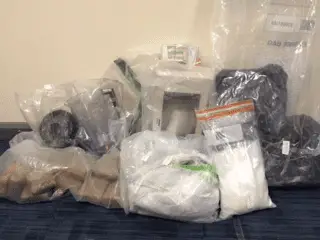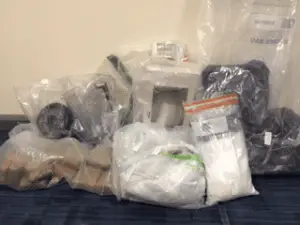 Police have issued a photo of some of the items, including cocaine, seized in the operation.
Two vehicles and five properties were searched in Portadown and Craigavon yesterday afternoon.
Four people were arrested.
Two men, both aged 32, have tonight (Thursday) been charged with possession of a Class A drug and possession with intent to supply.
They are due to appear at Craigavon Magistrates' Court in the morning (Friday).
As is normal procedure, the charges will be reviewed by the Public Prosecution Service.
A 26 year old woman was released pending a report to the PPS, while a 34 year old man was released on bail pending further enquiries.
The officer leading the investigation, Detective Inspector Alan Pyper said: "We believe we have taken a substantial quantity of cocaine out of circulation and removed a significant amount of drugs manufacturing equipment including a cocaine press and blenders.
"Our enquiries are continuing, as does our commitment to taking drugs off the streets and putting those involved in this activity before the courts. I would encourage anyone with information about illegal drugs activity to contact police. We will act on your information."
Read more news:
Four arrested as 'significant' quantity of drugs recover in county Armagh
Tragic Dr Sarah's words to help others weeks before losing cancer battle
Watch: Couple warn parents of blind cord dangers six weeks after toddler's tragic death
Watch: Moment school bus gets caught in raging flood waters
Man charged after £11,000 of cannabis and drug paraphernalia seized in Newtown
Man rescued from flood waters on Armagh Road early this morning
Sign Up To Our Newsletter