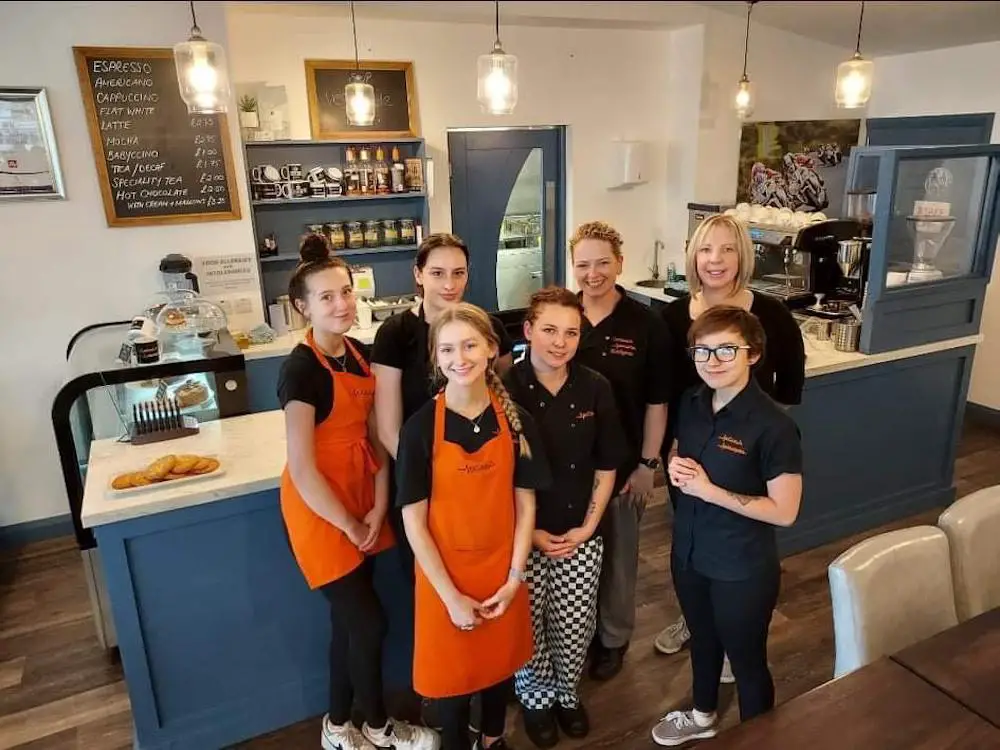 Coffee, scones and Vespas may seem like an odd combination but it appears to hit the spot for one County Armagh business.
McCrum's of Portadown is more than just a motorcycle shop; since opening its doors back in 2019 it has become a hub for people in the community from all walks of life.
Last year, the store picked up the award for Best Café in County Armagh at the Irish Restaurant Awards and topped that off by picking up top spot for best coffee shop category of the High Street Heroes NI awards.
Speaking to Armagh I, owner Wes McCrum revealed that the phone call to confirm his win came as a "massive shock".
"We didn't even know we had been nominated," he said. "We were put forward by one of our customers and then people voted for us. It is just crazy."
Although life began for the Armagh Road-based motorcycle store-cum-coffee-shop in February 2019, this has been a labour of love for Wes and his wife Adeline for a number of years and it has not always been plain sailing.
Wes explained: "We had a gas delivery business but when the last recession hit it went quite badly. We would have delivered to card shops for balloons but a lot of them went bust and the same with engineering firms.
"I really started the motorcycle shop out of our home back in 2013 out of necessity, just to make a living."
So, McCrum Motorcycles began at the home of Wes and Adeline, but in 2019 the opportunity presented itself to move to the Armagh Road premises.
"I made the decision from the start, that if I was going to move I wasn't just going to open up another motorcycle shop," he explained.
"At first, I thought of an in-house diner but then that would only have attracted the younger people and bikers. I really wanted to diversify that which is why we chose a neutral setting with some images of Vespas and road racing."
Wes knocked down an existing wall into what was once a parts and accessories store and raised the roof to create a spacious and airy cafe.
Speaking proudly, Wes commented: "We are the only motorcycle shop in Ireland with a coffee shop and we are the only motorcycle shop in Ireland open seven days a week."
McCrum's has become a must visit from motorcycle and scooter clubs all over the country.
"We get people from Killarney and Monaghan and Derry, they really come from everywhere," Wes said. "We have seen a resurgence in the Moto Guzzi club as they now have somewhere to meet.
"The Vespa ones all come here to start or finish their runs too. It is more of a go to venue than a motorcycle shop. I mean we sell motorcycles but it is almost a by the by some days."
Despite this, Wes was quick to point out that from day one the vast majority of his Monday to Friday crowd have been pensioners and local non-bikers.
"They come here because the food is good and it is comfortable. Rather than just being pushed into a corner," he said, "it is all very spaced out which has also been comforting for them during Covid.
"But it is flat out, we could have 150 covers between breakfast and lunch on a Saturday or Sunday."
And he wasn't lying about the food either. This is not your typical sausage roll and a bacon buttie, everything is on offer from gourmet burgers and dirty fries to homemade scones and traybakes.
"Our head chef, she had been with us for over a year and she is just excellent, she really brought the standard up," Wes said. "Our front of house are amazing too and so patient with our elderly customers."
Explaining the businesses success, Wes stated: "For me, it is not just about selling motorcycles or cups of coffee. It is about engaging with people. I mean we have heard some life stories in here.
"Our oldest customer, she would be around 94 and she served in Burma with Lord Mountbatten as a nurse. The people of Portadown have really bought into us."
Sign Up To Our Newsletter