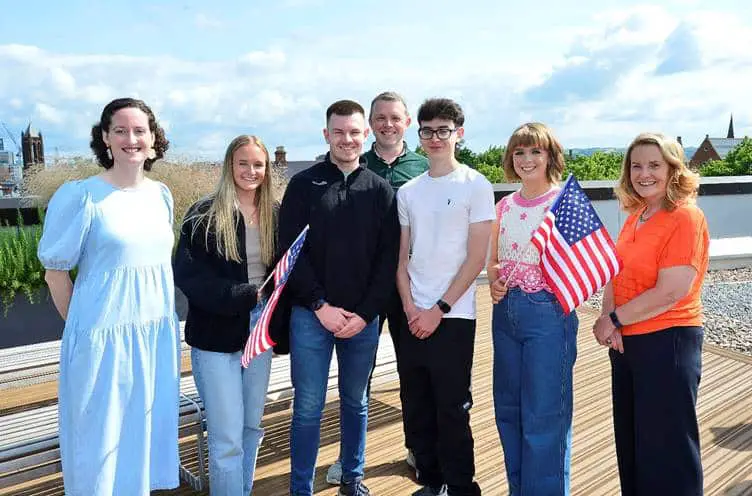 Co Armagh students are heading off on the adventure of a lifetime this month after being accepted onto a US Scholarship programme.
They are among 56 students from across Northern Ireland on the prestigious Study USA programme, which enables students to study business or STEM (Science, Technology, Engineering and Mathematics) related subjects in American colleges, across 22 States, helping to develop their career prospects when they return to Northern Ireland.
The British Council, which is the UK's international organisation for educational opportunities and cultural relations, manages Study USA on behalf of the Department for the Economy – and since its formation in 1994, the initiative has sent over 2000 students from Northern Ireland to all four corners of the United States.
Queen's University Belfast Law students Ruth Cadden and Jessica Anderson will both spend the next year in Virginia. Ruth, who is originally from Portadown is off to Shenandoah University, while Jessica, from Markethill, will study at Mary Baldwin University.
Speaking ahead of her departure, Ruth said: "I applied to the Study USA programme as I thought it would be a great opportunity to learn about and live in a new culture, very different to what I'm used to at home. I also applied to gain more skills, become more independent and meet lots of new people. I'm excited for the opportunity to study something different, which will help me think more about future career options."
Jessica added: "The opportunity to travel to an entirely new continent and have the chance to study a new subject was a once in a lifetime; unmissable opportunity. Through this experience I primarily hope to develop my knowledge and skills in a new field of studies. I also strive to hone my communication skills, independence and confidence, and push myself out of my comfort zone. From Study USA, I hope to emerge as a different, improved version of myself."
Meanwhile, Lurgan's James Hatchell, a Mechanical Engineering student at Queen's University will head to Ohio Northern University in Ohio; and James Tallon, an Accountancy Student at Ulster University, will swap Craigavon for Arkansas as he heads to the University of the Ozarks.
James Hatchell said: "Study USA seemed like such a unique learning opportunity that could help broaden my horizons for employment. Hearing about past students' experiences and seeing how they developed over the course of the year encouraged me to apply. I'm going to make the most out of every opportunity, be it in the classroom or off the campus."
Also commenting on the programme, Jonathan Stewart, Director British Council Northern Ireland said: "We're delighted to be partnering with the Department for the Economy to deliver Study USA, a prestigious scholarship programme that has gone from strength to strength since its inception in 1994.
"Study USA greatly enhances the employability skills of the students taking part in the programme, with many returning to work in Northern Ireland for employers with US and global links. Students get an opportunity to connect with another country, to really get to understand that country through living there for a year, and update their CV by developing new skills in an international setting. While in the US, the students will have the opportunity to enhance their academic skills but also to develop their people and intercultural skills that will prepare them for working for employers in Northern Ireland in the future. This year our students will be spread across 22 US states and we hope that they will build valuable links and develop friendships that will last a lifetime.
"We know that this year's students will be great ambassadors for Northern Ireland. We wish them every success for the exciting year ahead and we look forward to welcoming them back to celebrate the class of 2024 next year."
Applications for Study USA for 2024-25 will open in September 2023. To find out more about the programme, and eligibility criteria visit: https://nireland.britishcouncil.org/opportunities/study-usa
Study USA continues the British Council's work, building connection, understanding and trust between people in the UK and overseas through arts, education and English language teaching. To find out more about the British Council's work in Northern Ireland visit nireland.britishcouncil.org or follow on Twitter, Facebook or Instagram.
Sign Up To Our Newsletter