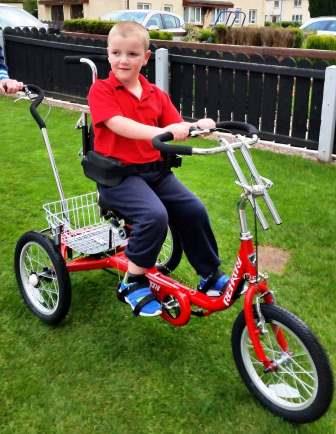 A five-year-old County Armagh boy – diagnosed with Autism Spectrum Disorder (ASD) – is set to have much more fun playing outside after receiving a specialist tricycle from a fantastic children's charity.
Reece Haddock, from Portadown, has a condition that has left him with few communication skills and no awareness of danger.
He also becomes tired when walking long distances.
His father, John, says Reece prefers to do things on his own, and rarely plays with other children, including his sisters Abi (11) and eight-year-old Sami.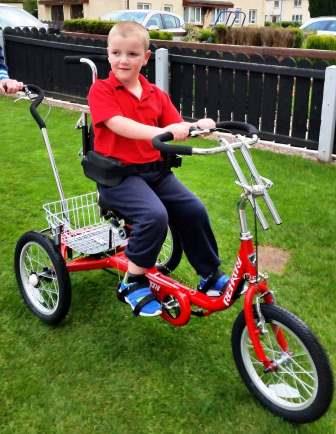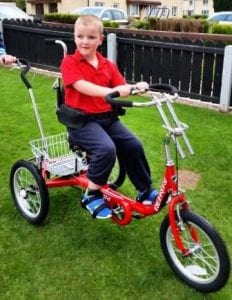 "He really does struggle to interact and it's heart-breaking watching him play alone," said John.
But thanks to fundraising support from Caudwell Children, the family raised the £708 needed to buy a specialist tricycle.
This has given Reece the chance to play outside with his family.
The charity's Family Services programme in Northern Ireland, has been developed with funding from Awards for All Northern Ireland.
Reece's mum, Crystal, is hoping the tricycle will have a positive impact on her son.
She said: "He's only had the tricycle for two weeks but he's already been riding outside with Sami.
"Obviously, he's never been on any kind of bike before and the sensation of peddling for the first time brought a smile to his face, which was magical to see.
"Reece has a fear of outside spaces, so slowly but surely the tricycle will get him outside his comfort zone, which will be hugely beneficial for his wellbeing."
The tricycle has been specially designed to assist children in their physical development and rehabilitation and John believes it will have real health benefits for his son.
He added: "The tricycle has been engineered to make pedalling that much easier. So the regular exercise that he will get from using the tricycle will not only encourage self-mobility, but will also help strengthen his lower limbs."
Reece, a pupil at Ceara Primary School, in Lurgan, had used a buggy to travel around in, but his parents now hope that the new tricycle will see him regularly using a more appropriate, independent method of transport.
Lisa Bates, Head of Applications at Caudwell Children, said the charity was delighted Reece has received his new tricycle.
"It will not only provide physical therapy but will also develop an increased sense of independence, which is so important for children of his age," she explained.
"Unfortunately, these highly specialised pieces of equipment come at a price, but with the continued support of the local community we can help even more children like Reece."
You can donate to Caudwell Children through the Just Giving page here.
Read more news:
Two men arrested after arson attack on boxing club
First Minister told nothing short of new build and sixth form will do for Markethill High
Digger stolen and driven three fields before loaded onto lorry
Armagh company prosecuted after worker falls from height and breaks nine ribs
Vandals damage four vehicles as car dealership is targeted over the weekend
South Armagh primary school gets £1.5m funding boost
Picture shows man caught trying to force open window of Co Armagh home
Sign Up To Our Newsletter