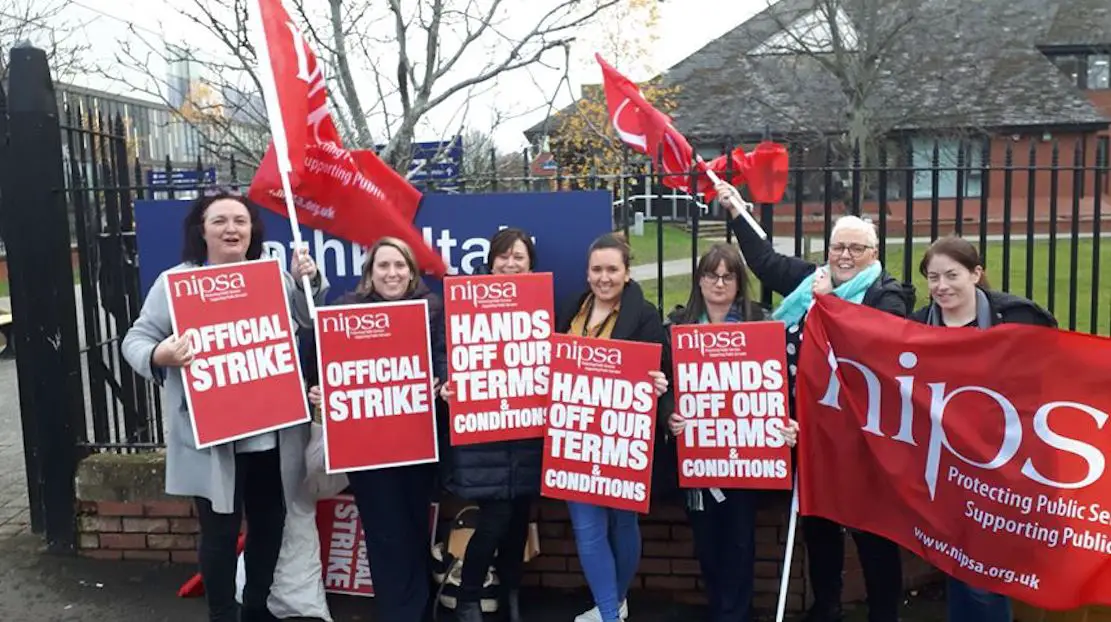 Union officials have highlighted the next steps in the industrial action planned by health workers, beginning with next Wednesday's 'all out' 24-hour strike.
The NIPSA ballot for industrial action returned a 90.4% vote for strike action and 96.6% for action short of strike action.
The NIPSA Health Panel – which represents all branches in Health and Social Care and Health Arm's Length Bodies – authorised a number of actions.
Wednesday's 24-hour strike action by all NIPSA members in the health services and in related arm's length bodies.
In other words, it will apply to the Southern, Belfast, Northern, Western, and South Eastern Health and Social Care Trusts; Business Service Organisation and Business Service Organisation (IT); Glenmona Resource Centre; Health and Social Care Board; NI Ambulance Service Trust; NI Blood Transfusion Service; NI Guardian Ad Litem Agency; NI Medical and Dental Training Agency; NI Practice and Education Council for Nursing and Midwifery; NI Social Care Council; Patient Client Council, Public Health Agency; Regulation and Quality Improvement Authority.
The strike is due to start at 12.01am and conclude at 11.59pm.
The following day, December 19, action short of strike by all NIPSA members in the health services and in related arm's length bodies will then start.
This will include members only working normal paid hours, refusing to carrry out unpaid work, not covering vacant posts (after five days), not covering long term sick (over four weeks) or providing maternity leave cover. And all members have been instructed to take all their normal breaks
The action will start at 12.01am on December 19.
From then through to the end of the current financial year – March 31 – NIPSA says it will develop a programme of all member strike action, selective groups' strike action and further action short of strike action.
A NIPSA spokesperson said notice will be issued when these actions are agreed.
And he said it had been essential to take this course of action.
"This action is necessary because, despite numerous meetings, the employers, the Department of Health and the Government have failed to sufficiently address NIPSA's claims for pay justice and safe staffing," added the spokesperson.
"NIPSA, Unison, Unite and RCN have met to co-ordinate the action of the 18th December. All the unions have different starting points, objectives and tactics in this dispute. Where possible and going forward, further coordination will be sought.
"NIPSA has not agreed any exemptions from the industrial action.  If the employers identify real emergency situations, they will be able to contact NIPSA's liaison officers and appropriate arrangements will be put in place.
"In any incident where strikers carry out agreed emergency cover, NIPSA will view them as acting on behalf of the striking workforce and will expect them to relinquish their wages for the period of the cover.
NIPSA has asked all of its members to participate in the picket rota, adding: " The stronger the action is the less time it will last."
Details of all picket lines will follow.
Deputy General Secretary Padraig Mullholland said Wednesday' strike will be "hard-hitting" but insisted union members had "no choice but to defend our National Health Service".
"For too long members have held together a system that is in crisis so that our communities get a decent service," he said.
Assistant Secretary Maria Morgan added: "Safe staffing and pay justice are at the heart of our dispute. Our members have had enough and have made it clear that action is now necessary."
Sign Up To Our Newsletter