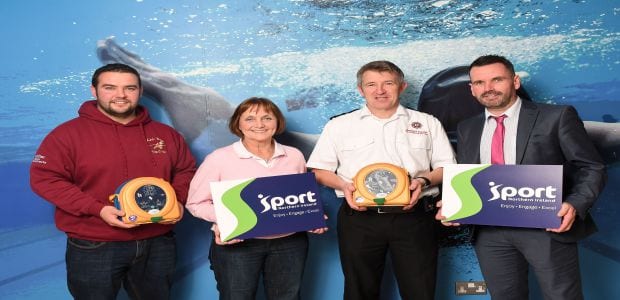 There's no doubt about it – they do save lives.
And now local sports clubs are being urged to apply for a FREE defibrillator.
Many clubs already have them in place and have held their own fundraising initiatives to purchase them.
But now Sport NI has reopened its programme to make them available free of charge.
Sports clubs and organisations from across Northern Ireland are being invited to apply for free automated external defibrillator (AED) devices under the 'Defibrillators for Sport' initiative.
Originally launched by Sport NI and the Department for Communities in July 2016, the initiative has so far seen over 1,000 defibrillators allocated to sports clubs across Northern Ireland.
Sports clubs and organisations are welcome to apply. Even if the club or organisation already have a defibrillator, they may be eligible to receive a new device through this initiative.
According to Sport NI: "If your club or organisation already has an AED, devices obtained prior to 2008 should be considered obsolete and measures should be taken to replace such equipment. Accordingly, clubs with older devices will be eligible to apply for a new AED."
The Community Resuscitation Strategy has identified the need to increase provision of AEDs in community settings.
Free defibrillator awareness training will also be offered to all successful applicants.
Applications are now open and will close at noon on Monday, February 5.
For more info please click here.
Sign Up To Our Newsletter