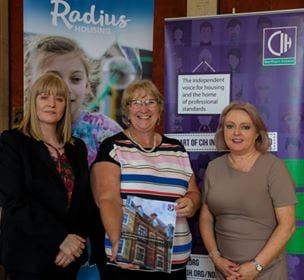 Social housebuilding in Northern Ireland is being threatened by benefit cuts planned by the UK Government according to a new report, the SDLP says.

The report, from the Chartered Institute of Housing (CIH) Northern Ireland, warns that plans by the Conservatives to further cut housing benefit, including a new measure dubbed the 'new bedroom tax for pensioners', will make housing affordability worse.
'The impact of welfare changes on rented housing in Northern Ireland report', which was launched at Stormont this week with the All Party Group on Housing, says that the planned cuts would not only increase the risk of rent arrears, eviction and homelessness, but they would also have a knock on effect for the ability to build new social homes.
The report recommends that urgent action be taken to introduce changes in Northern Ireland that lessen these impacts.
Nicola McCrudden, CIH director for Northern Ireland said: "The Conservative government is planning a raft of changes to housing benefit that will put people's homes at risk and threaten the ability to build new social housing in some areas.
"Currently tens of thousands of working-age social housing tenants are protected against the bedroom tax – however these additional changes will see pensioners affected for the first time and single people under 35 strongly impacted. Unless action is taken, tenancies will be put at risk.
"These plans could also mean fewer social homes are built because rents go towards repaying housing association loans for new housebuilding.
"The absence of the Stormont executive isn't helping – we need a devolved administration up and running to prepare for these legislative changes. It is vital to ensure we keep roofs over people's heads and that we scale up the level of social housebuilding that we desperately need."
Speaking at the event, SDLP Upper Bann MLA Dolores Kelly expressed her concerned: "We have a housing crisis here. This report shines a light on how this latest round of Tory cuts will only deepen that crisis and hit some of our most disadvantaged the hardest."
"We cannot live in a society that continues to punish people. We need to stand up and speak out for those who are facing the burden of welfare cuts from a cruel and callous Tory Government.
"We need an Executive that will take urgent action to protect them. People in our communities cannot be asked to wait in fear and despair."
Newry and Armagh MLA Justin McNulty also warned of the "significant impact on social housing provision" in this constituency.
He said: "In our cities, towns and villages there is a real need for investment in new build social housing and indeed increased maintenance of the existing housing stock. There are many people on waiting lists for suitable housing, be they single story houses, family homes or dwellings for people with complex needs.
"The latest wave of Tory cuts will have a devastating impact on social housing provision here.
"My fear is that the latest cuts will increase the risk of rent arrears, eviction and homelessness, and also have a knock on effect on our ability to build new social homes.  The report recommends that urgent action needs to be taken to introduce changes in Northern Ireland and to do that we need an Executive and Assembly isn't operating as it should."
Sign Up To Our Newsletter