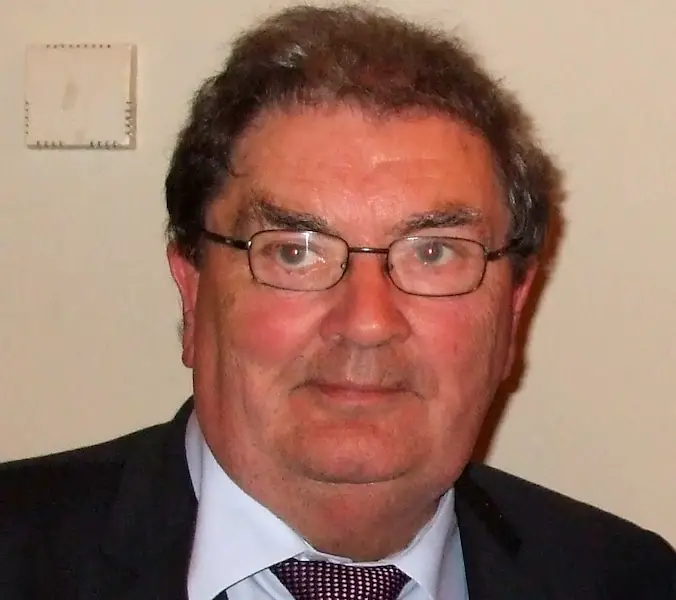 Tributes have been paid following the passing of Nobel Peace Prize winner John Hume.
Mr Hume, who was 83, passed away at Owen Mor nursing home in Derry during the early hours of this morning (Monday).
In a statement, his family said: "John was a husband, a father, a grandfather, a great grandfather and a brother.
"He was very much loved, and his loss will be deeply felt by all his extended family.
"We would like to extend our deepest and heartfelt thanks to the care and nursing staff of Owen Mor nursing home in Derry.
"The care they have shown John in the last months of his life has been exceptional.
"As a family, we are unfailingly inspired by the professionalism, compassion, and love they have shown to John and all those under their care.
"We can never adequately show them our thanks for looking after John at a time when we could not.
"The family drew great comfort in being with John again in the last days of his life."
SDLP Councillor for Armagh, Thomas O'Hanlon said John Hume was a man of "vision, influence and peace".
"Because of John we have peace on our streets," he added.
"He did more for his country and her people than any of us can ever imagine. He really was Ireland's greatest and his legacy will last for ever.
"I have many favourite quotes from him, but I think this one sums up his work 'when you have a divided people the only solution is agreement. When you have a divided people violence will never solve the problem'.
"Rest easy John, you and your work will never be forgotten! When you spoke, everyone listened. Where you led, others followed! My thoughts and prayers are with his wife Pat and the Hume family. RIP John."
Party colleague Declan McAlinden added: "Ireland's finest politician and leader has sadly passed away. Blessed the peacemakers for they shall be called sons of God. Grásta ó Dhia ar a anam uasal dílis."
SDLP Councillor Thomas Larkham commented: "Blessed are the peacemakers. Heavy hearts in the SDLP this morning as John Hume, our former leader and Nobel Laureate passed away last night.
"An immeasurable man of which we will never see the likes again! Thank you for the peace we enjoy today- Without you John, it wouldn't have been possible.
"My thoughts are with the Hume family at this sad time. RIP Ireland's Greatest."
MLA Dolores Kelly added: "Heartbreaking news, a great loss to us all but must especially his family, sincere condolences to Pat and family circle."
Sinn Féin Newry and Armagh MP Mickey Brady extended his deepest condolences on the death of John Hume.
"It is with great sadness that I have learned this morning of the passing of John Hume," said Mr Brady.
"I want to extend my sincerest and deepest condolences to John's wife Pat, to their children, to their wider family, to John's wide circle of friends and to his colleagues in the SDLP.
"A huge political figure in our society for many decades. He was leader who took risks that ultimately helped bring about peace.
"His actions helped to shape the peace process and he was central to the negotiation of the Good Friday Agreement.
"John Hume leaves a lasting legacy and the international and national esteem in which he is held is immense."
Lord Mayor of Armagh City, Banbridge and Craigavon Borough Councillor Kevin Savage said: "One of the main architects of the 1998 Good Friday Peace Agreement, John devoted his life to campaigning for an end to conflict and building a more peaceful and stable society where – according to the political stalwart – "children could look to a future with a smile of hope.
"We are forever indebted to him for his lifelong dedication to the peace process. Let's celebrate his life and honour his legacy by continuing to recognise and respect our cultural differences as well as to reap the rewards of reconciliation long into the future.
"My deepest sympathies go to John's wife, children and extended family. May John the great peacemaker rest in peace."
Newry, Mourne and Down District Council Chairperson, Councillor Laura Devlin has opened an Online Book of Condolence for the residents of Newry, Mourne and Down to extend their sympathies to the family of John Hume.
Due to COVID-19 restrictions, the Book of Condolence will be available online at https://www.newrymournedown.org/chairpersons-book-of-condolences from 3pm today.
All messages in the online book will be recorded by Newry, Mourne and Down District Council and sent directly to Mr Hume's family.
Speaking on the news of Mr Hume's passing Councillor Devlin said: "It is with deep regret and sadness that we have learnt of the death of our friend John Hume who passed away on Monday 3 August 2020. He will be sorely missed by all who knew him.
"John leaves the lasting legacy as one of the highest profile politicians on the Island of Ireland who was highly respected by all communities. His selfless commitment to peaceful, democratic politics during three decades of violence in the North of Ireland knew no bounds. He was one of the key figures who helped create the climate that brought an end to the Troubles. He was instrumental in bringing about the signing of the Good Friday Agreement and my children are
now growing up in an Ireland he imagined – at peace and free to decide our own destiny."
Continuing Councillor Devlin said: "My thoughts and prayers are with the Hume family today as they mourn the passing of a husband, father and grandfather. Thank you John."
The Book of Condolence will close for digital signatures on Monday, August 17.
MLA Justin McNulty said Mr Hume was a "colossal figure" and like Séamus Mallon was a hero to him.
"His place in Irish history is assured alongside O'Connell and Parnell," said Mr McNulty.
"He spilled his sweat and not one drop of anyone else's blood in his battle for justice, equality, fairness, civil rights and peace on this island.
"Although he was an internationally recognised statesman and was justly awarded the Nobel Peace Prize, John remained a man of his people.
"John Hume's determination and relentless pursuit of peace on our island paved the way for the signing of the Good Friday Agreement. He leaves a legacy every Irish person can be proud of.
"My sympathies are with John's wife Pat and his entire family circle, his friends and community and with his SDLP family.
"John Hume, the man who made hope and history rhyme. I measc na naomh go raibh sé."
Sign Up To Our Newsletter