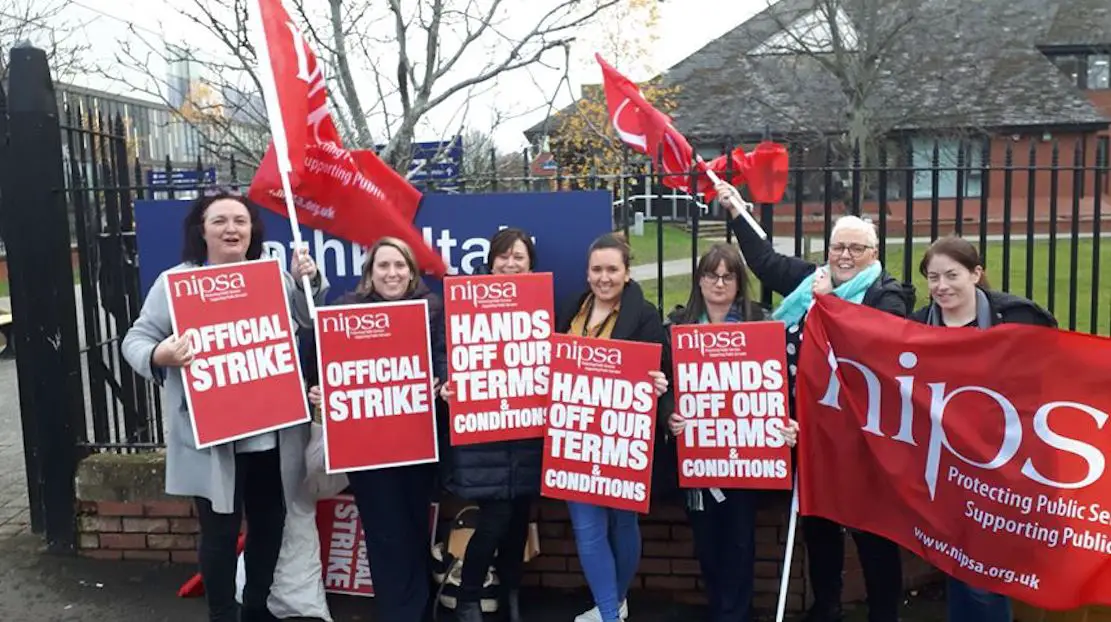 The last of the trade unions involved in the ongoing industrial dispute in the health care sector has confirmed it has suspended all action short of strike.
NIPSA did so after its health central panel met on Tuesday to consider a letter from the Department of Health.
The union said it offered "important clarifications" on concerns and issues members had in relation to 'safe staffing'.
It also said members were also mindful of the "public health emergency" at present with the spread of coronavirus, which has now been declared a pandemic by the World Health Organisation.
The letter was a result of a meeting that took place the previous day with the Department of Health.
NIPSA health official Maria Morgan said tonight (Wednesday): "The letter provides clarity for NIPSA and defines actions that had previously been absent for us and had therefore meant we had no option but to continue with our industrial action.
"Given the developments, it is our strong view that because of the determined actions and efforts of our members that we have been able to get to this point.
"After careful consideration of the detail the NIPSA Health Panel believes that there is now enough assurances for NIPSA to be able to progress the substantive issues for our core membership groups across Admin & Clerical, Social Work & Social Care and Support work roles. 
"On that basis it was decided that NIPSA will suspend all action short of strike action. 
"This decision was also taken mindful of the public health emergency we all face."
Ms Morgan added: "We can now assure our membership that discussions and commitments given can allow us to engage in discussions that will deal specifically with our memberships concerns in relation to the high number of vacant posts, the delays in recruitment to posts, training, career progression and work life balance etc."
The decision has been wlecomed by Health Minister Robin Swann.
He said he was "pleased that the Department has been able to provide the necessary clarification to the Framework Agreement – made with other trade unions on 15 January – to enable this to happen".
And he added: "This is the right and responsible decision, particularly as we prepare to deal with the effects of the coronavirus pandemic.
"I do not underestimate how tough a decision this was for NIPSA to take, and I respect the importance that its members – indeed, all of our workers and trade unions – place on safe staffing."
Other unions involved in ongoing action since last year – including Unison and Unite and the Royal College of Nursing – called it off in February after offers were made in relation to pay parity and staffing.
Sign Up To Our Newsletter