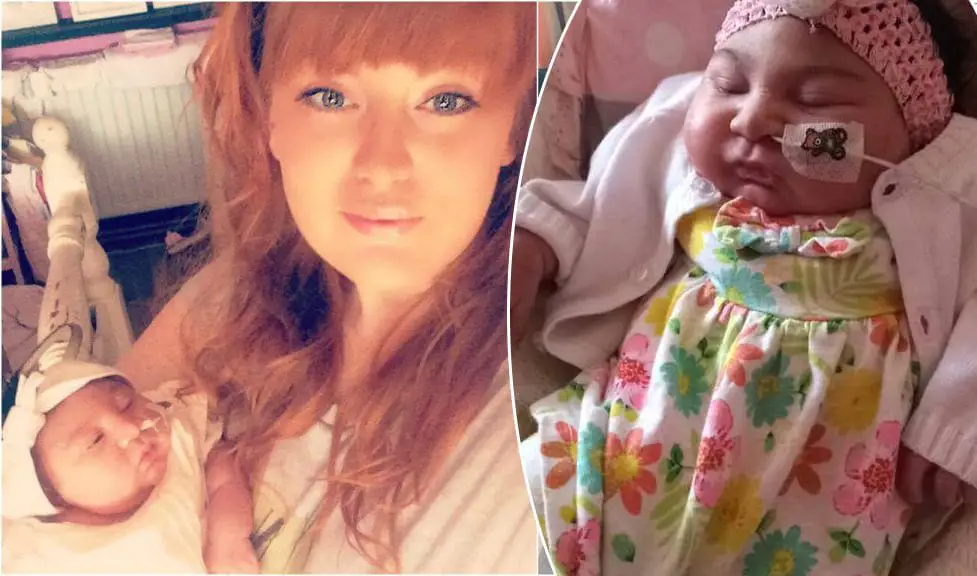 The mother of a gravely ill five-month-old baby has asked for continued prayers as her little girl is taken off a ventilator in the early hours of Sunday morning.
Analee Gibney has given beautiful daughter May Rose her undivided love and attention as she battles bravely to stay alive.
However, in the early hours of tomorrow morning she will let her daughter decide. May Rose will be taken off the ventilator to see if she can breathe on her own.
Analee, originally from Newtownhamilton, said she has made the choice not to try and resuscitate, if her little girl is unable to manage.
Little May Rose underwent life-saving surgery in Oxford two weeks ago and continues to defy the odds.
But earlier this week doctors admitted there is little else they can do for her now as she continues to suffer from the rare brain condition – Encephalocele.
The 24-year-old mum delivered the heartbreaking news on the May Rose's Journey Facebook page earlier this evening.
She said her and the family were preparing to say goodbye but asked people to keep them in their prayers.
"After the meeting with the doctors yesterday we as a family are preparing ourselves to say Goodbye," she posted.
"May Rose has suffered from a great amount of brain damage and strokes.
"Leaving it as there's nothing more surgical that can be done for her.
"After nearly two weeks yesterday I got to hold my beautiful baby girl in my arms I got to cuddle, feel her skin on me, smell her baby scent, stroke her eyebrows.
"We also played our fav song (Donna Taggart, Mom) Again and Again and again and again 
❤️.. we got a big bed in which meant I was able to sleep with her just like we used to.
"Memory's that I'll always treasure. "
She continued: "Tonight early hours of the morning May Rose will be took of her ventilator to see if she can breath on her own.
"They will give her something for comfort but will not be bagging her or CPR. No resuscitate is by my choice, a choice that I strongly stick by after witnessing what they go through and the heart squeezing back in May.
"I cannot put her through that again 
????.. Some people may not agree but it's what I as her mother think is right for May Rose.
"My May Rose is a born fighter, she has fought and is still fighting with every bit she has.
"Please keep May Rose in your thoughts and prayers tonight. With the help of god this is just another hurdle she'll burst through."
Sign Up To Our Newsletter