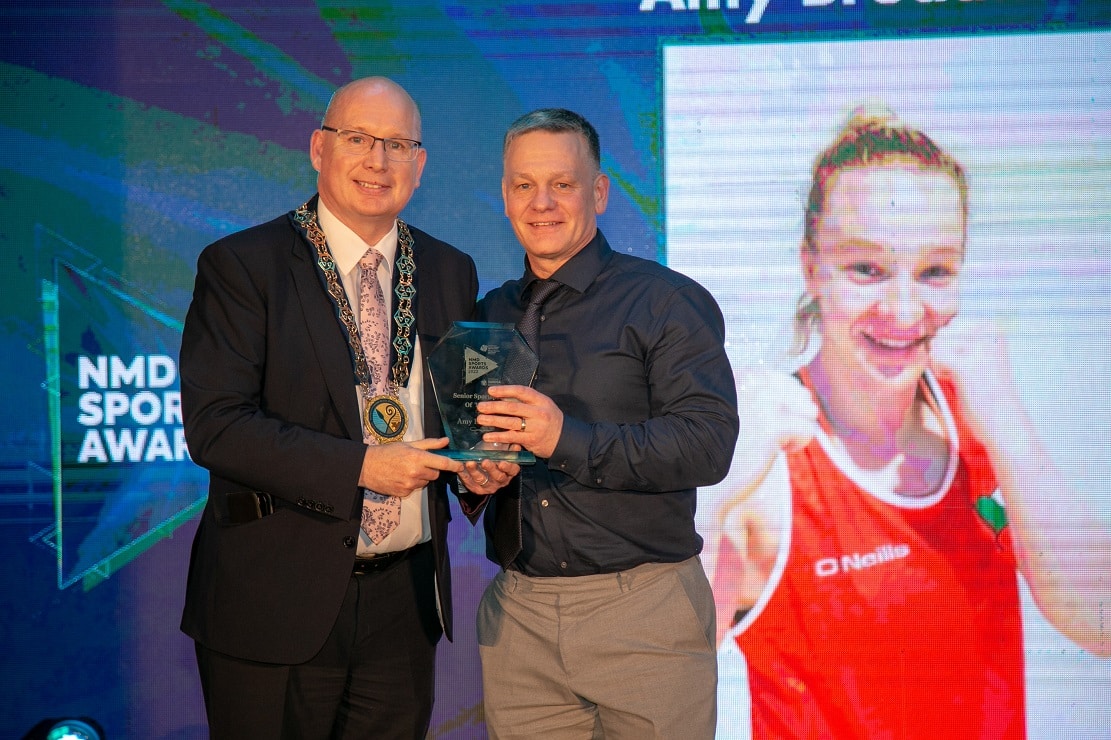 Newry, Mourne and Down District Council in association with the Sports Association Newry, Down and South Armagh (SANDSA) welcomed over 250 guests to the Canal Court Hotel, Newry on Wednesday, March 29 for the NMD Sports Awards 2022.
The event celebrates the remarkable achievements of teams and individuals who have made outstanding contributions to sport across the district, as well as paying tribute to the efforts of coaches, volunteers, mentors, teachers and parents who support our athletes and clubs and help to make Newry, Mourne and Down a healthy and active district.
This year's recipients were nominated for their contribution in the following Junior and Senior categories: Club Team of the Year, Sports Volunteer of the Year, Club Coach of the Year and Sportsperson of the Year.
With so many exceptional successes racked up by sporting stars across the district, competition was notable for the award categories.
Newry, Mourne and Down District Council Chairperson, Councillor Michael Savage said: "The NMD Sports Awards, hosted in partnership with the Sports Association Newry, Down and South Armagh (SANDSA) gives us an opportunity to celebrate the high level of sporting performances and the achievements of our remarkable local stars.
"I would like to congratulate all of those who have been nominated over the nine award categories as the calibre of entries has been truly exceptional."
Councillor Savage continued: "The Council is proud to support the sports community in our district. We continue to foster a culture of physical fitness and wellness and create opportunities for residents of all ages and abilities to engage in an active lifestyle, whether by increasing their daily physical activity or competing in high performance sport.
"I hope that the NMD Sports Awards leave you all feeling inspired by the passion, commitment and unwavering determination of our local sporting community."
During his speech, Councillor Savage also paid tribute to the late Mr. Jimmy Davis, who has delivered over fifty-five years of continued support to the Carnbane Football League, formed in 1968.
Working tirelessly at a grass roots level he has ensured thousands of football players have been able to play in this league throughout the years.
SANDSA Chairperson, Oonagh Murray, said: "It is a privilege to be here this evening and be part of the NMD Sports Awards. The talent in the room is incredible, and the sense of community spirit is so evident among our sports stars, as well as many of the unsung heroes that give up their time each week to make sports available and accessible across the local community.
"I would like to congratulate all our winners and shortlisted finalists."
The winners of this year's NMD Sports Awards 2022 in association with SANDSA are:
Junior Club Team of the Year – Dundrum Coastal Rowing Club – U18 Team
Senior Club Team of the Year – Clonduff Camogie Club
Sportsperson of the Year with a Disability – Tom Williamson, Down Triathlon Club
Life-Time Services to Sport – Jimmy Davis, Carnbane League
Young Sports Volunteer of the Year – Liam Toner, Downpatrick Football Club
Senior Sports Volunteer of the Year – Orla Morgan, Clonduff Camogie Club
Young Club Coach of the Year – Rebecca Burke, Strangford Coastal Rowing Club
Senior Club Coach of the Year – Guinevera McGilligan, Clonduff Camogie Club
Junior Sportsperson of the Year – Anna Gardiner, East Down Athletics Club
Senior Sportsperson of the Year – Amy Broadhurst, St Bronagh's Boxing Club
Sign Up To Our Newsletter