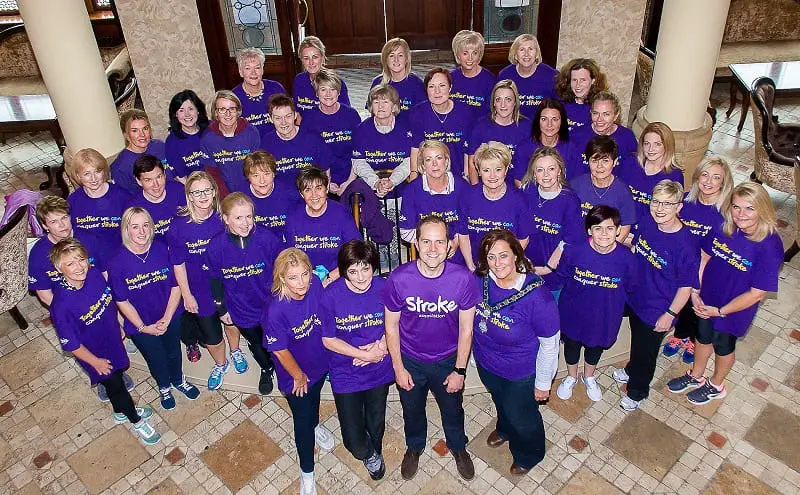 WeightWatchers leaders from throughout Northern Ireland took to the footpaths of Newry Saturday past to launch the Stroke Association's September SmartMove campaign.
Joined by Council Chairperson Gillian Fitzpatrick, the team took their pledge to "do more than before" this September, highlighting how exercise can help reduce risk of stroke.
The SmartMove campaign is about moving more than before. Throughout September, WeightWatchers leaders are aiming to engage Northern Ireland's WeightWatchers members to join them in making the SmartMove to reduce their risk of stroke and raise funds for the Stroke Association.
There are more than 35,000 stroke survivors in Northern Ireland and stroke strikes every 3.5 minutes in the UK. Stroke kills twice as many women as breast cancer.
Being overweight significantly increases your risk of stroke but research shows that regular, moderate exercise can reduce that risk by 27%. The SmartMove campaign encourages WeightWatchers members to pick an activity they enjoy – whether that's swimming, zumba or simply walking instead of using the car – and moving more throughout September to improve their overall health.
WeightWatchers leader Anne Marie Monaghan said: "This isn't about adding another thing to your to-do list. It's about finding little pockets of time that you can devote to moving more. It's amazing how much you can do in just 5 minutes. And the benefits are simply awesome."
Paul Montgomery from Stroke Association added: "A stroke is a brain attack which happens when the blood supply to the brain is cut off, caused by a clot or bleed in the brain. There are over 4,400 strokes every year in Northern Ireland, but most can be prevented. That's why our partnership with WeightWatchers NI fits so well.
"We can all reduce our risk of stroke through a healthy balanced diet low in salt and saturated fat and containing plenty of fruit and vegetables. Exercise is great for our health too. It plays a vital role in reducing your risk of stroke and can improve your overall wellbeing. Combining the two approaches can also lower your blood pressure, help you lose weight and control diabetes."
Read more news:
Contractors soon to be sought for new state-of-the-art Armagh college
Five Newry Pride committee members beaten in vicious assault over the weekend
Lithuanian residents say they won't be leaving following gun attack on home
Newry Road sewage work to continue for THREE more weeks
Security alert in place just a few hundred yards from Craigavon hospital
Council to clamp down on dog attacks and irresponsible owners with new control orders
Armagh club championship game comes to bizarre ending as lightning strikes
Sign Up To Our Newsletter