A waste company worker had to have part of his leg amputated after suffering horrific injuries when a vehicle ran over it.
The 39-year-old had been worked at the Regen Waste Ltd plant at Newry's Carnbane Industrial Estate when the incident happened in April of last year.
The company was today (Wednesday) fined £15,000 at Newry Crown Court, along with costs of £664, after the health and safety breach.
Dariusz Jurczyk had to have the lower part of his right leg amputated, the court was told.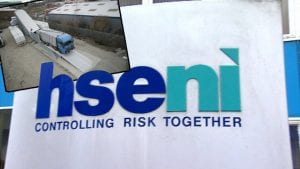 Today's sentencing comes after a Health and Safety Executive for Northern Ireland (HSENI) investigation into how the injured party was struck by a reversing vehicle at the company's premises on April 24 last year.
Regen Waste Ltd – a waste and recycling company – employs around 150 and mainly processes household waste recyclables such as paper, cardboard, metal cans and plastics. It operates a range of plant vehicles, including loading shovels, forklift trucks and skid-loaders throughout the site.
On the day of the incident, Mr Jurczyk, along with other employees, were brushing up aluminium material from below and around a conveyor system into small piles for a skid-loader to remove.
As the injured party was brushing, the skid-loader operating in his area ran over his leg.
The HSENI investigation found the company had failed to ensure a safe system of work to prevent accidents.
Proper consideration had not been given to how workers and vehicles could be kept apart, with the result that a person was run over resulting in horrific injuries.
This lack of good all-round visibility on the skid loader was also a significant factor, the court was informed.
Speaking after sentencing, HSENI Major Investigation Team inspector Kevin Campbell, said: "All businesses must ensure that vehicle movements are properly controlled on site and where possible people and vehicles separated.
"Reversing manoeuvres are particularly dangerous and, where possible, should be avoided. If they cannot, then measures should be taken to prevent people being struck or run over. Vehicles must be well maintained and mirrors or cameras need to be fitted correctly to ensure good all-round visibility."
Workplace transport related incidents continue to account for serious injuries and fatalities amongst many industries, including waste and recycling.
The Waste Industry Safety and Health Forum Northern Ireland (WISHNI) provides useful advice and encourages best practice in the waste and recycling industry. Material for employers to use within their workplace, including advice for the safe use of loaders is available from the WISHNI website.
Read more news:
County Armagh takeaway raided in overnight burglary
Man arrested after discovery of £1.6m cannabis factories; one in county Armagh
Several vehicles broken into during early morning crime spree
Disabled robbery victim loses fight for life almost three months after brutal attack
Paramilitarism, welfare reform packages and fewer MLAs agreed in 'Fresh Start' deal
Batten down the hatches: Get ready for gales, rain and…. SNOW!
Sign Up To Our Newsletter