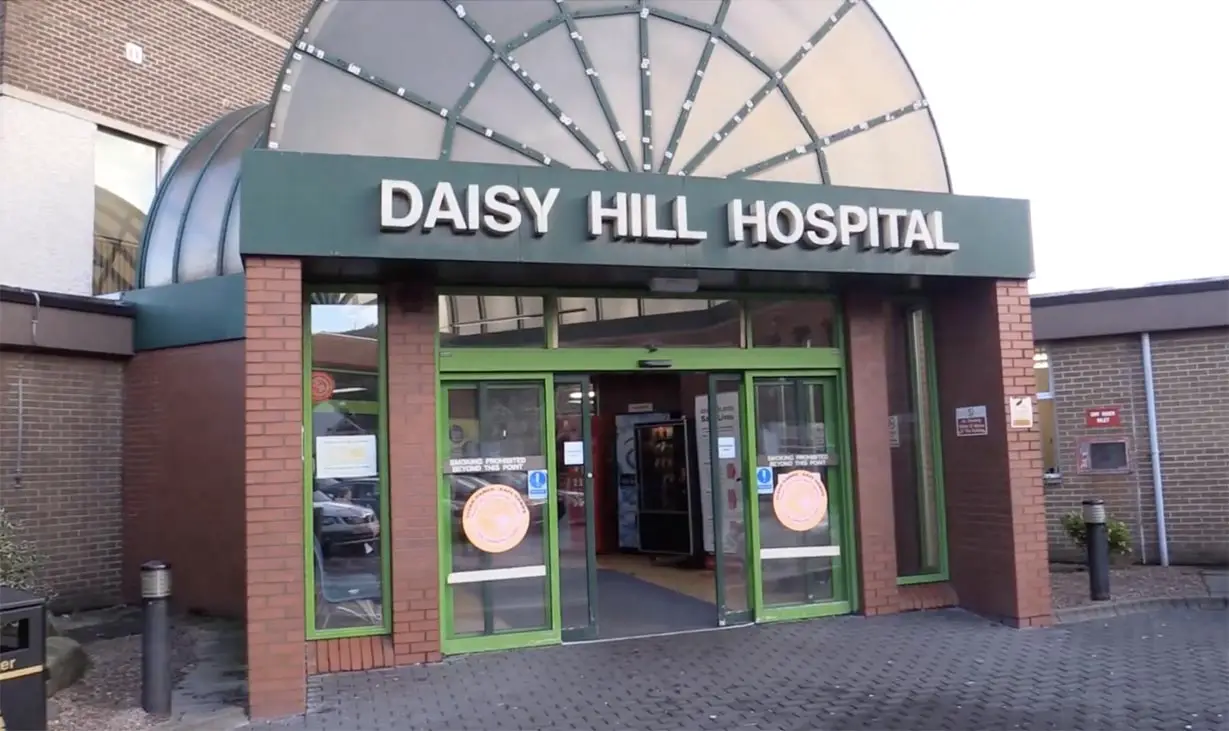 The Southern Trust is shortly to begin recruitment efforts for four consultant surgeons after a staff shortage was blamed for the removal of general surgery services from Daisy Hill Hospital.
Health Minister Robin Swann confirmed the move and said it is important that the Southern Trust "do all that it can" to recruit consultant surgeons who would work across its hospitals estate.
The Minister was speaking in response to a question tabled by Newry and Armagh MLA William Irwin.
The DUP representative pressed Mr Swann on what work was ongoing around the securing of consultant general surgeons at the Newry hospital site.
Mr Irwin said it was important that, since the suspension of general surgery at the site, this work on recruitment was undertaken "as swiftly and as intensively as possible" to ensure a greater level of service is restored to Daisy Hill.
The Minister said it was not the responsibility of the Department of Health to recruit staff, but added that it was "unfortunate and disappointing" that the Southern Trust had to take action on emergency surgery at Daisy Hill Hospital.
But he said he recognised that this had to happen "in order to maintain safe services".
Said Minister Swann: "We cannot compromise on patient safety. It must always be our number-one priority. The operational decisions taken by the Southern Trust should be viewed in that context.
"It is a temporary change and I expect that the Southern Trust will do all that it can to seek to recruit additional consultant general surgeons so that it might reinstate services as quickly as possible. I do recognise that that will be challenging and will likely take some time.
"It is an unfortunate reality that a number of our hospitals, particularly the smaller hospitals, face an ongoing challenge in recruiting and retaining specialist clinicians. Hospitals in other jurisdictions face similar issues. No amount of additional funding or workplace planning can resolve that challenge alone.
"I have therefore asked that the Health and Social Care Board and the Southern Trust take appropriate and feasible steps to ensure that the consequences of the changes are managed in a way that minimises both the impact on the local population and the risk of increased pressures on other health trusts.
"I have also asked that fresh efforts be made to secure consultant general surgeons at the Daisy Hill Hospital site while the Southern Health and Social Care Trust develops proposals for a sustainable, long-term model of care for general surgery across the Daisy Hill and Craigavon hospital sites.
"The Trust has advised that it is due to commence recruitment for four consultant surgeon posts with support for specialty interests. Those posts will specify the need to work across all Southern Trust hospital sites, as the Trust does not have permission from the Royal College of Surgeons (RCS) to advertise for consultant surgeon posts with support for specialty roles for Daisy Hill Hospital alone.
"I receive monthly updates on the situation, including progress reports on securing additional medical staffing for the site.
"I appeal to local elected representatives to continue to work with trusts to promote their local hospitals and local areas and to help attract new staff. That action demonstrates the fragility of parts of the system.
"I have said before, and I will say again, that, if we are to deliver the step change in health services that we need, including for general surgery, that is critical to addressing our waiting lists, we will need every inch of capacity at all our hospitals."
Speaking after tabling his question in the Assembly on Tuesday Mr Irwin said there was a "concerning trend developing at Daisy Hill whereby services are being disrupted – or in the Trust's own words 'temporarily suspended' – and then a very long wait ensues to see when and how services will be restarted".
And he added: "This type of approach is one that is difficult to understand from the Trust's perspective as it appears to the wider public that the hospital is not getting the type of resourcing and attention that it requires to operate at optimum capacity.
"I took the opportunity to officially table a question on this matter at the Assembly this week to the Health Minister and it is important that such matters are raised and recorded on the official record of proceedings.
"I want to see action on this issue and the need to ensure that the appropriate resources are in place to service the site.
"The response the Minister provided states that the Trust is due to commencement recruitment for four consultant surgeon posts with support for speciality areas.
"I would in turn urge the Trust to make haste with this work and ensure that all efforts are pointed towards the resumption of this important service at the site as soon as possible."
Sign Up To Our Newsletter