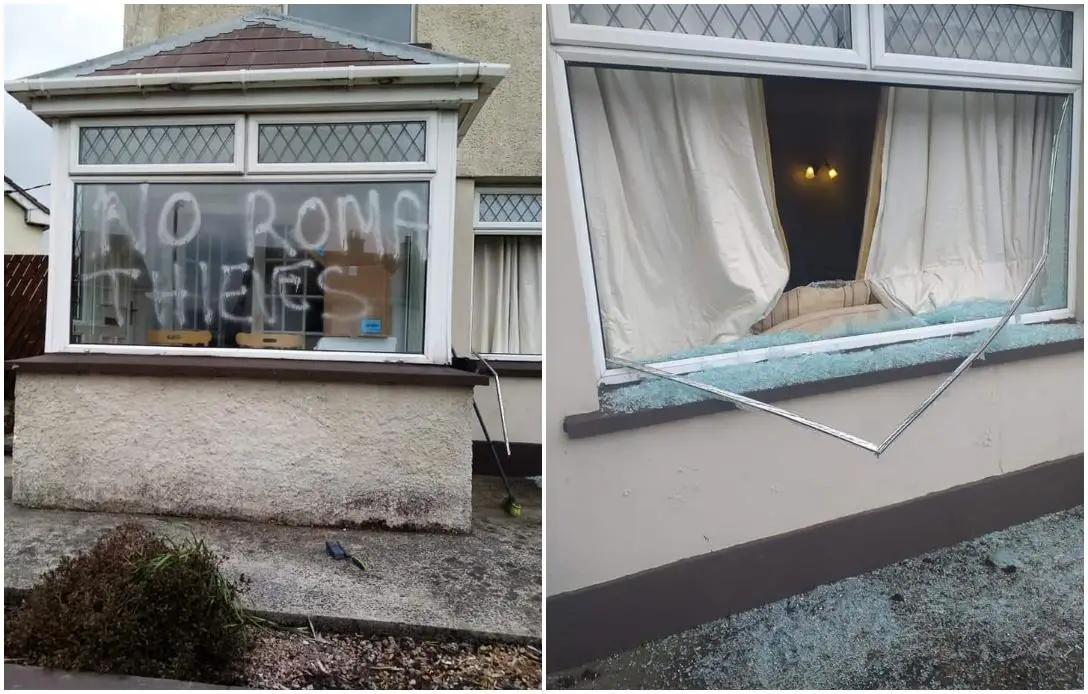 There has been widespread condemnation after a Syrian family in Newry had their windows smashed and racist graffiti sprayed on their home.
The incident happened in the Carlingford Park area of the city on Saturday night in what has been described as "a new low for the people of our district".
The family – believed to have been new to the area – were forced to flee their home in fear as a result of this heinous act.
Newry and Armagh SDLP MLA Justin McNulty said he was "very concerned to learn of this attack on a young family's home".
"What is even more distressing is the potential that this attack was racially motivated. I understand as a result of this traumatising ordeal the young family has now subsequently fled their own home.
"Newry is an incredibly diverse and vibrant city and for any individual or family to be targeted simply because of their ethnicity or nationality is vile and wrong."
Newry SDLP Cllr Michael Savage added: "I am under no doubt whatsoever the local and wider community of Newry will rally around and do whatever they can to support this family.
"It is crucial we all stand united to support our neighbours and fellow citizens to show in the strongest form that racism has no place in our society. I appeal to anyone with information regarding this sickening hate crime to bring it forward to the Police immediately."
Newry City Sinn Féin Councillor Valerie Harte has said there is anger and disgust within the local community.
"I am both disgusted and saddened to learn of this attack on this family who have just recently moved into the area," said Councillor Harte.
"This was a cowardly attack carried out under the cover of darkness and forced this family to flee their home.
"This hate attack must be condemned unequivocally, there is no room for racism in our society."
Concluding the Sinn Féin Councillor said: "This is being investigated as a hate crime, and anyone with any information about it should contact the Police.
"Those responsible for this hate crime have shown blatant disregard for the community. The racists need to hear loud and clear that their cowardly actions are unacceptable."
Independent Councillor Gavin Malone added: "We all are living in very difficult times with Covid-19 , Brexit etc but in our city last night we witnessed a new low for the people of our district.
"A very young Syrian family living in Carlingford Park had the windows of their house stoned and broken.
"Graffiti was written on their house and the young family are terrified to live in their own dwelling.
"We the people of Ireland have populated the world and we would not accept our people being targeted and racially abuse.
"I call on all the people of Newry City to totally condemn this disgraceful racial attack and rally around this family, at this challenging time.
"I also call on the cowards who carried out this attack to stop their racial abuse immediately. Anyone who has any information on this attack should inform the appropriate authorities."
Newry and Armagh Alliance representative Jackie Coade also condemned those behind the attack.
"My thoughts are with the family who have suffered this ordeal, and they have my full support," said Ms Coade.
"This sort of behaviour does not represent the vast majority of people in Newry. Racism has no place in our society, and the attitudes and actions of those who did this mindless attack must be condemned by everyone.
"Everyone has the right to feel safe in their home and as a community we must stand together. I would urge anyone with information on this incident to contact police with it immediately."
Sign Up To Our Newsletter