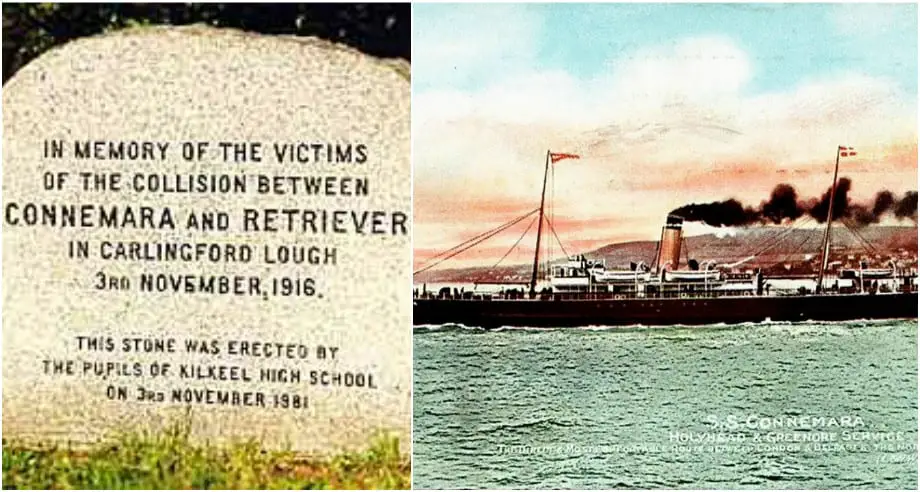 A bid to mark the 100th anniversary of a shipping disaster which devastated Newry and beyond has been turned down for Heritage Lottery funding.
November 3 will mark the centenary of the sinking of the SS Connemara and the coalship Retriever, with the loss of 94 lives.
Both had been sailing with dimmed lights – for fear of U-boats – and in very strong winds when they collided at the mouth of Carlingford Lough.
Only one man survived, James Boyle, a fireman from Warrenpoint. He was one of the nine crew on the Retriever, the other eight all residents of Newry.
Scores on board the Connemara perished in what was the worst maritime tragedy ever suffered in the Newry and County Down areas.
The morning after the disaster off the County Down coast and bodies were found washed up from Cranfield to Kilkeel.
Eighty-eight people died in Armagh's own transport disaster, on a Sunday School excursion train, 27 years earlier.
We in Armagh now have a memorial on the Mall to the railway disaster, but there are a number to mark the Connemara and Retriever losses which have appeared over the years. It is recalled at a lighthouse on Carlingford and with a plaque unveiled in Rostrevor just last week, and at a Kilkeel graveyard, the great loss will always be recalled.
And, specifically for the centenary, the Newry Maritime Association intends to hold a number of additional events and unveiling.
While the Heritage Lottery Fund has rejected funding, members are still pressing ahead with the centennial project plans.
The Association had applied for funding for a project which would include a number of publications and commemorative events. Talks to local schools and the publication of a pupil-friendly booklet, a maritime exhibition and heritage trail, all overseen by a project officer, were outlined to Heritage Lottery Fund.
And a mural and a remembrance seat to commemorate the tragedy and devastating loss also form part of the plans.
The good folk of the Newry Maritime Associaiton are ensuring they will never be forgotten – despite the funding setback – with more events planned in the days ahead in the run-up to the actual centenary.
Read more news:
Major new retail investment plans given go-ahead in south Armagh village
Decaying city centre premises earmarked for TWO new shops and apartments
Parents fear for future of Armagh autism services amid claims of radical change
Armagh girls asking for your help to bring Christmas comfort to the homeless
Approval sought to demolish and replace Armagh's Southern Regional College
Sign Up To Our Newsletter