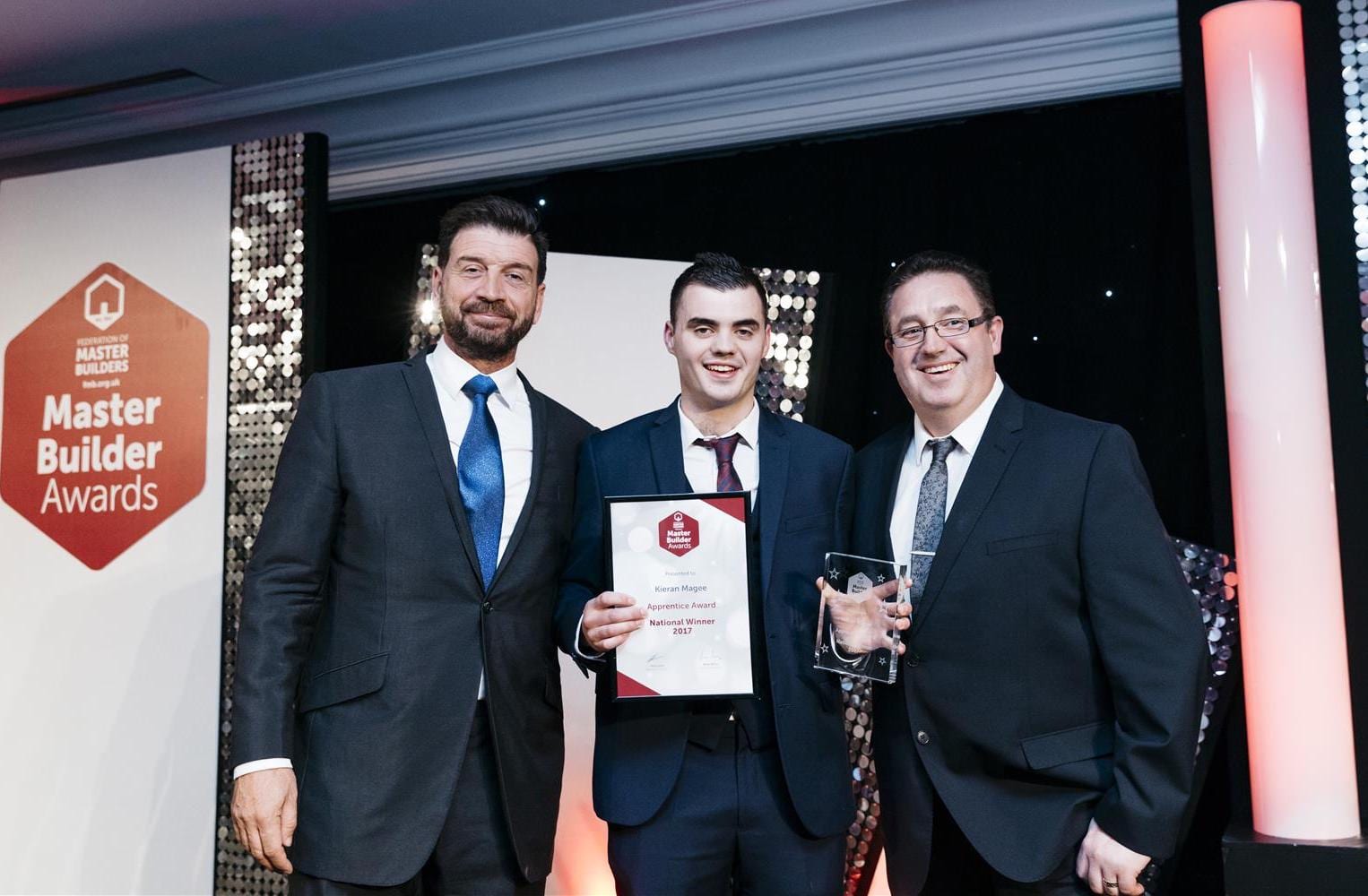 A Southern Regional College apprentice has been crowned UK Apprentice of the Year at the Federation of Master Builder Awards.
Kieran Magee was chosen from a vast selection of impressive candidates and awarded his prize in London.
The awards celebrate the best of the best in the UK construction industry with the winners decided by a team of leading experts.
Nick Knowles, building enthusiast and TV presenter, presented Kieran with his coveted prize at the glittering awards ceremony which was held at the Intercontinental Hotel Park Lane.
Kieran, who works as a self-employed wall and floor tiling specialist in Mayobridge, was selected as the national champion for his tireless professionalism, high standard of workmanship and positive attitude towards his studies.
Read more: Co Armagh student aiming to become best young tiler on the planet next month
He stood out from the competition due to his strong commitment to personal development, progression within his chosen trade and dedication to his clients.
As well as being self-employed, running a successful business and preparing for national competitions outside of working hours, Kieran is up at the crack of dawn to help out on his family's dairy farm.
Kieran has completed the Level 3 Wall and Floor Tiling course at the College's Greenbank Campus in Newry.
He is no stranger to awards and has previously achieved gold medals at NI Skillbuild and WorldSkills UK as well as being awarded the Tile Association Trainee of the Year and the Montgomery Award.
Kieran was nominated for the UK Apprentice of the Year at the Federation of Master Builder Awards by CITB representative David Cooper. David saw Kieran as being a shining example for the apprenticeship programme.
He explained: "Kieran is another highly skilled and motivated apprentice wall and floor tiler to emerge from Southern Regional College. His achievements are commendable and are worthy of recognition as amongst the best in the UK.
"His vocational ability, alongside his obvious work ethic are attributes that will pay dividends for Kieran in the future. His membership of the UK squad and his progression towards team selection for WorldSkills 2017 is a reflection of his
potential to represent the UK at the highest level in vocational competitions."
The Federation of Master Builders believes firmly in supporting businesses that invest in the future workforce by taking on and training apprentices and Kieran is a shining example of the benefits of investing in young builders and tradespeople.
His attitude and tireless efforts matched with good humour make him a very worthy winner of the UK Apprentice 2017 title.
Brian Berry, Chief Executive of the FMB, said: "Kieran has continually demonstrated exceptional commitment and determination to excel, and is a great example to others.
"We encourage all construction firms to train an apprentice if they aren't doing so already. Not only will higher levels of apprenticeship training help solve the skills crisis, it will also provide more young people with an opportunity to begin a
rewarding career in construction.
"Two-thirds of all construction apprentices are trained by SME firms like the ones represented by the FMB, and we must continue our proud history of training if we are to meet the increasing demand for new homes, schools, hospitals and transport infrastructure."
Brian Doran, Chief Executive at Southern Regional College commented: "This is a truly remarkable achievement for Kieran and I am really delighted that his hard work, dedication, commitment and skill has been recognised yet again.
"For Kieran to have been awarded The Northern Ireland Apprentice of the Year was a great achievement in its own right but now to be crowned the UK winner also, this is a true testament to Kieran as a highly skilled professional within his craft as he has triumphed over many other highly skilled apprentices from throughout the UK.
"I would also like to congratulate Paul Doran, SRC floor and wall tiling tutor, who has mentored and guided Kieran through the regional and national competitions over the past number of years."
Sign Up To Our Newsletter