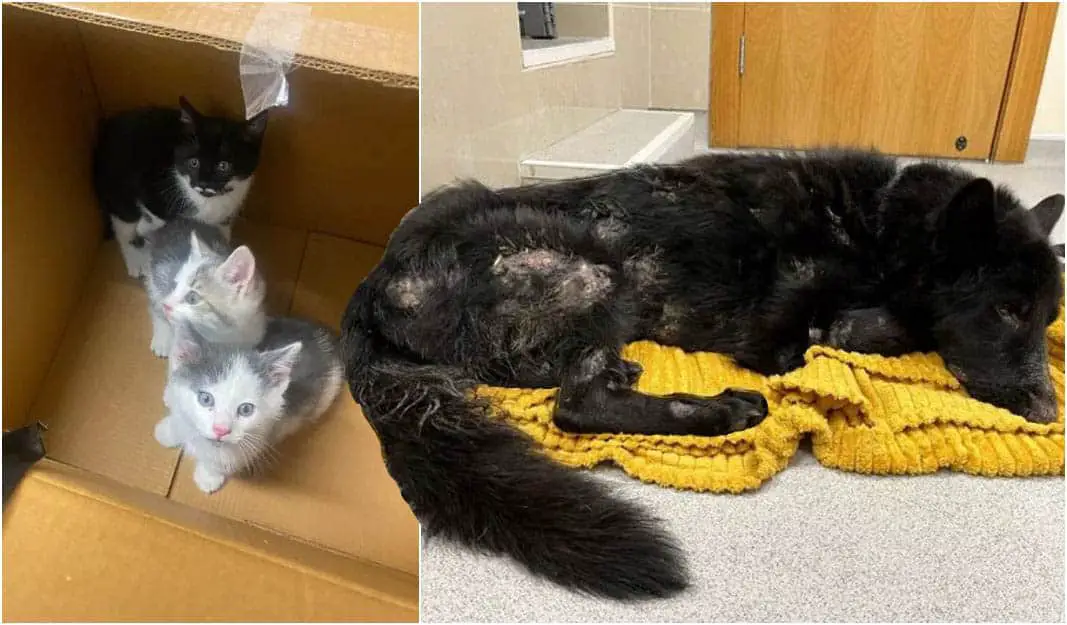 A German Shepherd dog was so badly neglected in Newry it had to be put down, the USPCA confirmed.
The animal charity says there has been an alarming increase in animal cruelty incidents in the Newry area in recent weeks.
This was highlighted this week by two heart-wrenching cases, one involving a severely neglected dog and the other concerning three tiny kittens found abandoned at the side of the road, taped up in a box.
Members of the public discovered these animals and brought them to the USPCA Animal Hospital in Newry.
The dedicated animal rescue team at the Newry facility discovered that the severely neglected German Shepherd Dog, abandoned without food, water or shelter, was emaciated and covered in wounds, and had clearly endured long-term suffering.
The team immediately provided the dog with much- needed medical attention but unfortunately the scale of injury and suffering was so severe that the vet had no option other than to euthanise him.
In a shocking discovery the same afternoon, workmen discovered three tiny kittens inside a cardboard box which had been taped up, and abandoned at the side of the Armagh Road in Newry.
Nora Smith, CEO of the USPCA said: "The kittens have received thorough checks from our vet team, and despite their ordeal, we are hopeful that these resilient kittens will be able to overcome their trauma, and eventually find loving homes where they will receive the care and compassion they deserve. We are so grateful to the workmen for noticing the cardboard box and taking such quick action, as it is unlikely that the kittens would have survived much longer.
"Animal abandonment and cruelty are grave issues that demand our immediate attention as a society. It is essential that we come together to raise awareness about the consequences of these terrible acts of cruelty."
The USPCA are asking the community to take action against animal abandonment and cruelty. By reporting any suspected cases, supporting local animal shelters, and adopting or fostering animals in need, the public can make a difference in their lives.
For more information on USPCA initiatives, or to offer support, members of the public can visit the website at www.uspca.co.uk or call 028 3025 1000.
Sign Up To Our Newsletter