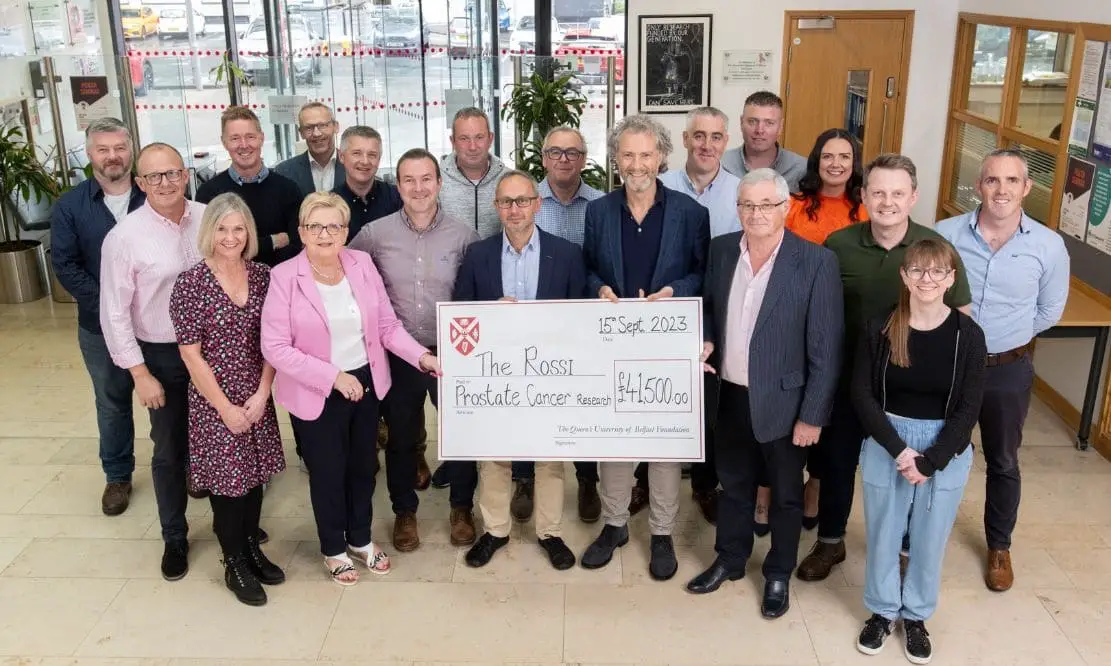 Cyclists from the Rostrevor-based Rossi Amateur Sports Group met Professors, Oncologists and Researchers at Queens University Prostate Cancer Research Centre recently following their fundraising activities which generated over £40,000 for prostate cancer research.
The Group of ten local cyclists undertook a mammoth all-Ireland challenge, to cycle 600km in three days from Mizen, Co. Cork, to Malin, Co. Donegal, this summer.
Hugh and John Brennan, John and Martin McGinn, Liz and Henry McLaughlin, John Grant, Brendan Owens, Gerry Collins and Ciaran Farrell all took part in the event in July, supported by crew members Martin, Mona and Julie McGinn.
The Group visited the research centre for a tour last week and presented Professor Joe O'Sullivan and his colleagues with a cheque for £41,500.
The Rossi co-ordinator of the event, Martin McGinn, said: "Many of us have had family members affected by prostate cancer so this event was conceived to raise funds and awareness about the importance of testing.
"We were honoured to be invited to visit the research centre and learn more about the world-leading research conducted here in Belfast and the vital support the team offer men with prostate cancer across Northern Ireland and beyond."
Doctor Aidan Cole, Oncologist and Researcher with Queen University Belfast, says that the research team are indebted to the Rossi for their support.
He commented: "The Rossi has raised such a huge amount of money with this challenge and it was a pleasure to host them in our centre. The money raised will fund laboratory research, clinical trials and educational awareness about prostate cancer.
"One in eight men will be diagnosed with prostate cancer. This money will be used to benefit men across Northern Ireland and fund further clinical research. We can't thank all the members of the Rossi enough for the support that they have given our work."
Sign Up To Our Newsletter