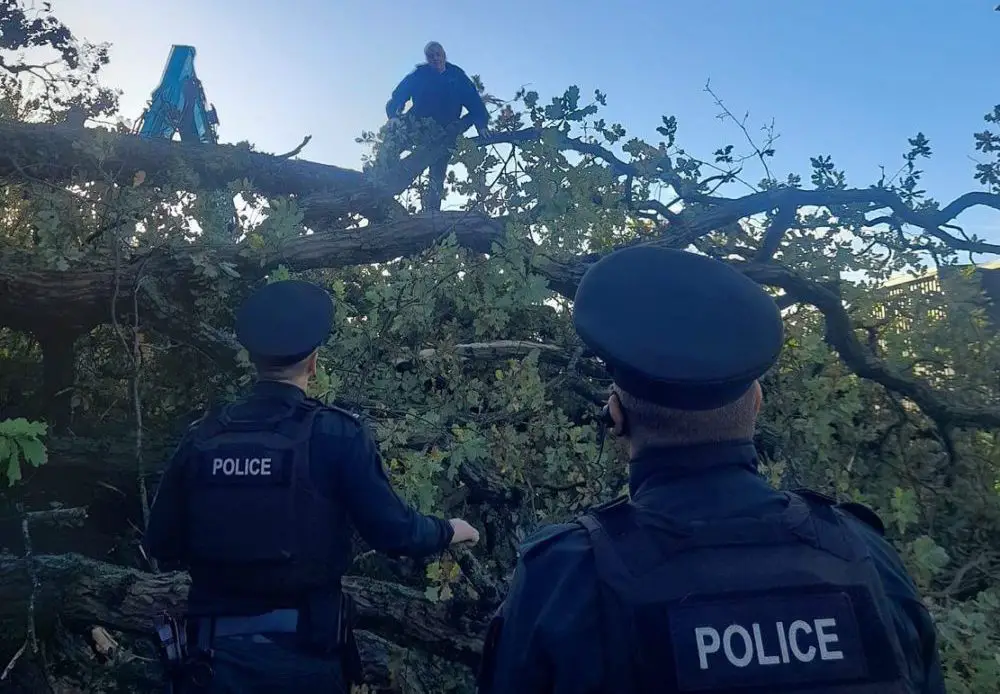 A protest is currently ongoing in Newry in opposition to the removal of 200-year-old oak trees by contractors.
Environmental activists are staging the demonstration at the site of the work, which they have dubbed "environmental vandalism".
According to RARE (Rostrevor Action Respecting the Environment), work began at the site in the early hours of this morning – under the cover of darkness – where it is reported that only two oak trees remain standing.
The 200-year-old oak trees – located at the Greenbank Industrial Estate – were due to be felled to make way for a new flood defence scheme in the area.
Residents and environmental advocates have long campaigned against the destruction of the significant number of established mature Irish Oak trees in Greenbank.
The Department for Infrastructure Minister, John O'Dowd, had previously said that there were "no alternative measures that would provide the required standard of protection" and that the further the scheme was delayed, the more likelihood there was of a serious flooding incident.
Colum Sands, of RARE, in a video posted to Facebook, said: "DfI (Department for Infrastructure) and Newry, Mourne and Down District Council have written to me and RARE to say that they do not take responsibility for the felling of trees here.
"We have spoken to some of the workmen on the site, they refuse to comment," Colum added.
"My legs went weak this morning whenever I got the phone call…I couldn't believe it", activist Eamon Burke said, in the video posted by RARE, commenting on when he discovered the news that the trees were being cut down.
A spokesperson for the PSNI said: "Police received a report of a protest within the vicinity of the Greenbank Industrial Estate, Newry, at 9am today, Wednesday October 26.
"Officers are in attendance and continue to maintain a presence."
Sign Up To Our Newsletter