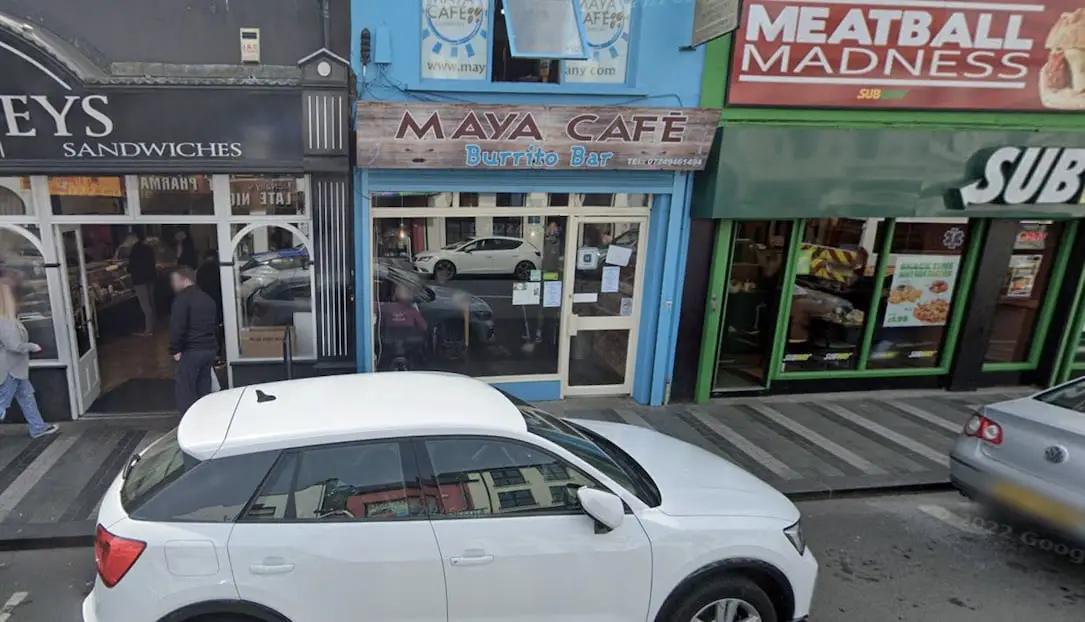 A "heavily pregnant" coffee shop employee came to the aid of a man who was being "viciously" beaten in Newry.
The brave barista sprung into action alongside her cafe colleagues after the incident in Newry on Saturday afternoon.
It happened outside the popular Maya Cafe, at Monaghan Street.
The owners of the premises have pointed out that the incident began outside their cafe and was in no way associated with their business.
They took to social media to highlight the shock at what transpired on the street – and how one of their own came to the rescue of the helpless man, as his attackers followed then inside and continued their onslaught.
They said: "A fight involving two young men viciously and physically attacking another young man broke outside on the street near our premises, resulting in the man being attacked looking for shelter in our place.
"The offenders followed the man inside and continued to batter him causing serious injuries to his head.
"Our place was full of customers enjoying their food and some others waiting to be served.
"Among our customers there was a family with two very young girls who had to witness this sort of behaviour.
"Our staff, including our heavily pregnant barista, immediately reacted, driving the attackers away and supported the victim physically and emotionally whilst the police and ambulance services arrived."
Maya, via social media, insisted the fight did not start on its premises and therefore "had nothing to do with" the business.
They said they were thankful that no customers or staff were hurt, "just very much shocked", before adding, "our heart goes to the two little ones that had to be in the middle of that scary confusion".
The Instagram post added: "The man was taken to hospital and our premises were quickly cleaned up and our work in the kitchen resumed without any further problems.
"We did file a report with the police, and we hope the victim is now safe and recovering.
"To our clients that were present at the time, especially to the young family, we thank you for your custom and we apologise for the unfortunate event, even if it didn't have ANYTHING to do with MAYA. To all of you, we wish you a blessed weekend and please, stay safe!"
Police have said that enquiries are ongoing and have appealed for witnesses to get in touch.
Sign Up To Our Newsletter