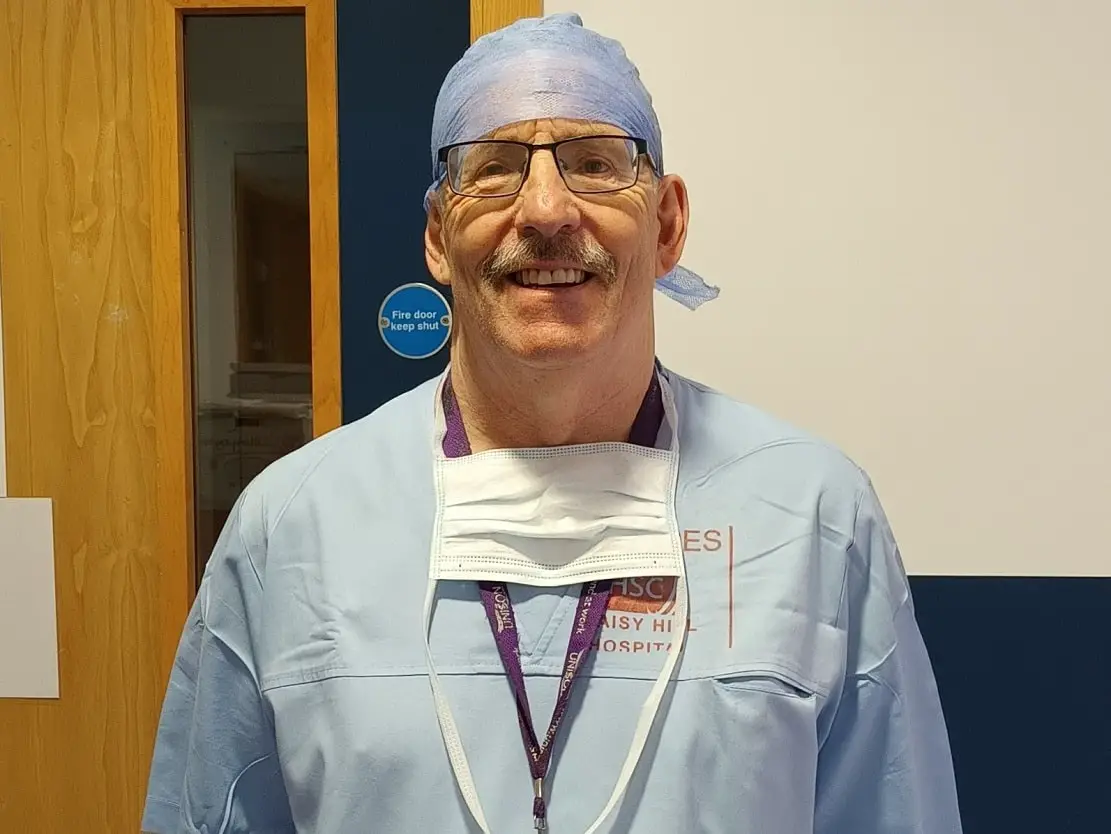 Mayobridge man Gerry Fegan has a lot to thank Daisy Hill Hospital for.
Not only did it provide him with a long and fulfilling career as a healthcare assistant but it was how he met his wife Florence.
The father-of-four, who spent almost 42 years working at the hospital, mainly in theatres, has finally hung up his scrubs at the age of 63.
And he said that while there were some tough periods, especially during the Troubles, the colleagues he met and satisfaction he got from his job far outweighed any negatives.
Gerry began working at the hospital in April, 1981 as a fresh-faced 21-year-year-old.
He had previously tried his hand as an apprentice mechanical engineer, but jobs weren't plentiful in the sector at the time, and then as a fitter in a window factory.
However, when he heard they were looking for staff for the new wing at Daisy Hill he applied and was successful.
He started off as a nursing auxiliary and after completing an NVQ became a healthcare assistant, first in the male medical and surgical wards before moving into theatre work.
His duties ranged from assisting the nurses, feeding, dressing and washing patients to setting up theatre equipment.
"Since I started the role has changed, probably for the better," he said. "There wasn't laparoscopic (keyhole surgery) work until the 90s so that has been a major development.
"Things have definitely progressed and the equipment is so much better.
"There were some bad days when it was really hard work – and some sad days – but the majority were good days and it was 100 per cent down to the team we had.
"It was like a wee family. Everybody worked together brilliantly."
In fact, having a laugh and a joke was Gerry's trademark and he is known for his one-liners – a trait acknowledged by his colleagues in a Facebook post to mark his retirement.
"With his great wit, talk about the weather, anecdotes and diligence in his approach, he's been a positive role model and has set a very high standard," the tribute said.
Despite having just retired, Gerry has already been called in to do a few bank shifts , so it's not a final goodbye.
And he says it's a career he would recommend to anyone.
"You were helping people, you did feel like you were doing something worthwhile," he said.
"Nowadays they have a pathway where you can go from being an auxiliary to a nurse, which is brilliant."
Gerry's career choice and that of his wife – Florence was a nurse and is now head of service for social work in the Southern Trust – has obviously made an impression on their children, with one of their sons training to be a paramedic.
In fact, the couple met thanks to a hospital leaving 'do'.
"Florence's friend worked with me and they both lived in a house in Warrenpoint. I used to slag her when her friend was on the phone to her," he said.
"We met on a night out when somebody was leaving the theatre, and that was that."
With a bit more time on his hands, Gerry is thinking about taking up his old hobby of greyhound racing.
"I am thinking I might get a couple of greyhounds. Dundalk Greyhound Stadium is just up the road," he added.
In the meantime he has thanked the theatre team in Daisy Hill including team leader, Sister Pamela Fitzpatrick.
"They are unbelievable. Everyone is so approachable. They run a great ship and they gave me so much help throughout the years," he said.
Sign Up To Our Newsletter