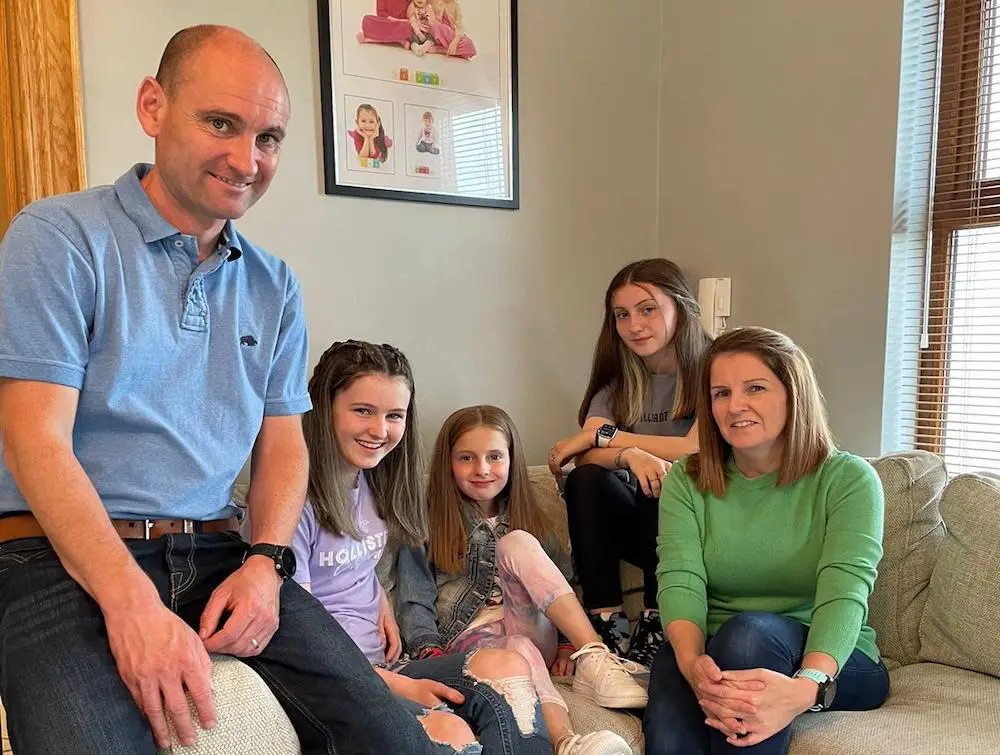 If you ask most girls in their early teens who their favourite celebrities are, chances are there'll be at least one TikToker on their list.
If you stick your head in their bedroom door on any given evening, you'll probably see them either watching or emulating some TikTok clip from one of the names on their list. And there's a good chance one of the accounts they follow will belong to the Simpson family.
If you want to see what the attraction is, go on the App and check out The Simpson family – so called lest they be confused with their famous namesakes.
By day Zoe and Eva Simpson are just ordinary schoolgirls attending Sacred Heart Grammar School in Newry, but once they exit the school gates and go home, they take on a whole new persona. It's at home where they set up the camera to entertain their almost 1.2 million followers on the most popular social media platform on the planet.
It's not that the girls are any different from all of the other teenagers who hang out in their bedrooms and make TikTok videos. Or that the Simpsons are any different from your average family. But on a platform that has countless creators screaming for attention, they seem to have found the secret to success.
Mark, Ali and their children Zoe (14), Eva (13) and Ella (8) opened a family account on TikTok just seven months ago and despite being taken down by the social media platform's 'Bots' twice, their popularity continued to skyrocket and the number of followers they have continues to grow.
'Relatable content,' is the trick says Mark, who freely admits that he saw a gap in the TikTok market with very few family creators, and decided to tap in at the right time from a business perspective. If anyone knows how to build a successful business , Mark and Ali do.
The Mayobridge couple are Directors of the hugely successful SMS Platinum Group who own Air-tastic, Funky Monkeys and Captain Greens. Both are accountants and Mark says that it takes a lot of hard work and planning to make money from what from the outside looks like just a bit of fun.
The Simpsons' content is refreshingly charming – funny, silly videos and situations any parent or teenager can relate to. Each of the family members has a role to play.
Eva is the actress, Zoe the editor, Mark and Ali do the analytical research and some content and Ella is in some of the videos with mum and dad -but mostly just looks adorable.
Mark says it's the girls who make it work and that himself and Ali stand behind them, making the occasional appearances in some of the videos. But there's a practical reason for that too. The girls can't have their own account and go live until they're 16 and going live helps to boost your following.
For this week's podcast, Armagh I sat down with the Simpson family and they revealed the secrets behind their success.
They spoke about how their TikTok journey began, how they discover the best content, how they learned what works and what doesn't, what being a household name means for the girls at school and where it all goes from here.
For all of this and more, listen below or subscribe and download here: Apple Podcasts – Google Podcasts – Spotify.
Title music: NEW HORIZONS – Lesion X
Sign Up To Our Newsletter