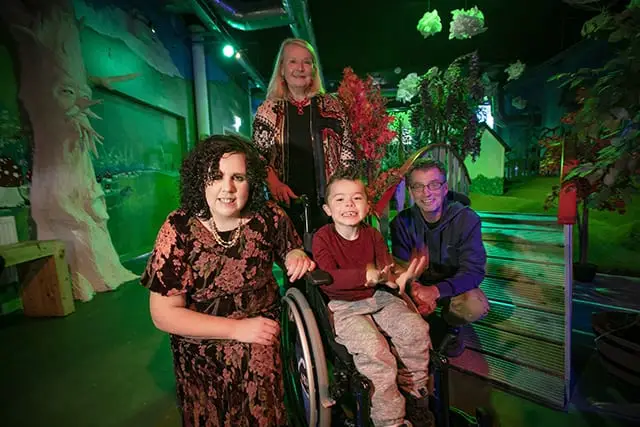 The first dedicated arts venue for children and young people in Northern Ireland has officially launched in Newry.
The Imaginarium Arts Centre kicked off with unveiling an exciting new autumn-winter programme curated by Sticky Fingers Arts.
Supported by principal funder Arts Council of Northern Ireland, BBC Children In Need and Ulster Community Trust, the Imaginarium is an inspirational and unique venue that provides exciting and highly imaginative arts and creative activities for children from 0 to 17 years, six days per week.
From exploring the atmospheric space to taking part in sculpture, drawing, painting, dressing up, and writing stories, there's something to inspire all imaginations.
Indeed the innovative organisation has just won the prestigious JM Barrie Award for Outstanding Contribution to Children's Arts!
The Imaginarium was created by Sticky Fingers Arts for children to have a space where they have the freedom to play and all creative activities are facilitated by a highly-skilled team of professional artists and play workers to ensure that each child gets the best experience possible.
Located on Edward Street in the heart of Newry city centre, the Imaginarium also boasts a unique Arts Café, providing drop-in arts activities every day, workshops, the 'Imagination' lab for little explorers and the Imaginarium Story Centre, the first of its kind in Northern Ireland.
Grainne Powell, Chief Executive, Sticky Fingers Arts, said it was a "magical space where children are free to use their own creativity and curiosity to let their imaginations run wild".
She added: "It's a space that welcomes every child regardless of ability so that they can play and engage at their own pace and just have fun! Every day we welcome hundreds of families, from across Northern Ireland and the Republic of Ireland, who enjoy our programmes for early years, primary school children and teenagers."
Noirin McKinney, Director of Arts Development, Arts Council of Northern Ireland, said: "It's widely understood how important early intervention is to children's development, in shaping the choices and directions they will go on to take as they grow.
"Early exposure to the arts and creative experiences is a vital part of that process, opening up a whole new world of possibilities.
"The Arts Council of Northern Ireland is hugely proud of Sticky Fingers Arts and what they have achieved with the Imaginarium which will ensure the delivery of high-quality arts programmes for thousands of young children."
The Sticky Fingers team are busy working on phase two of the Imaginarium which will include new exhibition spaces, additional workshop spaces and a 250-seat theatre space.
For details on programmes visit www.stickyfingersarts.co.uk
Sign Up To Our Newsletter