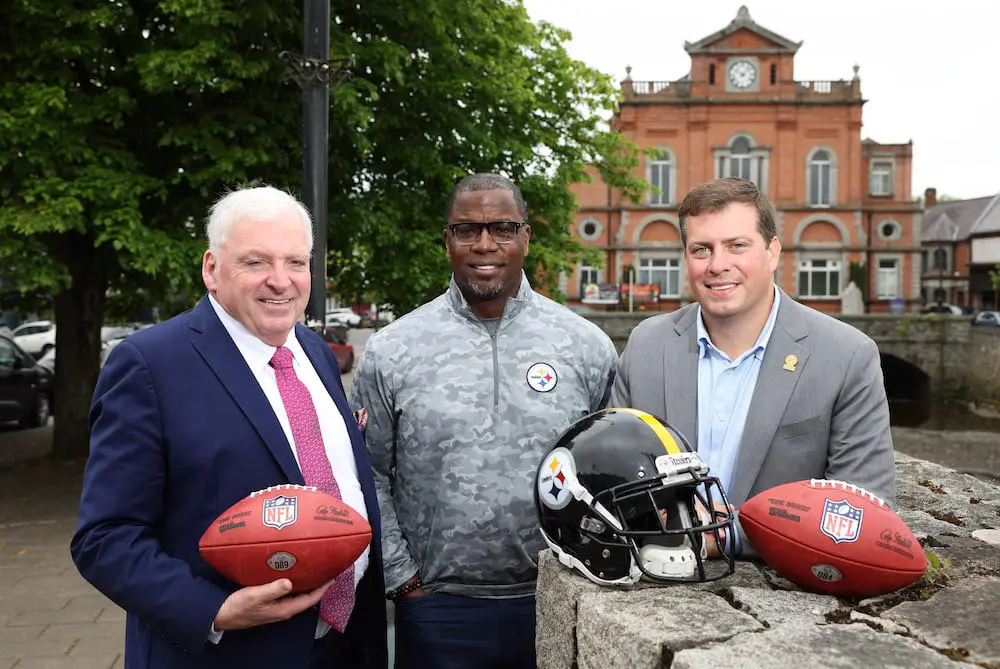 Members of the NFL franchise, Pittsburgh Steelers, visited Newry as part of a trip to expand their brand in Ireland.
Daniel Rooney, the Director of Business of Development & Strategy at Pittsburgh Steelers and former team quarterback Kordell Stewart today visited both Newry and Belfast after the NFL giants were awarded rights to expand their brand and activities for Northern Ireland and the Republic of Ireland.
As a result, Pittsburgh has been awarded the rights to carry out in-person activities such as fan and youth football activities.
The 'Global Markets Program' license also enables the Steelers to partake in corporate sponsorship and merchandise sales, as well as co-marketing relationships throughout the island of Ireland.
To mark the announcement, representatives from the Pittsburgh Steelers visited Croke Park in Dublin yesterday, before continuing their journey northbound today, where Daniel Rooney, son of Pittsburgh Steelers owner Art Rooney II was able to visit his ancestral home of Newry & Mourne.
"We are excited to have been granted the rights to engage more deeply with our fans on the island of Ireland," Steelers President Art Rooney II said.
"My family has deep roots throughout Northern Ireland and being able to connect with our fans across the island is something special to our organisation. My father did so much in Ireland during his lifetime, first as one of the founders of the Ireland Funds, then as Ambassador. We look forward to growing our fan base and the love of American football in the years to come."
Dublin's Croke Park played host to the Steelers and Chicago Bears preseason game in 1997, still the only NFL game to ever be played in Ireland.
The game was made possible in large part to the Steelers late Chairman, Dan Rooney.
Rooney's ties with Ireland were notable, as he served as the United States Ambassador to Ireland from 2009-2012. He also helped establish the Ireland Funds, a program founded to promote and support peace, culture, education and community development across Ireland and among Irish communities around the world.
This 'Global Markets Program' license will enable the Steelers to bring back some of the traditions and initiatives instituted by Dan Rooney, as well as to bring some new ones forward.
The team has already launched dedicated Irish social media accounts and intends to hold its first in-market event this upcoming season by hosting a fan watch party. As part of its long-term planning, the team aspires to return to the island to play an NFL game.
"We are thrilled the Pittsburgh Steelers have been awarded the marketing and commercial rights to Northern Ireland and the Republic of Ireland," said Brett Gosper, Head of NFL Europe & UK.
"With their deep roots and heritage, the Steelers make for a fantastic partner in helping to grow and engage with the passionate NFL fan base across the island of Ireland. Growing the game globally is a major strategic priority for the League and all 32 clubs, and the 'Global Markets Program' will continue to help accelerate the momentum and interest in our sport around the world."
As part of the 'Global Markets Program' initiative, NFL clubs have access to international markets for at least a five-year term, during which a club has the rights to pursue activities in that international market that are consistent with what they can do in their home market.
Following the granting of the 'Global Markets Program' for Northern Ireland & Ireland, the Steelers are looking to host a series of events for new and existing fans such as watch parties and flag football events and will work to connect Steelers fans here directly with Pittsburgh.
Sign Up To Our Newsletter