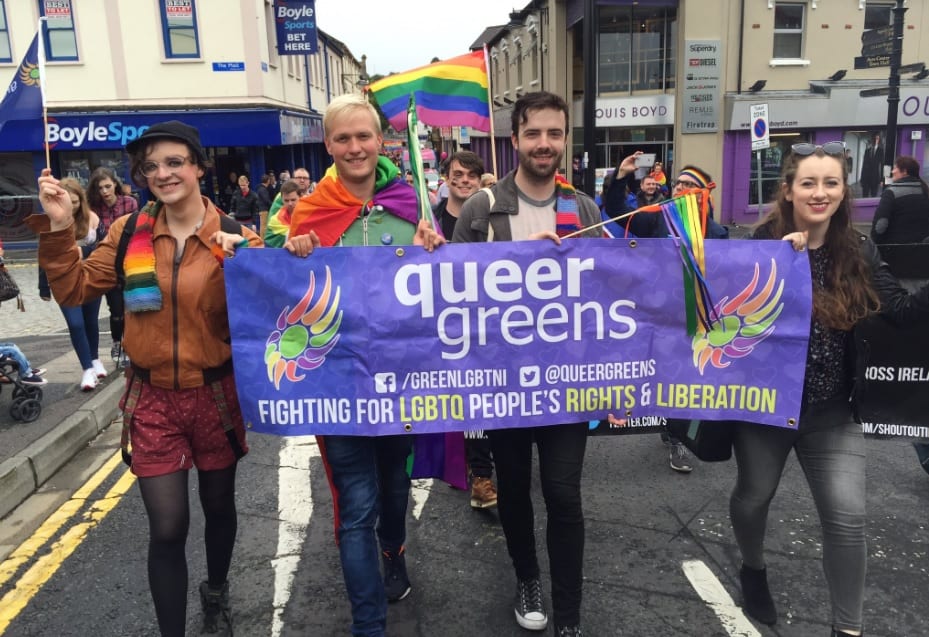 Junior Minister Megan Fearon was among thousands of people today celebrating diversity at the Newry Pride Parade and Festival.
Junior Minister Fearon said: "I'm honoured to be part of today's celebrations in Newry. Events like these are extremely important in promoting equality and inclusion of the LGBT community in our society. Diversity should not just be respected, it should be celebrated, and I commend the festival team in bringing this wonderful event to Newry for the fifth year.
"This is not just an event for lesbian, gay, bi-sexual and transgender people. It's an event for the entire community regardless of sexual orientation. We want a shared society that respects diversity. We must create and foster a community which promotes mutual respect and understanding; a community which celebrates and gains strength from its diversity. We must tackle the barriers that arise for people as a result of aspects of their identity, including sexual orientation and gender."
The Minister added: "The festival encourages us to be proud of who we are and have pride in where we're from. To me that sums up the feeling of everyone participating today; amongst all the colour and energy, there is a real sense of pride in ourselves, in our differences and in the city."
Events have taken place all week as part of the Newry Pride Festival, culminating with today's parade, outdoor concert, family funfair and Pride Ball.
Yeahhhh the rain stayed off for the Pride Parade in Newry @TRPNI @prideinnewry @Love_EqualityNI pic.twitter.com/a9xIgfy7d2

— The Rainbow Project (@TRPNI) September 3, 2016
@prideinnewry #Newrypride pic.twitter.com/JDwEK9YKvp

— Newry Spud (@NewrySpud) September 3, 2016
#loveislove at @prideinnewry today. Well done to all @NRC_Newry volunteers. pic.twitter.com/blbqEW5JbQ

— Amnesty Int'l NI (@AmnestyNI) September 3, 2016
The boys with @MissyOnyaBecks at Newry Pride today (03/09/16) @JJHamblett pic.twitter.com/LLazXnZqv0

— Union J Updates (@UJUpdatesWW) September 3, 2016
The boys with one of the acts backstage at Newry Pride today (03/09/16) Via Paula Kay on Facebook {@JJHamblett} pic.twitter.com/iP6BG56xKK

— Union J Updates (@UJUpdatesWW) September 3, 2016
Delighted as a First Citizen to lead @prideinnewry today #fantastic atmosphere #brilliant to see Newry so colourful pic.twitter.com/djtR6IPBu8

— Gillian Fitzpatrick (@GillianFitz1) September 3, 2016
Delighted as a First Citizen to lead @prideinnewry today #fantastic atmosphere #brilliant to see Newry so colourful pic.twitter.com/djtR6IPBu8

— Gillian Fitzpatrick (@GillianFitz1) September 3, 2016
All ready for Newry pride! Can't wait! #rpdr #Dragqueen #pride @UnionJworld @LadyPandMe @prideinnewry @belfastpride pic.twitter.com/tBPbLuT9rF

— Onya Becks (@MissyOnyaBecks) September 3, 2016
We had a bus in Belfast. Now we've gone leather for Newry Pride @SDLPlive @SDLPlgbt pic.twitter.com/tdfQ017E4C

— Martin McAuley (@MartinMcAuley) September 3, 2016
Today the @goQradio team are in Newry for @prideinnewry come over and say hello! #NewryPride #goqradio ???????????? pic.twitter.com/hPpgcsRfYx

— goQradio (@goQradio) September 3, 2016
Covering Newry pride. @prideinnewry pic.twitter.com/GjDt6LSg3E

— Frontline Freelance (@FFMediaMW) September 3, 2016
Love Newry Pride! ???? pic.twitter.com/CqtLZZJteb

— Martin McAuley (@MartinMcAuley) September 3, 2016
Delighted to be supporting @prideinnewry 🙂 #NewryPride #tweetni pic.twitter.com/RPxUGpsIEE

— WomensAidArmaghDown (@WomensAidNewry) September 3, 2016
Lots happening in Newry today for @prideinnewry pic.twitter.com/jAXImNoS53

— Alliance Party LGBT (@AllianceLGBT) September 3, 2016
Read more news:
Man in his thirties collapses and dies on county Armagh road
County Armagh woman accused of killing her friend in Portadown Road crash
Major £125,000 road improvement works to begin in Tandragee
Keady woman recalls how pizza box nearly set her house on fire
Man charged with a number of offences following Armagh city centre disturbance
Three males approach young boy and ask him to get into car
Watch: Lord Mayor Garath Keating busts a move AGAIN in new Rushmere birthday video
Sign Up To Our Newsletter