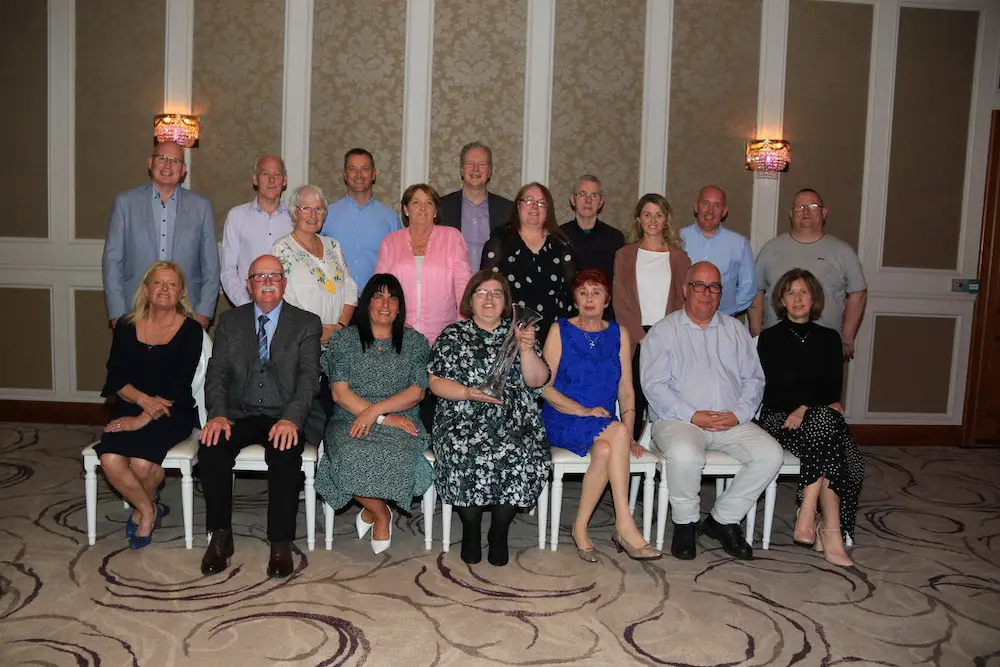 Newry Neighbourhood Renewal Partnership are winners of the City Category for Community Wellbeing in the Pride of Place 2021 Awards.
The Pride of Place Awards ceremony hosted by Kerry County Council, was held on Monday, May 16.
The annual competition organised by peacebuilding charity, Co-operation Ireland and sponsored by IPB Insurance, aims to recognise and celebrate the positive social impacts being made in communities across Ireland.
The competition invites local authorities to nominate community organisations from both urban and rural areas who have worked tirelessly to make their towns or villages a better place to live, work and socialise. The competition focuses on how people come together to shape, change, and improve the daily lives of those within their communities.
The nominees must demonstrate to a judging panel 'pride in their place' through oral presentations, highlighting community activities, culture and aspects of how they have contributed to their 'pride of place'. It is important that the community demonstrates a real partnership with their Council and shows
that all sectors of the community are included.
Newry, Mourne and Down District Council was proud to nominate the Newry Neighbourhood Renewal Partnership in recognition of the projects they have delivered to shape, change and improve the lives of residents in the Newry area.
District Electoral Area (DEA) Forum representative, Councillor Charlie Casey, who attended the ceremony on behalf of Newry, Mourne and Down District Chairperson, Councillor Michael Rice said: "I am delighted to see the efforts of the Newry, Neighbourhood Renewal Partnership recognised as winners in the Pride of Place Awards. Their excellent work has changed the landscape of Newry City by introducing state-of-the-art community facilities as well as educational, health and welfare improvements resulting in increased employment opportunities.
"This has improved the lives of all people living within the nine community associations across the City. The Neighbourhood Renewal Partnership is a prime example of how partnership working can improve the overall wellbeing of our communities."
Newry Neighbourhood Renewal Partnership Chairperson, Paula McGuigan added: "I am delighted to accept the Pride of Place award in recognition of all the hard work undertaken by the Newry Neighbourhood Renewal Partnership Programme. The programme has delivered approximately £13 million of investment since its inception in 2005."
Ms McGuigan continued: "It has helped to transform our local communities and people's lives, particularly those people who live in some of the most deprived areas in Newry, Mourne and Down District Council area. I would like to thank the Department for Communities and the hard work of all the community volunteers and the supporting agencies who sit at our partnership table. With their help, we have delivered a high number of innovative and bespoke programmes to help us tackle deprivation within the Neighbourhood Renewal areas of Newry city."
Photo: District Electoral Area (DEA) Forum representative, Councillor Charlie Casey with representatives from the Newry Neighbourhood Renewal Partnership, Front Row (L to R) Catherine Mc Inerney, Member of DEA Forum, Councillor Valerie Harte Newry DEA, Paula McGuigan Chairperson of Newry Neighbour Renewal Partnership, Noreen Rice DEA, Colin Hanna Vice Chairperson Newry Neighbour Renewal Partnership, Catherine O'Hanlon Department of Communities. Back Row (L to R ) Councillor Michael Savage, Sean McKevitt Newry Neighbour Renewal Partnership Co-ordinator, Donna Weir Education Authority Youth Service, Aidan McCabe Southern Health and Social Care Trust, Joanne Fegan Carnagat Community Association, Raymond Jackson Confederation of Community Groups, Josie McGivern Carnagat Community Association, John Stewart C.R.J, Kerri Morrow DEA Co-ordinator, Martin Connell Newry Neighbour Renewal Health and Well-Being, Francie McGuigan Carnagat Community Association.
Sign Up To Our Newsletter