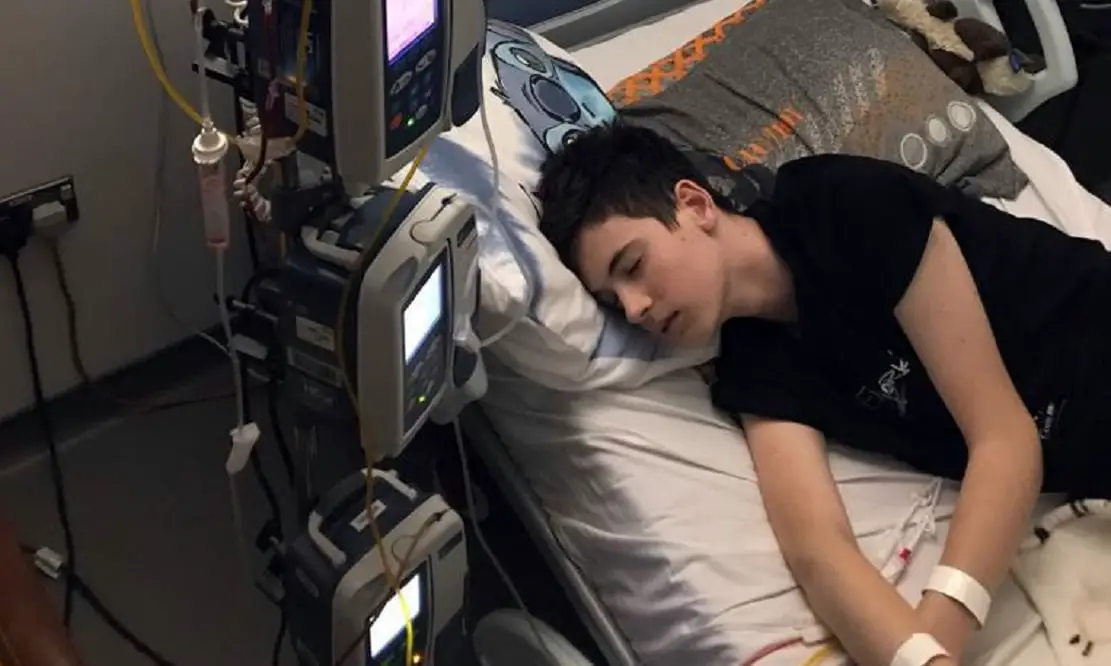 A Newry mum is appealing for members of the public to come forward in her bid to find a bone marrow donor match to save her 14-year-old son's life.
Anne Greer wants as many people as possible to register to become a stem cell donor.
"Don't just be a taker, be a giver," she pleaded.
Her son Daniel is currently in the Royal Victoria Hospital for Sick Children in Belfast, after having been diagnosed with leukaemia a number of weeks ago.
Daniel, a pupil at the Abbey Christian Brothers' School in Newry, has acute myeloid leukaemia (AML), which is an aggressive form of leukaemia that spreads rapidly.
In hospital, he completed ten back-to-back days of intense chemotherapy and required three units of blood and two platelet transfusions.
Daniel's family have been told that after his second course of chemotherapy in July, he will need a bone marrow transplant. The treatment requires a bone marrow donor match, which is rare. Because of this, the family want more people on the bone marrow registry.
The family have reached out to urge people to register on the stem cell list as bone marrow donors, in the hope that a match can be found for Daniel, but also for many children around the world suffering from blood cancer.
Speaking to Armagh I, Anne says that the last few weeks have been an "emotional rollercoaster".
"Our world's been turned upside down," she said.
"We're a small family, just my husband and our two boys. Daniel was just the life and soul of the house. He was the one providing the craic all the time. There was never a dull moment with Daniel around.
"He is the sort of boy that's always positive. 'We'll get there mummy, we'll get there', he says. He loves his mountain biking, rugby, music, his Xbox and all of that.
"The boys are all going to shave their heads today, because Daniel's hair is coming out in handfuls. So his brother James and his dad are going to shave their heads in solidarity with him."
Almost 9,000 people have registered with the DKMS blood cancer charity off the back of the family's appeal.
The response to her story, all over Facebook, the media and amongst family and friends has been "absolutely amazing", Anne says.
"We've been overwhelmed by the kindness and generosity of the Northern Irish people. Everybody is willing to share it and people are willing to get on the register.
"We're trying to organise a DKMS drive, whereby people can turn up and we will sort out the paperwork and do the swab for them. My response is a huge thank you.
"I have to believe that a donor will be found. I wouldn't get out of my bed in the morning if I didn't," she adds.
"It gives Daniel great happiness and comfort to know that so many people are praying for him and trying to help in any way that they can."
Anne says that it is easy to get yourself on the donor register: "To register is a simple cheek swab" she says.
"It's not particularly invasive. Nowhere near as bad as a Covid swab. If anybody is identified as a potential match for Daniel or for other people suffering from blood cancer, then they may be contacted."
The ease of registering, along with the huge benefits that it can provide to families, is driving the family to push for as many people as possible to be "givers".
Anne continued: "Nobody is immune to cancer. My appeal is that if this lifesaving treatment is within your power to give to somebody then please do.
"If this was your child, would you not be begging people? It's only a swab on the inside of your mouth. Even to donate bone marrow, for 90% of bone marrow donors, the sample is taken from your arm, just like giving blood.
"It's a fairly painless procedure to potentially save somebody's life. If you found yourself in this position, or your family members, surely you would want somebody to try to help you.
"Less than 3% of our population in Northern Ireland are actually on any sort of bone marrow or stem cell donor registry which, if you look at the figures for other countries, is breathtaking how much higher percentage there is in other countries.
"Why are we being selfish? Why are people not offering to be on these registers? I can't understand why people wouldn't.
"These registers are worldwide, so if Daniel's brother's results come back that he is not a match, and there's only a one in four chance that he is, then they go to the worldwide registry. Daniel's match could be found on the other end of the world.
"Even if you're not helping our Daniel, you could be helping somebody else's child," she added.
In a post on Facebook, Daniel's brother James made a passionate call for people to step forward, saying: "YOU could be the match that Daniel needs! YOU could make the difference!! YOU could be the match that someone on the other side of the world is currently praying for, waiting and hoping that YOU are out there and willing to save their life."
Sign Up To Our Newsletter