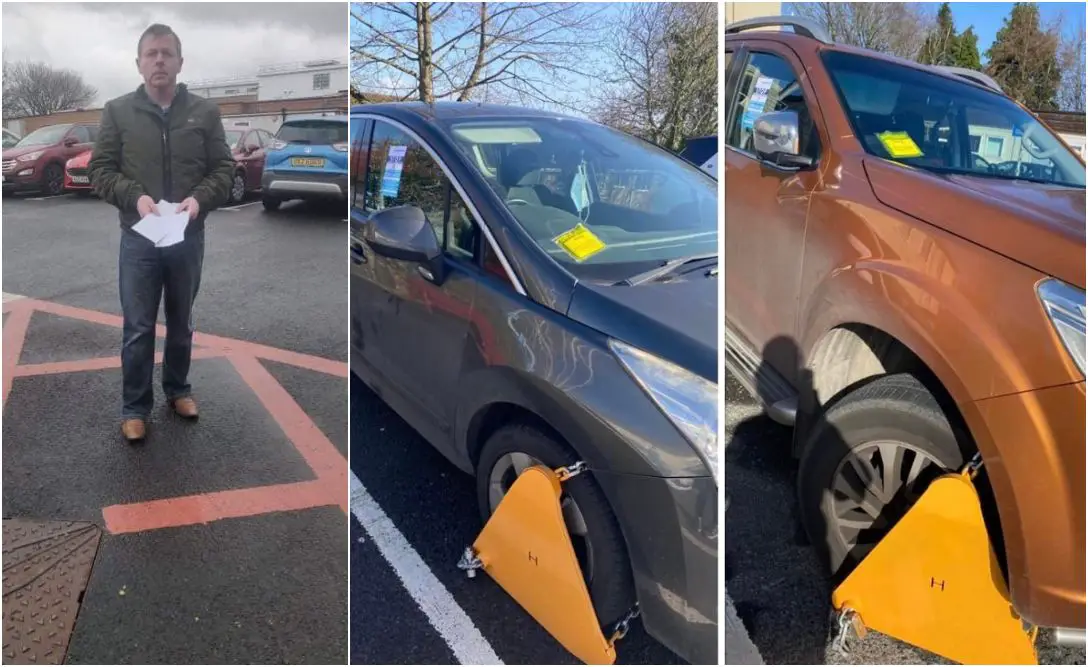 Three Newry businessmen put their hands in their pocket and paid for the the removal of clamps on the cars of three staff nurses at Daisy Hill Hospital on Tuesday.
It is understood John McClelland (Newsround), Damian Mallon (DM Powerwashing) and Billy Feehan (Newbrook Cleaning) all put forward £60 each.
The cash was delivered, to the staff affected, by Independent Councillor Gavin Malone (pictured left), who described the incident as "disgraceful".
"Today I had the pleasure of meeting Daisy Hill Hospital staff who were clamped yesterday," he said.
"One of the staff needs her car to travel to patients so this clamping was really depriving patients who needed assistance.
"However I am pleased to state that three local business people have agreed to pay the parking fines for the hospital staff.
"I would personally like to thank these business people for their generosity and kindness.
"We also have to get to the bottom of this disgraceful action and find out the rationale for attempting to stop our marvellous healthcare workers carry out their essential duties."
A spokesperson for the Southern Trust said: "It is absolutely vital that we can manage traffic flow on our very busy hospital sites and ensure that emergency and other essential vehicles have access at all times.
"The vast majority of people park their cars responsibly on our hospital sites and where appropriate pay the pay and display charge. Car parking enforcement is only applied to cars parked in disabled spaces without a blue badge or those blocking vital emergency or maintenance access or in a pay and display space without paying.
"Clamping on our sites is exceptionally rare and is only used as a last resort when someone has parked three times or more inappropriately. Unfortunately, this action was taken today in relation to two cars on the Daisy Hill Hospital site.
"Car parking enforcement is necessary to deter people from parking inappropriately and to provide a safer, more accessible environment for everyone using our hospitals. We ask for the support of staff, patients and visitors in helping to make the best use of car parking around our sites.
"Whilst the majority of parking is free of charge on both sites, we encourage staff to use the car parks further away from the main buildings, leaving those spaces closer to the hospitals for patients."
Sign Up To Our Newsletter