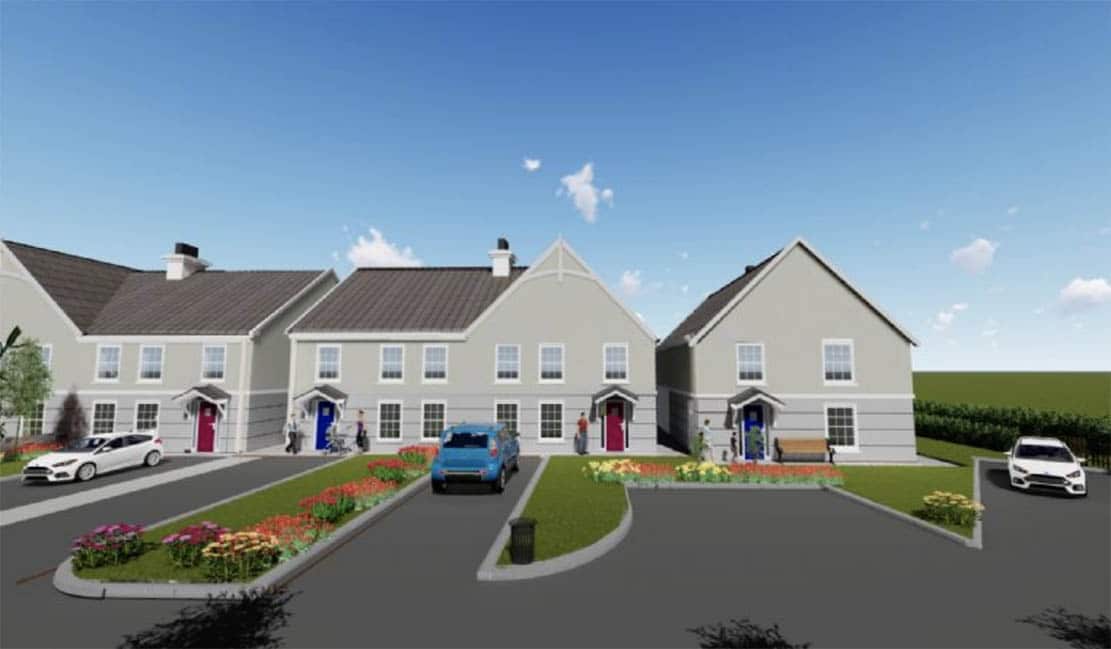 Plans to build over 70 new houses in Bessbrook – at a cost in the region of £12 million – are to be recommended for approval early next month.
Up to 60 jobs would be created within the local construction industry throughout the building work phases, with the development earmarked for lands at the junction of Derrybeg Lane and Craigmore Way.
The overall scheme would consist of a mix of properties – including bungalows – and represents a substantial private investment by Calmor Properties Ltd. Calmor has developed properties in Banbridge, Rathfriland and the Tobar Blinne development in Meigh (main image).
An application for the development was first submitted to Newry, Mourne and Down District Council in late 2018.
Now, moving on almost two years later and after much correspondence in between, planning officials on council are to recommend the development should proceed.
The scheme would consist of a total of 75 new homes.
According to a planning and design statement supporting the works, it would consist of a total of 15 detached and 60 semi-detached properties set within a "spacious residential layout" close to Newry Train Station.
It also includes landscaping, open space and associated site works. This incorporates tree planting.
Each property would benefit from a substantial rear garden with an average size in excess of 140 sq metres, which "far exceeds Creative Spaces guidelines".
About half of the new homes would also benefit from the provision of garages.
The supporting statement reveals: "The design and appearance of the house types will draw inspiration from only the best styles of traditional domestic architecture and will promote a variety of differing styles and designs, whilst making use of traditional forms, detailing, materials and proportions.
"The proposed dwellings will cumulatively form new tree-lined streetscapes within the overall development."
Access will be from Derrybeg Lane.
And according to the design statement, the development has been planned to "ensure there will be no detrimental impact upon the amenity of adjacent properties".
It says that the application "brings forward a high quality residential development and will deliver much needed new family homes".
Pre-application consultations events were held over two years ago in April 2018.
To date, throughout the planning process, one objection was received.
Various reports – including acoustics and drainage – have been presented and considered in detail.
And now planners are now poised to recommend that works can go ahead when Newry, Mourne and Down District Council's next planning meeting is held, with this being scheduled for less than two weeks time, on Wednesday, June 3.
Sign Up To Our Newsletter