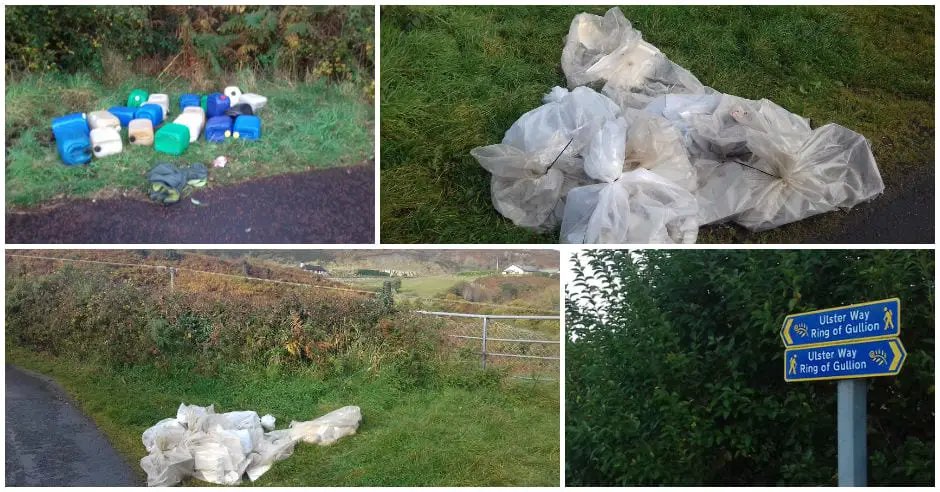 This was the state of the Old Dublin Road in Killeen, south Armagh – one of the county's most natural beauty spots on Friday afternoon.
Countryside, in the shadow of the Ring of Gullion, strewn with rubbish.
"The people behind this despicable act have no respect or regard for this area, its environment or its people," said councillor Mickey Larkin.
"We are trying to promote South Armagh as a must see tourist destination and one of our biggest selling points is the beautiful, unspoiled countryside.
"We're trying to build an industry that will bring jobs to the area and allow our young people to stay here, rather than have to head around the world for work.
This type of vandalism damages the image we are trying portray of the area and hampers those efforts.
"The Ring of Gullion is not only an Area of Outstanding Natural Beauty it is also an Area of Special Scientific Interest, identified by scientific survey as being of the highest degree of conservation value due to unique flora, fauna or geological features.  How small minded must you be to overlook all that to serve your own ends?
"What makes it worse is that Sinn Féin have gone to great lengths over the last number of years to get responsible refuse and recycling facilities located in the area. This is at best selfishness and laziness; at worst, malice and contempt.
"I sincerely hope the authorities will do whatever they can to trace the owners of this rubbish.  If anyone has any information as to who is responsible I would urge them to come forward to deter further acts of vandalism."
Read more news:
Ghostly figure spotted on the Mall in Armagh
County Armagh man personally flown over to style hair of Liverpool FC stars
Dashcam footage shows shocking moment two cars collide on busy A1
Woman critical following collision with lorry near Markethill
Friends' fundraiser to thank cancer charity for love and care shown to Armagh student
Man and woman who caused unnecessary suffering to animals are jailed
Season of giving: Armagh's fantastic Christmas Charity Dinner to aid worthy causes
Sign Up To Our Giveaways
Get entered into our regular giveaways – now exclusive to members ONLY! Sign up for FREE here.