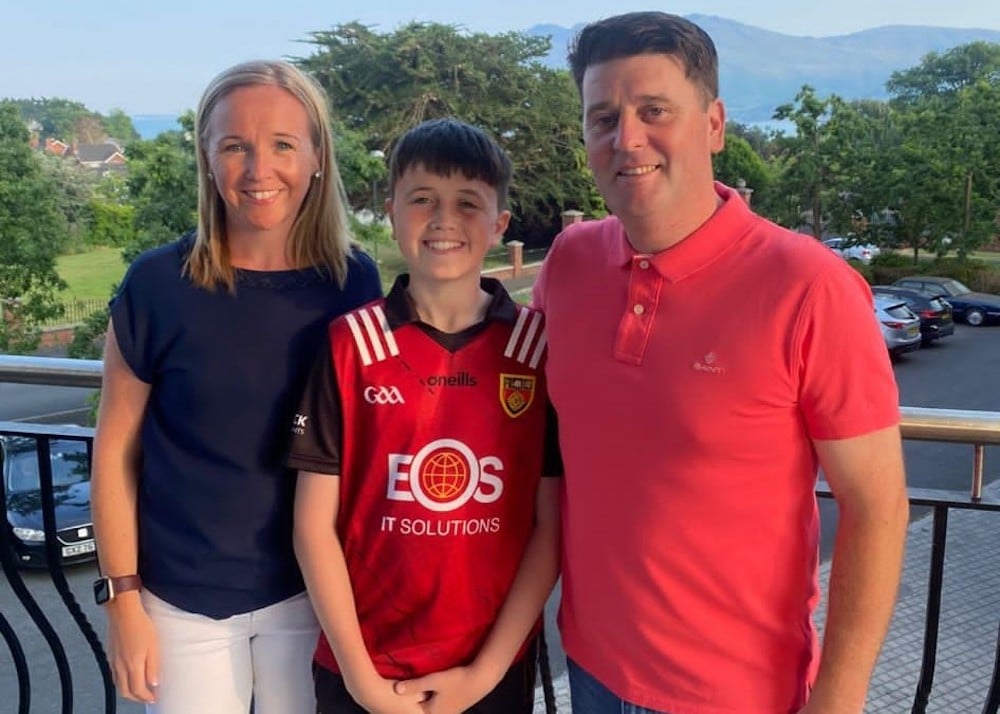 The mother of a Warrenpoint schoolboy has recalled the horrifying day her son was knocked down as he cycled home from his local shop.
It was August 5, last year when 12-year-old Danny Byrne was involved in a serious road traffic collision.
Nurses from a nearby care home were first on scene to help. Due to the extent of Danny's injuries, he required the Helicopter Emergency Medical Service (HEMS), and so the air ambulance was dispatched.
The HEMS team responded rapidly and were able to land only meters from Danny.
Denise – Danny's mum – recalls from that day: "I remember we were introduced to the Doctor and Paramedic from the HEMS team and they immediately put us at ease. They treated Danny's injuries and prepared him for the short journey via helicopter to the Royal Victoria Hospital in Belfast."
When Danny arrived at hospital, a team of doctors and nurses were waiting to treat him. He underwent various scans and x-rays, where they discovered that he had broken his femur in his right leg, damaged nerves in his left arm and needed stitches to his face.
After a long six-hour surgery, Danny had a plate installed in his leg, microsurgery to repair his damaged nerves and tendons, as well as plastic surgery to repair an open wound.
Denise reflects on the aftermath of her son's accident: "Within two days Danny started physio treatment, he was determined to get back on his feet.
"After five days in hospital, he was back at his GAA training shortly after returning home, albeit to watch from the side-lines.
"After weekly physio treatment, Danny received the all-clear before Christmas and is delighted to be back playing sports again. We cannot thank Air Ambulance medical team enough for their help that day. If it wasn't for their quick response and turnaround, Danny's injuries could have been a lot worse."
Denise and her family wanted to give something back to the charity involved in the Helicopter Emergency Medical Service, Air Ambulance NI.
Denise reached out to the charity to join their 'Club AANI' – the charities club membership for anyone who would like to be part of the journey and support in this unique way. Recently, the team at the charity were delighted to welcome Denise, Larry & Danny to their annual club members' day, where Danny and his family had the opportunity to see the helicopter and meet some of the team.
Wanting to do even more, Danny's dad Larry took on the mighty challenge of running the Mash Direct Belfast City Marathon in April for the charity.
The family are also planning a charity night on July 23, in The Whistledown Hotel in Warrenpoint where singer songwriter Fergal Flaherty from 'Hole in the Wall Tenerife' will be taking the stage, with all proceeds going to Air Ambulance NI.
Amy Henshaw, Area Fundraising Manager at the charity said: "We were delighted when Denise got in touch about Danny. Danny has experienced something so traumatic at such a young age, and we think he has been extremely brave and resilient, and glad he is back playing his beloved sports!
"The Byrne families support for the charity and HEMS team has been outstanding and is very much appreciated by the entire team. By becoming a Club AANI member, and through all their hard fundraising efforts, they will in turn help someone else who may find themselves in a difficult situation, as Danny was once in."
HEMS is provided by way of a partnership between the charity Air Ambulance NI and the Northern Ireland Ambulance Service.
On average, the service brings urgent medical assistance to two people a day anywhere in the province. The helicopter can get to anywhere in Northern Ireland in approximately twenty-five minutes, operating seven days a week, for 12 hours per day. If you would like to support the charity, then you too can become a club member with Air Ambulance NI.
Register for just £2 a week by clicking here all members receive an exclusive member's pack, an invitation to an annual BBQ get together and are kept up to date with a monthly e-newsletter.
Sign Up To Our Newsletter